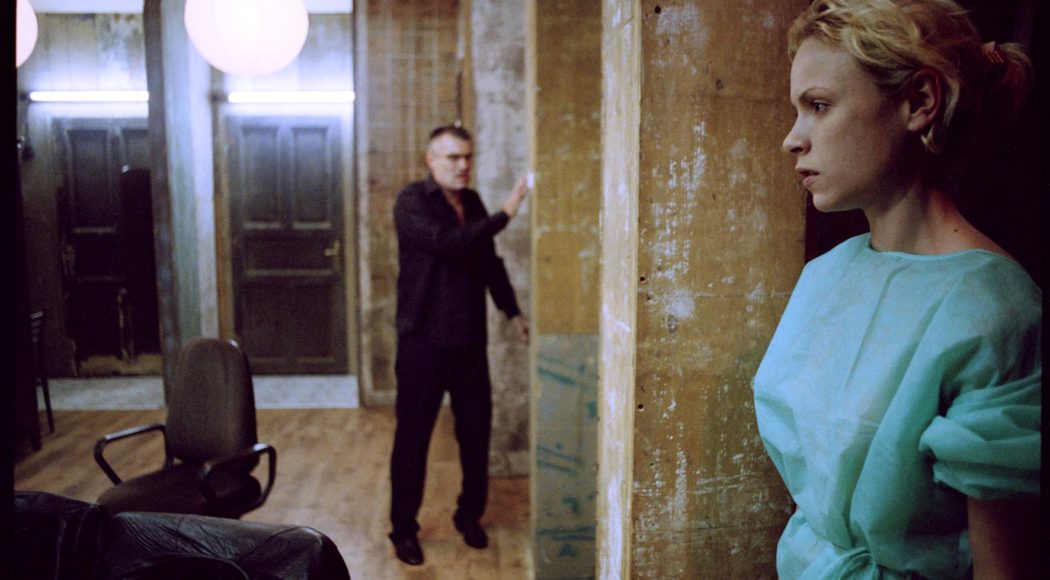 Fall into the Unknown, #2 – 2019
Carena Schlewitt in conversation with Kornél Mundruczó
Kornél Mundruczó, one of the most important contemporary European theatre and film directors, and his Proton Theatre show their dramatisation of the 2003 novel "Ljod. The Ice" by Vladimir Sorokin, which relentlessly reveals insane social structures and the desperate search for orientation. The adaptation by theatre-maker Kornél Mundruczó sees the novel as a metaphor for all ideologies, which can be positive and negative at the same time, depending on who uses them.
Carena Schlewitt: Why did you write the novel "Ljod. The Ice" by Vladimir Sorokin adapted for theatre? What was the situation like in Hungarian society at that time?
Kornél Mundruczó: When we rehearsed this play in 2006 there were great political changes in Hungary and fear was in the air. Only a month after the elections, Hungarian Prime Minister Ferenc Gyurcsány admitted in his "Őszöd speech" that the Socialist Party had misled the voters. Although the congress at which he spoke was not public, his speech was leaked and mass protests followed. The incident and its consequences are seen as an important turning point in Hungary's post-socialist history. The most important sentence in "Ljod. The ice" is: "Don't be afraid". While working on this novel I had the feeling that I understood the past more clearly, but also the desire for a turning point and a better future. All this happened from a position where we were on the ruins of the post-Soviet world. Sorokin's "ice" is an essential material. It means that all ideologies can be positive and negative at the same time, depending on who uses them and who owns them. This is a perfect metaphor for all political wings, but also for every religion and its functioning. It is a metaphor like Richard Wagner's Ring.
What is Hungary's relationship to Russian art or historically to Soviet art?
During the socialist period, the relationship was very active, and it is active again today. In between there was a pause of about 20 years. The easiest thing is to imagine Hungarian culture as a ferry that travels back and forth between German and Russian culture. Speaking of Russian influence: Bulgakov, Dostoevsky, Mayakovsky in literature, Tarkovsky, Aleksei German, Eisenstein in film and many others are important artists and great inspirations for us. I could also mention television and children's films that I watched until I was 14 years old. Today Russia again has a greater influence on us, also in official communication and in the media, which gives a retro feeling and confirms that history repeats itself all the time.
How do you see the production today and how does the audience in Budapest react to it?
I would call the genre of "The Ice" a paranoia thriller. With a secret society of 23,000 people governing the rest of the world, it is an absolutely topical and contemporary subject. Some pictures in the media today seem as if one were seeing concrete scenes of "The Ice". Nowadays paranoia, populism and manipulation prevail, but we should not be afraid and not be intimidated by it. That's why we kept "The Ice" in our repertoire, we play the piece after 13 years almost with the original cast. The production is now considered legendary in Budapest. She has her own audience, her fans and she manages to interest a young generation.
How do the art forms of film, theatre and performance differ in your work?
I see myself mainly as a filmmaker and storyteller. In films it is very common to tell new stories. In theatre you prefer to take great classical works and reinterpret them. But that's not how I work and that's why I had to find my own way to the theatre, which is an ongoing journey with my independent company, the Proton Theatre.
What is your artistic approach to your theatre work in terms of "reality" and "political theatre"?
In my work I like the gesture of showing, as the basis of my performance I want to initiate debates that stimulate the thinking of the audience, but not with the known ideological burdens, traditions and hysterias. The representation must always evoke a reaction by robbing the viewer of his need for comfort and confronting him with the question: What determines my life? The viewer should give an answer to this question. That's why I don't really believe in "time pieces" or the agitprop idea of political theatre, because both are counterproductive. In our work with the Proton Theatre we don't want to stick to the stereotypes mentioned above.
Fri 01.11.2019 19:30
Sat 02.11.2019 19:30
Ljod. Das Eis
Das Eis
Kornél Mundruczó/ Proton Theatre (HU)
Theatre/Performance
Wed 30.10.2019 18:00
Vladimir Sorokin (RU) reads from "Ljod. Das Eis"