Alliance
Alliance of international production houses
The Alliance of International Production Houses was founded in 2015 as an association of the seven most important production and presentation venues for the freely producing contemporary performing arts in Germany: FFT Forum Freies Theater (Düsseldorf), HAU Hebbel am Ufer (Berlin), HELLERAU Europäisches Zentrum der Künste (Dresden), Kampnagel Zentrum für schönere Künste (Hamburg), Künstlerhaus Mousonturm (Frankfurt a. M.), PACT Zollverein (Essen) and tanzhaus nrw (Düsseldorf). Founded as houses without permanent ensembles, today they are the most important anchor institutions for the freely producing performing arts in their regions as well as the most important partners for national and international (co-)productions and guest performances. The spectrum of artistic production includes contemporary theatre, dance and performance as well as music, discourse and visual arts projects.
The production houses jointly realise special and sometimes multi-year artistic projects at their respective locations beyond their already established programmes and practices. These deal with the economic, social, cultural and ecological changes in cities and the world in the 21st century, playfully explore the future of society, theatre, dance and art and test exemplary scenarios of living together. Furthermore, the houses combine their competences in the further development of advanced modes of production in the field of performative art as well as their far-reaching local and international networks more closely than before. Proven practices such as facilitating artist residencies, commissioned works, co-productions and site-specific project developments as well as strengthening, mediating and making artistic positions and local contexts visible both nationally and internationally will be further developed and expanded in this decentralised model of cooperation in a forward-looking way.
The Alliance initiated an Academy for Performing Arts Producers in 2017 and an Academy for Theatre Journalism in 2019 and is thus significantly engaged in increasingly important professional fields. COMMUNITY PROJECT CLAIMING COMMON SPACES The community project "CLAIMING COMMON SPACES. Art and Urban Practice" negotiated issues and challenges of increasingly complex, conflictual and disparate urban societies with performances, urban space projects, concerts and installations as well as in labs, panels and workshops at HAU Hebbel am Ufer in June 2018. The programme united contributions from six cities nationwide: with the Focus, the alliance of international production houses brought together artistic approaches, contributions and work statuses of the seven participating partners and realised a joint project in Berlin for the first time.
In May 2019, FFT Düsseldorf and tanzhaus NRW invited to "CLAIMING COMMON SPACES II. Art & Digital Life" and to explore the possibilities of appropriating digital practices and envisioning the future of communal spaces. Workshops, lectures, discussions and performances will shed light on the interaction of human and technical bodies, the algorithmic exploitation of data traces in the city, the future of public infrastructures and institutions. The Federal Government Commissioner for Culture and the Media has been funding the alliance of international production houses since the 2016/17 season.
More information in the Alliance brochure
HELLERAU – European Centre for the Arts (Dresden) is a member of the Alliance of International Production Houses alongside Forum Freies Theater Düsseldorf , HAU Hebbel am Ufer Berlin, Kampnagel Hamburg, Künstlerhaus Mousonturm Frankfurt am Main, PACT Zollverein Essen and tanzhaus nrw Düsseldorf. Funded by the Federal Government Commissioner for Culture and the Media.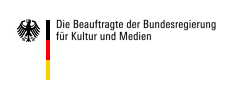 The crisis triggered by Covid-19 is hitting arts practitioners worldwide hard and directly. For our blog ::: VOICES ::: we have invited international artists who are currently unable to work at our production houses to share their current individual and artistic situation with us through statements.