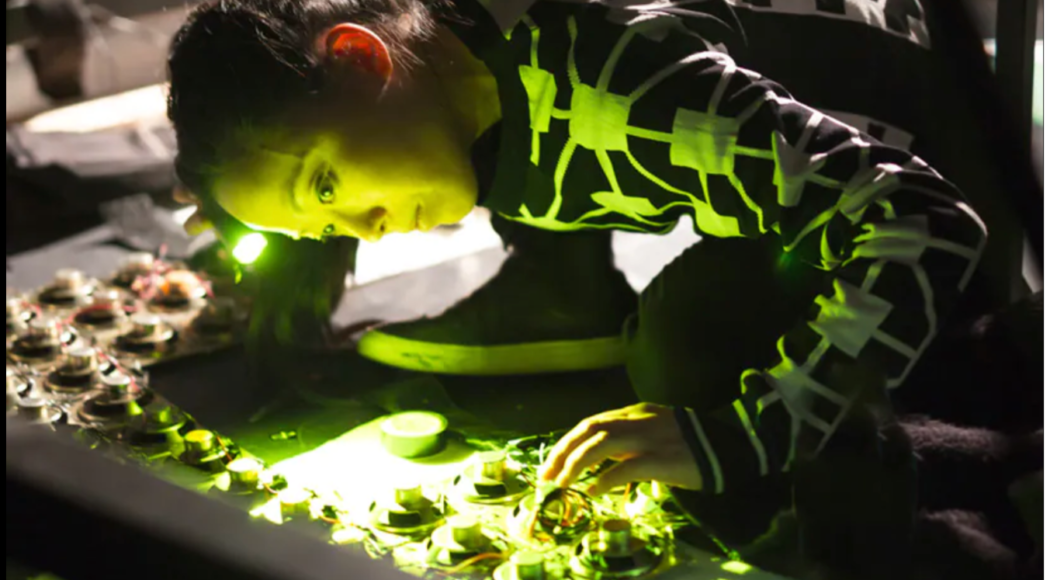 Pauchi Sasaki; Foto: Bart Michiels
On Kinships and Twins, #1 – 2022
Celebrating Philip Glass on his 85th Birthday
On 7 June 2022, the young piano duo of twin sisters Clara and Marie Becker will premiere a new work by Japanese-Peruvian composer Pauchi Sasaki in the Great Hall of the Festspielhaus Hellerau. Another highlight of the concert is "Les enfants terribles" for two pianos by Philip Glass, which marks a new chapter in the special relationship between the legendary composer and the no less famous piano duo of Katia and Marielle Labèque. In a way, it is the successor to Glass' Double Concerto for Piano, which he composed especially for the two sisters.
Pauchi Sasaki and Philip Glass also share a special relationship: Sasaki, who grew up in Lima as the child of Japanese parents and attended the German School there, learned to play the violin at the age of five. The petite woman, who originally wanted to become a journalist, has since released two solo albums and written the music for more than 30 films – and was mentored by Philip Glass for more than a year as part of the "Rolex Mentor and Master Student Initiative".
"He travels all the time," Sasaki says, "and he collaborates with all kinds of different artists in a single week, plays concerts – and manages to write music on the side. Once we had a lunch date, and when he arrived he said, 'I spent the whole night composing'." When Glass was younger, he worked at set times in 4-hour intervals: "Sometimes I'd have an idea at night and then say to myself, 'I'm not getting up now. I only compose in the morning. The muse will come when I'm ready.' This is now no longer the case. If I can't sleep, I get up, go downstairs and compose for a while."
The two met in Paris, Japan, Romania and California. But it was in New York City that the relationship between mentor and master student could really develop. Glass, now an institution in the East Village, has lived there for several decades. "It often happens that an anecdote occurs to him while we're talking or having tea or he's making himself a sandwich," says Sasaki – anecdotes that tell a great deal about Glass, but also fundamentally about composing. Glass wrote 22 symphonies, over 20 operas, concertos, film music, string quartets and numerous solo concertos for piano and organ. Both Sasaki and Glass challenge the listener's sense of time with their music. While Glass deliberately irritates the sense of time with elaborate, multi-layered and mostly precise repetitive structures, Sasaki's music is rather freer, more flowing, slower and at the same time more insistent.
Glass and Sasaki also share a special interest in film music. "I can tell another anecdote about this," Glass says with a broad smile. "Once I was out and about in L.A. and happened to meet someone on the street who had just been fired as a film composer and was angry about it. It's not uncommon for that to happen; for example, something might go wrong during editing. The first thing they do then is throw the composer out because that's the cheapest thing to do – to shoot the scene again would be much more expensive." Glass, incidentally, had comforted his colleague at the time by telling him, "Don't worry about it, I get fired all the time too."
Text version according to an interview by Steven Thrasher
07.06.2022
Katia & Marielle Labèque, piano
Clara & Marie Becker, piano
Claude Debussy: "Six épigraphes antiques" for two pianos
Franz Schubert: Fantasy in F minor for piano four hands D 940
Pauchi Sasaki: "ARTEMIS: Recitative" Premiere of a commissioned composition for two pianos and electronics
Philip Glass: "Les enfants terribles" Suite for piano four hands (arr. by Michael Riesman)
Concert in cooperation with the Dresden Music Festival. Sponsored within the framework of the Alliance of International Production Houses by the Federal Government Commissioner for Culture and the Media. With the kind support of ROLEX and the Stiftung Kunst und Musik für Dresden.