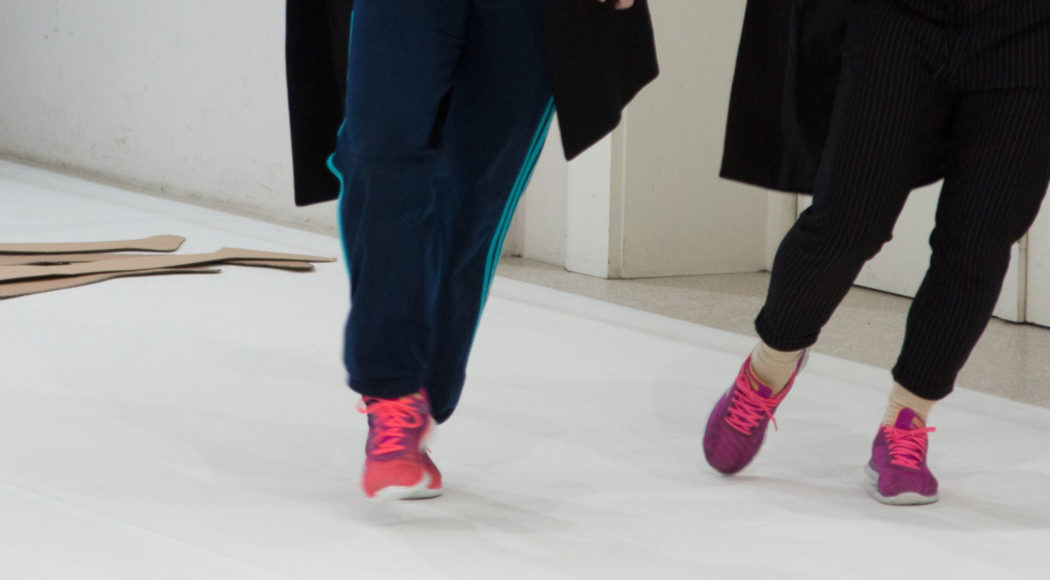 Art is a Crane, #1 - 2018 - A Conversation with Johanna Roggan and Anna Till
"ZWEI für Dresden – Initiative zur Stärkung der Freien Darstellenden Künste in Dresden" is a position paper presented in 2017 by the Coalition of Independent Performing Arts Dresden (KFDK) based on a submission by the artist groups Cie. FREAKS UND FREMDE, the guts company, Katja Erfurth, JuWie Dance Company, shot AG, Theater La Lune, theatrale subversion. Among the signatories to the paper are 33 Dresden artists from various disciplines, including Johanna Roggan (JR) and Anna Till (AT).
André Schallenberg, Programme Director Theatre and Dance in HELLERAU, spoke with them.
What does the term free scene mean and what does it mean to you personally?
AT: The term free scene is very blurred. Basically, free scene means that artists* are freelance and independent of theatres, i.e. without a fixed ensemble structure. Since many choreographers* produce their plays in co-productions with several partners (including theatres, festivals and other venues), the boundaries are also blurred. For me, free scene means having a lot of room for experimentation and new forms of artistic expression. As a choreographer, I alone decide on the theme for my new piece and put together the artistic team myself.
I am responsible for the smooth running of these procedures.
However, the free scene also means that I operate with a less well developed infrastructure than at a state or city theatre. Besides the artistic work, I have to make sure that all administrative steps work. This means that I have to set up my own infrastructure within my company, employ people for fundraising, press and public relations, production management, accounting and much more. I also have to be able to rent rehearsal rooms and pay for stage and costume equipment. All employees* of my company are paid by me and I am responsible for the smooth running of these processes. So as a choreographer I run my own company.
JR: For me personally, the term means that I can do my own work at my own pace and with the people I choose. I don't have to use a game plan. So I can devote myself to topics that are burning on my soul. For me, this also means not being a recipient of instructions and not being bound to an immediate hierarchy. Which, in view of the institutions with which I work, is only half right. We need the institutions (be it the theatres or the funding institutions) and they need us.
You helped to develop the coalition paper for the independent scene in Dresden. Who wrote it and what is your main concern?
JR: It all began with seven independent dance and theatre groups and individual artists who are closely connected to the Societaetstheater. So it was also clear that we could only speak for the performing arts at first, not for the entire independent scene. Whereby it would be good if other sections also worked out such papers and we would then join forces. Our basic concern is to increase and restructure the support measures for independent projects/groups. At the moment there is not only disproportionately little money in the funding pot, you can also apply each time only for a single project. There is no continuous funding possibility such as, for example, concept funding over several years. However, a more flexible funding landscape would be the right answer in view of the working realities of freelance artists. The Landesverband Freie Theater Sachsen, like the Bundesverband Freie Darstellende Künste, has calculated a lower fee limit with which artists* must at least be paid. If these were applied here, the city of Dresden could perhaps support two projects a year. Neither a state capital nor a city can afford this on its way to becoming the European Capital of Culture. So there is room for improvement here. Our analysis is very detailed and precise in its description of the situation, the needs and possible solutions. I would say that we or our colleagues have done a great deal of work – and done it on a voluntary basis. That must not be forgotten!
Are there similar initiatives in other cities?
JR: Yes. Fortunately! We copied a lot from Berlin (Coalition of the Free Scene Berlin). But also Frankfurt am Main now has a kind of coalition and in Mecklenburg-Western Pomerania they also sat down together. Years ago Leipzig had already brought the various actors* together at one table and published the demand "5 for Leipzig". Wherever you look, it is above all the artists* who get together and raise a common voice. The grievances that become clear are so great on a financial level that one often doesn't even dare to say how much money is really needed to pay for our work fairly. By the way, road construction, for example, is also subsidized. So art is not the only sector that receives public money.
How do these working conditions influence your work?
AT: I would say that the working conditions influence our artistic work enormously. That's why the most important questions at the beginning of a production are: Which venue would I like to cooperate with? Which venue fits my next theme and can I realize my visions there? Then come the questions about financing and sponsors. If the piece is, for example, a cooperation with dancers*from Mozambique, I can apply for funding from other institutions than if it is a production with a team of exclusively Dresden* women. If it's an interdisciplinary work that strongly involves photography or video, there will be another fund, etc. Step by step you then approach your artistic goal via a sometimes very complex network of cooperations, which of course always determine the working method and in this sense also the end product. But you enter into this deal right from the start and are aware of it.
How do you wish for a future, how should the dance scene – or the world – look like in 20 years?
AT: In 20 years I would like to see a Dresden dance scene that is widely networked and active beyond Europe's borders. Dance is taught in schools as an independent art form and is also understood independently of theatres and ballet companies. In 20 years it will be nothing special that people with disabilities will study dance and work as dance creators, so that you no longer have to start inclusive projects, but dance artists* will generally be better supported (meaning: sufficiently). In 20 years, the audience will be interested in dance with a high entertainment value as well as in special experiments and unusual projects. Politicians* have come to the conclusion that the coexistence of institutional culture and the independent scene is necessary and that all artists* deserve the same recognition.
JR: The world in 20 years, so when my son is 20, he should not have to explain what his mother's job is and what she does during the day. Art, and also dance, should then be firmly anchored in people's understanding of the world. That it has a value that is difficult to quantify with money. A value that works into the soul, that satisfies, illuminates, lifts, animates, moves, in short: keeps us alive.
Can art move?
JR: With a crane I can move (almost) everything. Sometimes I imagine art as a crane. With heavy weights so as not to tip over, it rises enormously into the air. The crane can turn and sway in the wind and lift and move things. You can see the crane from afar, but not always why it is standing there. You can't see anything for a long time, but at some point the house or the bridge is finished and at the end nobody knows what it looked like before or how life worked before without the buildings. The crane operator sits right at the top. He has a great view, but also enough distance not to get confused. He simply does his job. He should only be free of vertigo. Yes, art can move. The work moves. The artist is "only" the one who makes the work visible, audible, perceptible, experiencable. The artist does his work. Art then moves in the best case. And that always depends very much on the personal background of the viewer. And the willingness to take risks, to be moved by art.
AT: When I'm honest, sometimes I ask myself that. I think it's extremely important how art is perceived, how it's presented. Is it consumed as one product among many or do I have the time to let a work of art affect me? Time-based art (i.e. film, theatre, dance, performance, music, etc.) is the ideal medium for me to get really close to the audience. The audience*gives me their time and I have to use it to make a special aesthetic experience possible. After that it is no longer in my hands how, if and whom my work has moved. What I am sure of is that during the moment of the performance I set something in motion in my counterpart. In a live performance, performers* enter into a direct relationship with the audience, they share a place and the same time. It's so simple, but it fascinates me again and again. Nobody can escape the events on stage. This moment is the only chance to make a difference.
What are your personal intentions, what moves you most at the moment, from an artistic point of view?
JR: When I look at my works, in retrospect I see a red thread that runs through them. Somehow it's always about social questions, situations, images … Will or can I live as I do at the moment? How does it live with limitations, how does one live with strangers, what constitutes home, can I influence my environment and how does it influence me? How am I connected with my environment? This is a kind of bottomless pit, because with each work new questions arise that lead to new ones. At the moment I am driven by the topic of power. Power structures, mass as power and powerlessness, power of the individual, power of images, power of sound/music, power and gender, language and power – a huge complex of themes! We (the guts company) are just at the beginning and I am very curious where the journey will take me. In any case the work with language and choir will continue. I would also like to have a wacky, moving stage set again. But that costs …
Dance has a value that works in the soul, that satisfies us, brightens us, lifts us up, enlivens us, moves us, in short: keeps us alive.
AT: I'm busy with numbers, space and time right now. Big themes, but more precisely, each individual project asks for the gap between personal experience and the attempt to express it in numbers, measurements or words. In the project "KARUSSELL", which we are just planning within our company situation productions, we want to create a performance space together with a larger group of artists* from different genres, which enables a new experience of time. "Life in numbers", a cooperation with a choreographer from Maputo, plays with the (in)sense of comparative statistics between Germany and Mozambique. "Lost in creation" deals with the universe as an endless projection surface and space for scientific conquest. I am impressed by the fact that intangible quantities such as the distance between the Earth and the Sun are determined by scientists* and galaxies are explored that none of us will ever enter, while on Earth we don't even know our neighbour. This longing for the unknown occupies me, simply because I can bend and define it and do not have to enter into a dialogue with it. This is how we name, analyze and categorize one planet after another. For me, the obsession with making other planets habitable stands in stark contrast to our laziness with regard to everyday (international) understanding.
Anna Till Dresden, Dancer, choreographer, artistic direction situation productions
Johanna Roggan Dresden, Dancer, choreographer, artistic direction the guts company
Sat 20.10.2018, 18:00
LINIE08 EXPANDING
Dance productions of the independent Dresden dance scene
In cooperation with the TanzNetzDresden c/o Kultopia gGmbH