Point of You
THE CONSTITUTE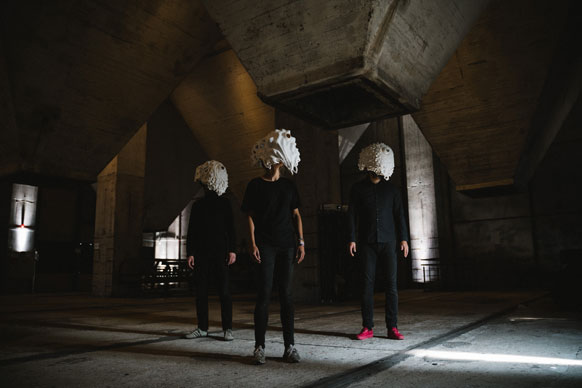 With the participatory and interactive installation Point of You, The Constitute presents a current project: the exploration of disembodied experiences, empathic behaviour and shared sensory impressions. The work consists of four data masks, each equipped with a VR headset and a wirelessly connected camera eye in the forehead area of the masks. The person wearing the VR goggles sees their surroundings through the camera eye. The camera eyes can be removed from the masks and held in the hands, creating the sensation of holding one's own eye in one's hands. By exploring this new sensory and physical reality, users gain a new perspective, a new angle on their individual position. They can let their eye wander or observe themselves by focusing the eye on their own body.
Point of You is not only an individual experience, but also thrives on the joint exploration of the world in a group. Therefore, participants can hold not only their own eye, but also the eye of another member of the group. This creates a shared sensory space that requires empathic behaviour, slow movements and a lot of communication. In this way, the group of visual and collective explorers creates a social sculpture that floats through public space.
The entire design process was exhibited for the first time in 2021 at the NEW NOW Festival at the Zeche Zollverein in Essen. 25 prototypes in various sizes were presented, showing the range and diversity of the parametric and algorithmic design process.
THE CONSTITUTE harnesses the power of academic research, artistic practice and commercial reason to create outstanding and unique experiences, objects and processes. Over the past 11 years, projects have been exhibited internationally and co-developed with partners from cultural organisations, media and research institutions. All projects have a prognostic, speculative and also critical approach. The Constitute strongly believes in the power of design to make a difference on a social, economic and cultural level to improve the lives of all people. That is why The Constitute regularly hosts courses and workshops in numerous academic institutions to help students and professionals redefine and refine their design skills. In 2017, the Fabmobil project was launched to bring creative technologies closer to young people in rural, decentralised areas in eastern Germany.
In addition to the exhibition from 10-12.03.2022, THE CONSTITUTE will offer short introductions and showings of the Point of You project exclusively on Thursday 10.03.2022 18-20:00. Participation free of charge, seats subject to availability.
Opening hours
10.03.2022 Exhibition incl. Showing 18:00 – 20:00
11.03.2022 Exhibition 18:00 – 23:00 hrs
12.03.2022 Exhibition 18:00 – 23:00 hrs
Partner
Tom Witschel – parametric design
Jens Beyer – technological supervision
Armin Riedel – photos
Robert Arnold – video