Monument 0.5: The Valeska Gert Monument
Eszter Salamon & Boglàrka Börcsök (FR/DE/HU)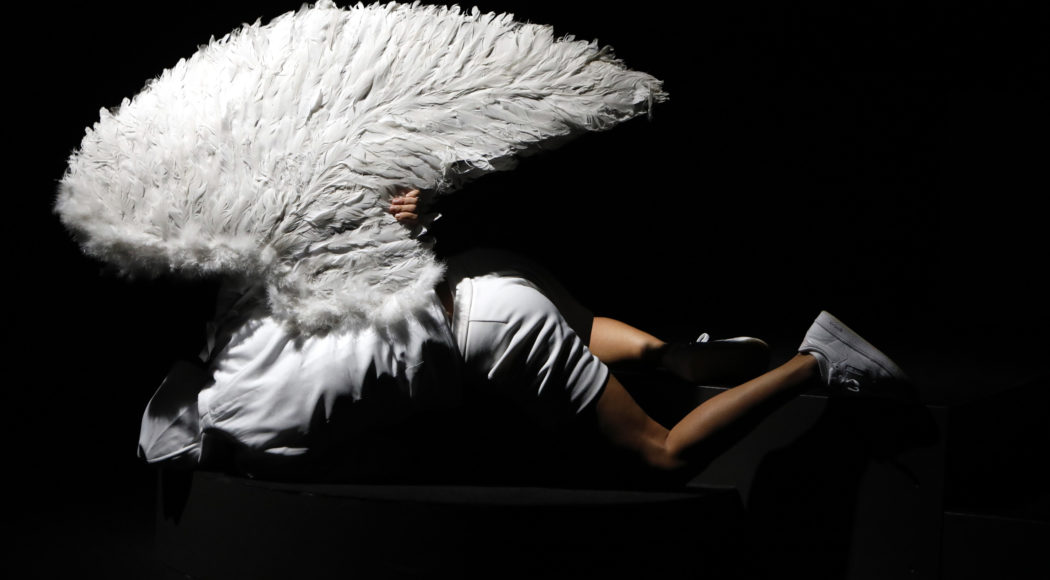 Foto: Alexandra Wellensiek
"The Valeska Gert Monument", conceived and directed by Eszter Salamon and developed in collaboration with the artist and performer Boglárka Borcsök and lighting designer Sylvie Garot, consists of a series of performative acts, the starting point of which is the life and work of the German artist Valeska Gert. Although part of the artistic avant-garde, Gert turned away from modern dance shortly after its emergence. In the early 1920s she developed performances in which she combined theatre, dance, cinema, poetry and singing to create a mixture characteristic of the Berlin cabaret scene at the time. Even during the Nazi regime, she experimented in her radical art with gender and ethnic, national and stylistic identity, unlike famous contemporaries who submitted to the prevailing artistic zeitgeist. In spite of her aesthetic fearlessness and her provocative and anarchic intensity, Valeska Gerts' importance for the history of art, dance and performance was not duly appreciated for a long time.
Eszter Salamon's series of monuments is not primarily a tribute or a remembrance of the past, but rather a different way of dealing with history. Accordingly, the "Valeska Gert Monument" is not only about new interpretations and historical documentation. Together with Boglárka Börcsök, she transfers an artistic energy from the past into our present time by picking up fragments or expressive traces and hallucinatively reviving them.
In this performative monument, autobiography and fantasy fill historical gaps, at the same time a feeling of intimacy is created through empathy. This speculative historical approach leads to unexpected meanings and surprising affinities with the present.
Eszter Salamon is choreographer, dancer and performer. Since 2001, she has been creating solo and group pieces that have been shown in Europe, Asia, South America and the United States. In 2014, she started a series of works exploring both the notion of monument and the practice of speculating on history making.
Boglárka Börcsök has been collaborating and performing with Eszter Salamon in her monument series since 2014, while developing her film project about three elderly female dancers in Budapest titled "The Art of Movement".