Recording
Ensemble Avantgarde | Works by Goldmann, Heisig, Bredemeyer (premiere), Schleiermacher and others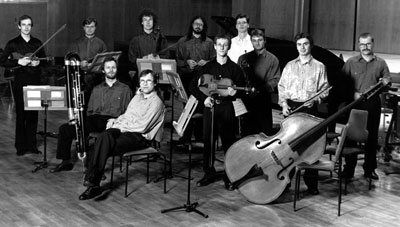 Foto: PR Ensemble Avantgarde
The event cannot take place as planned due to the current Corona measures. But it will not remain silent. The event will be recorded. The broadcast on Deutschlandfunk is expected to take place on 03.10.2021 21:05 – 23:00.
____________________
The music of East German composers cannot be pigeonholed. As everywhere, they pursued their own paths and different demands. The palette ranges from "socialist Biedermeier" to open forms, collages, improvisations …
The concert of the Ensemble Avantgarde will highlight some of their positions: Friedrich Goldmann and Reiner Bredemeyer belonged to the father generation of the East German avant-garde, Hermann Keller to the middle one, always deliberately and with relish placing himself in the no man's land between serious music and jazz, composed music and improvisation. Richter de Vroe, Heisig and Schleiermacher belong to the youngest East German generation.
Support ticket: TONLAGEN#seidabei
The streams are accessible free of charge. But art costs money. The challenge of making a digital programme available in these times is great. With the Support-Ticket: TONLAGEN#seidabei you have the opportunity to financially support the elaborate production of the TONLAGEN Festival.
Buy your voluntary ticket here.