Die rechtschaffenen Mörder
Reading by Ingo Schulze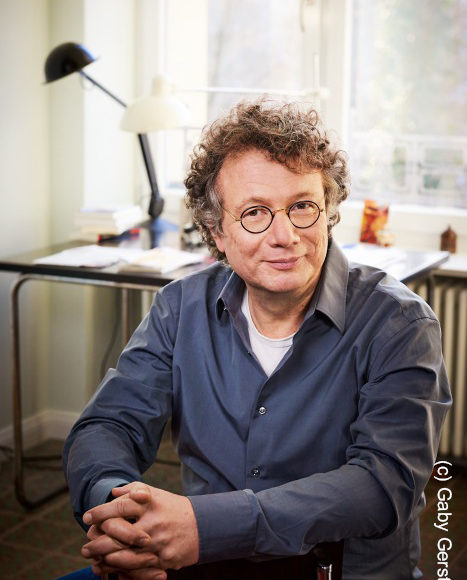 Autor: Ingo Schulze, in seiner Berliner Wohnung, 2017. Foto: Gaby Gerster.
Nominated for the Leipzig Book Fair Prize 2020
How does an upright book person become a reactionary – or a revolutist? A stirring story about us all.
Norbert Paulini is a highly respected antiquarian bookseller in Dresden, where book lovers find treasures and like-minded people. For over forty years, he experiences ups and downs. Even when times change, customers fail to come and the Internet gives him competition, he tries to maintain his position. But suddenly we are faced with a hot-tempered, unforgiving man who is accused of being involved in xenophobic riots. The story takes a virtuoso volte-face: is Paulini a tragic figure or a murderer?
In a brilliant way, Ingo Schulze tells us about our country these days and pulls the ground of certainties out from under our feet.
Follow-up discussion (moderated by Lars Koch)
Support ticket: Invektivität #seidabei
The streams are accessible free of charge. But art costs money. The challenge of making a digital programme available in these times is great. With the Support-Ticket: Invektivität #seidabei there is the possibility to support the costly production of the programme financially.
Buy your voluntary ticket here.
The event will take place here via Zoom.
To join the Zoom webinar, we recommend installing the Zoom app on the appropriate device. According to tests so far, the webinar can also be used without the app in the Google Chrome browser. Before joining, you will be asked for your name and email address. This is for technical reasons only. The data will not be transmitted to the host (HELLERAU).
Note: Spectators cannot participate in the webinar via microphone or video. Requests to speak and questions are possible via the "Q&A" button.
When downloading Zoom, you must agree to their privacy policy and thus to the transfer of data to the USA. We use Zoom because, to our knowledge, it is currently the platform with the lowest barriers to entry for a diverse group.