BÜHNE NEU DENKEN
Online workshop with Lisette Reuter (artistic director), Nils Rottgardt (director) and Dodzi Dougban (performer)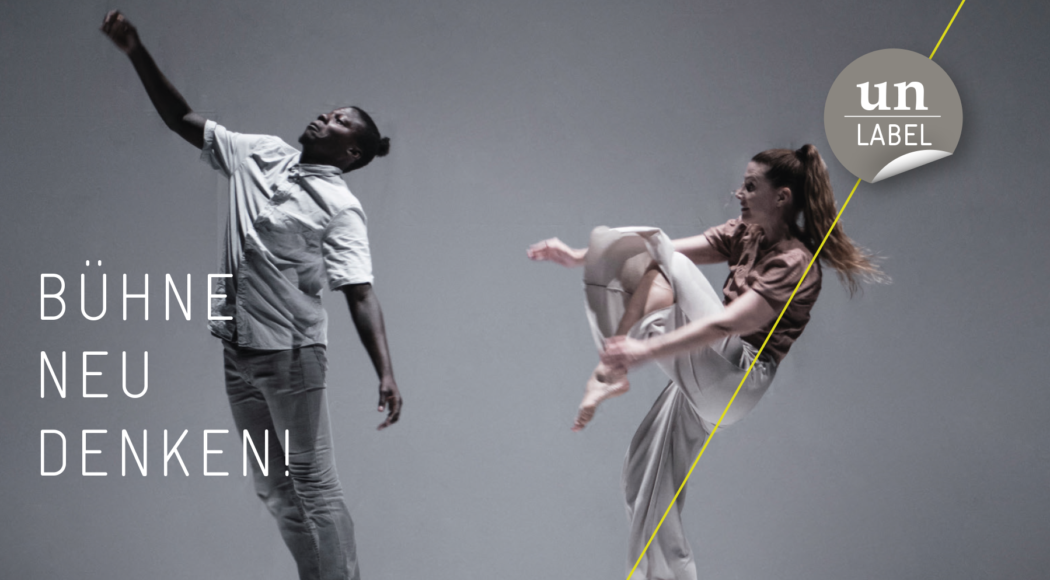 When we talk about accessibility in the arts today, we are usually talking about audio descriptions, surtitles or sign language interpretation, which stand as foreign bodies outside the production.
The Un-Label Performing Arts Company from Cologne has taken accessibility a step further with the European project ImPArt:
It becomes a source of inspiration and invites experimentation. The aim of ImPArt was to find new, creative approaches that make it possible for all people to experience an artistic product on an equal footing. How can aids be used in such a way that they are part of the staging, thus becoming art themselves and enriching the artwork through their own aesthetic possibilities?
ImPArt is the first project worldwide that has structurally researched the "aesthetics of access" (the aesthetic potential of means of accessibility), made it usable for artistic innovations and thus creates works of art that can be experienced by people regardless of their possible limitations. More than 350 artists, experts and scientists with and without disabilities from seven countries were involved in this process.
In this workshop, Lisette Reuter, artistic director of Un-Label, Nils Rottgardt, director of the performative multimedia installation "Re:construction" and Dodzi Dougban, performer of the dance production "Gravity (and other attractions)" look at accessibility as an impulse for innovation in the artistic process on the basis of three productions.
The workshop is aimed at all artists who want to approach practices of "aesthetics of access" or implement them in their work. The workshop will stimulate a transfer of ideas for your future artistic work.
Please enter the Zoom room 10 minutes before the start via this Zoom link.
Meeting ID: 846 8454 0484
ID code: 503296
To participate, you must download the Zoom software, agree to its privacy policy and thus to the transfer of your data to the USA. We are using Zoom because, to our knowledge, it is currently the platform with the lowest barriers to entry for a diverse group.