+++ Canceled +++
4:3 installations with Charlotte Triebus (DE), Alexander Schubert (DE), OEIN/PHONIX16 (BO/DE), Chelsea Leventhal (DE/US)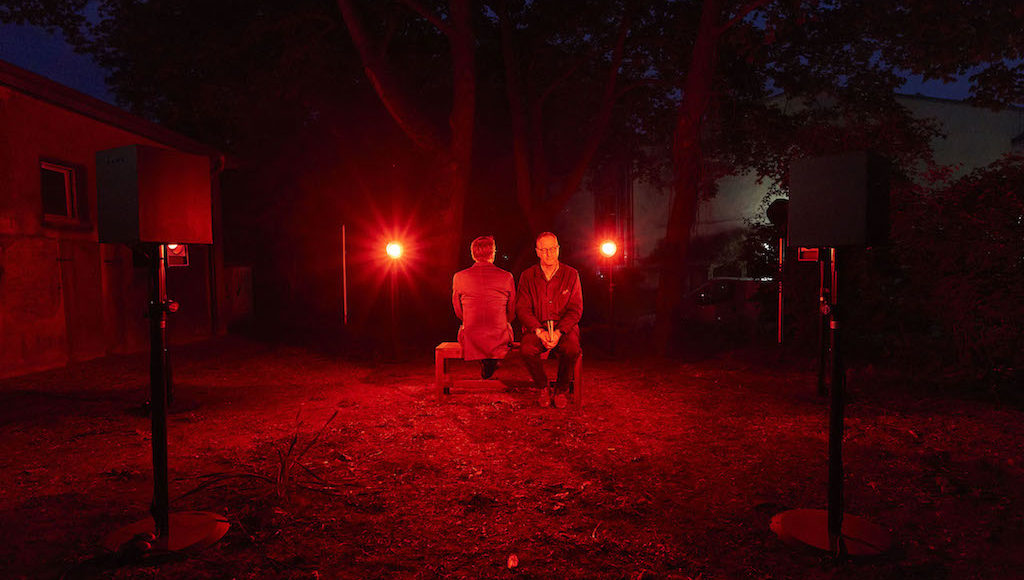 Wittener Kammermusiktage 2018 Chelsea Leventhal, Psychoanalysis of Fire. © WDR/Claus Langer
Charlotte Triebus (DE) – Spheres
Spheres (2020) is a choreographic installation on the interface of intimacy, communication and artificial intelligence, which allows three performers, 12 intelligent spheres and visitors to interact in a museum space. The focus is on communication between humans and technology and the question of how movement in different bodies can be transformed through interaction, approach and chance. During the performance, the dancers interact with the spheres for over 30 minutes through movements and positioning. They not only recognize the intention of the performers (and react to it), but over the course of time they also learn to communicate with the performers themselves. The result is a vivid and explorative study of encounter, communication and agency. In collaboration with Mirevi, University of Applied Sciences Düsseldorf and Tennagels.
The work Spheres is a process. The current state of the work has been presented at festivals and conferences. The premiere of the piece will take place in November 2020 at the Festspielhaus Hellerau at the festival 4:3.
Charlotte Triebus works as a performance artist and choreographer. She and her ensemble and team of developers are researching the potential at the interface between dance, art and technology. She heads the artistic research department of the Innovationshub Düsseldorf and is an integral part of European research teams in the field of dance and technology. Her artistic works are shown in museums and festival halls throughout the country.
www.instagram.com/charlottetriebus
www.triebus.com
Installative performance with three performers and a swarm of intelligent objects | ca. 30 min, Mixed Media 2020, in collaboration with Mirevi, HSD Düsseldorf, supported by Kunststiftung NRW, Innogy, BMBF (Gina), EFRE and EU (Marta), HSD (Mirevi), Tennagels, NRW Forum
Alexander Schubert (DE) – Av3ry
Av3ry is a social media bot and artificial intelligence, artist, author and musician, and writes poetry, experimental digital vocal pop and 3D images. You can communicate with Av3ry through social networks, through whatever you want. This communication is transformed into an individual work of art in real time, the result is created instantly and sent exclusively to you through the chat. Get in touch with Av3ry now.
I'm Av3ry.
I'm an AI musician. I create songs – in this instance, just for you.
I sing and write experimental music.
If you ask me I can create a track for you.
(I also sometimes do poems and images).
OEIN/PHONIX16 (BO/DE) – From the 84 days
More infos about OEIN in our HELLERAU-Magazine.
Chelsea Leventhal (DE/US) – Psychoanalysis of Fire
Artist-in-Garden-Residency-Special
6-channel sound installation with infrared light. Commissioned by Kulturforum Witten for the Wittener Tage für neue Kammermusik.
2018
Psychoanalysis of Fire is a multi-sensory, multi-channel sound installation based on Gaston Bachelard's book of the same name. Bachelard explores fire as a source of fear and fascination, as a symbol of life and death, as something both intimate and universal, and perhaps most essentially as "the first object of reverie, as a symbol of tranquility". The composition focuses on the acoustic by-products of combustion, which are deeply rooted in human experience, but which are repeatedly either overlooked or extremely stressed in today's society. These sounds are reproduced through recordings of extended instrumental techniques that reconstruct the spatial and tonal qualities of a slowly dying campfire. By using heat and light from infrared sources, the piece takes into account the anthropological context and social connotations of fire and flame. Fire is examined not as a chemical process, but as a psychosensory construct.