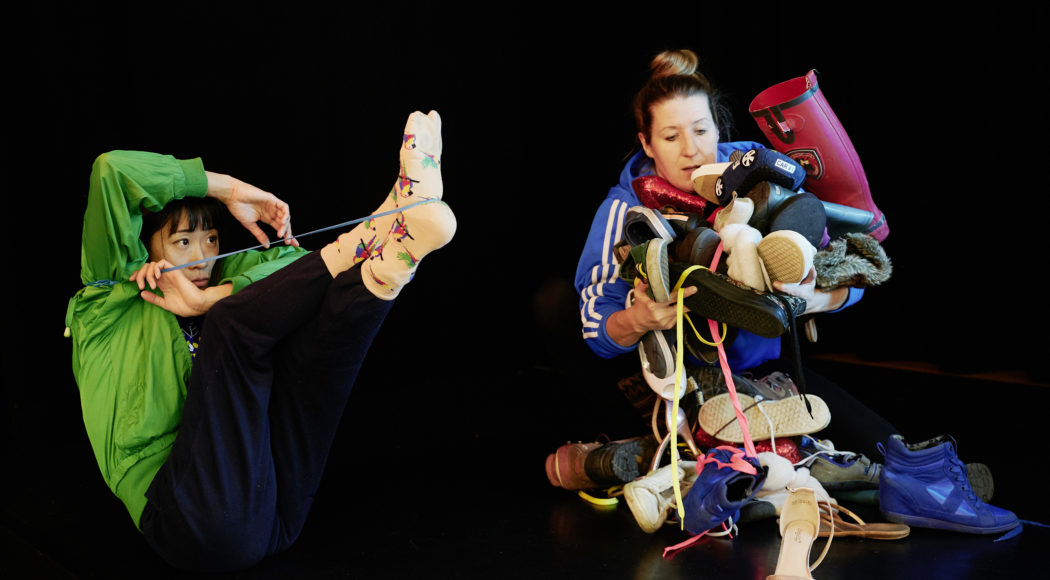 Zum Stück "Wo drückt der Schuh?" sprach Franziska Ruoss (HELLERAU) mit den Künstlerinnen
Hello Jana, Eve and Mommy. "Wo drückt der Schuh?" is a work for a young audience and families. Can you tell our readers how the title and content of the work came about?
It was important for us to find out what is currently on the minds of elementary school children – What's on their minds? What gets on their nerves? And when do they get cold feet? These proverbs were the basis for our initial contact with the children and for our movement research. And we wanted to work with material. Since it's a pop-up performance, it should be as uncomplicated as possible, versatile and connected to the children's everyday life. That's how we came up with shoes. In our piece we explore them dancing, using them as a metaphor and as a stage set.
Your piece is part of "explore dance"-Network Dance for Young Audiences. What motivated you to apply with a concept?
We are attracted by the direct proximity to the audience and the way we deal with the spontaneity of the young audience members. The network "exploredance" itself offers us the possibility of exchange with other artists and of course a broader platform for our work.
You develop the performance with and for young people. What inspires you in your artistic exchange with children and young people?
Learning what concerns them and how they see things and our pieces inspires us. That's why they're part of the whole process: we've conducted interviews with children and young people, we do test performances in schools, and we want to get into conversation and movement with the kids after the performances.
The "explore dance" pieces take place at HELLERAU as well as in classrooms, auditoriums, museums, galleries or public spaces in Dresden and the surrounding area. Which venues are particularly close to your hearts?
As far as venues are concerned, we are very open. It's important to us that we bring dance to rural areas and to audiences who have little access to art.
"Wo drückt der Schuh?" is a mobile pop-up piece. How does it differ from "classical" stage productions?
It's more direct and without all the technical wizardry. That means we have to find other ways to create an atmosphere. Maybe that also makes it a bit more relaxed than in the theater. Also, in pop-up formats, we usually go to the audience and are guests in their familiar surroundings; in the theater, it's the other way around.