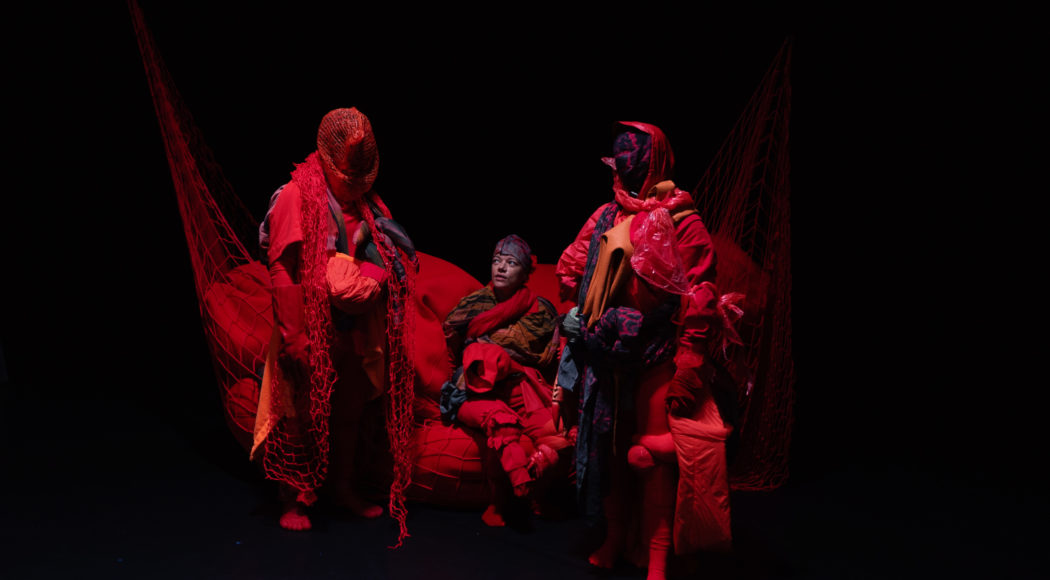 Watch Out!, #1 – 2022
Attention, Watch Out! The second edition of the HELLERAU festival for young and old once again presents contemporary dance, performance and installations by internationally renowned choreographers – not only for children and young people, but for all generations. The four invited dance and performance pieces could not be more different: The dance performance "Alle Augen Staunen" by Swiss artist Lea Moro explores the ever-changing nature between tentacles dangling from the ceiling, bouncing tents and dripping icicles. The German-Taiwanese choreographer Fang Yun Lo, who lives in Dresden, and her international team go on a crazy slapstick journey of four friends through a pulsating city with "Nano Giants". In the concert choreography "Schlagsahne" by Regina Rossi from Hamburg, the band members transform the stage with their instruments, voices and bodies into a space charged with vibrations and rhythms, in which even the props produce sounds. They sing, play and dance their way through different facets and ambivalences of anger and warn: it can get really, really loud – and there's whipped cream too! To get active themselves, the Armada of Arts is developing an experiential space in the Nancy Spero Hall and invites the audience to discover and linger in an intimate atmosphere. In the play "born to shine" by the jungen theatre basel, 14 young people from Basel are on stage. "Welcome, welcome, we are all born to shine", a voice calls out from the mist. It belongs to a creature in a glittering blue leotard and invites us into the world of "shine". After eight weeks of rehearsals with lots of sweat, sore muscles and TikTok in Real Life, "born to shine" was born in March 2021 at the jungen theatre basel. With director Sebastian Nübling and choreographer Ives Tuwis, 14 young people between the ages of 15 and 23 set out to explore the possibilities of the digital world, their own "shine" moments and big questions in a world of sensory overload in which one can sometimes get lost. We asked the young performers about their experiences during rehearsals and performances.
"Being on stage without a mask for the first time led to a lot of laughs. The first thing you have to do is get your face under control again."
"If you spend half a rehearsal day just practising walking backwards, you'll eventually feel sick to your stomach."
"The panic when you once again can't find the right smartphone and you're running back and forth in the dark because you actually have to do a TikTok now. Why do we all have the same model too?"
"When we're sitting in our chairs writing messages again and Dylan starts singing. Right there is a tiny moment when I feel lonely. When you get pulled back into the mobile. There we are actually all together, but also mega alone. Then that changes when we all make music together, I think that's cool."
"I tried to think myself into stage fright, it's really good when you're nervous. Then you realise you're alive."
"Sometimes I stand behind the chair in the dark and watch the audience. Then I feel like a little kid peeking through the curtain gap to see who all is sitting there."
"I don't understand that it's about shining, but then not everyone shines at all. Not having that spotlight. That there are some who shine much more. Who shine penetratingly. There are also many things where people don't shine in the classical sense. For example, they seem quiet and introverted. Why isn't that shown?"
"Well, I think a 'moment to shine' is also when we have just done something intense together as a group. Everyone shines in their own way, some quietly, some loudly. But together the brightest. We can all sink into our own chairs, stare into our own screens, no one stands out. But we shine because we're doing this together and we're still connected."
"When we write in chat, we are also connected. It's more the opposite of lonely, it's kind of – like alone, but also mega much."
"While in the satellite the mobile phone circles around our bodies, I think about speed. About my relationship with my partner, who can now look deep into my eyes. And that we can both decide equally firmly how we come together. That no one dominates. That we listen to our bodies and communicate without speaking. I enjoy this moment very much."
"Sometimes I ask myself, where do I take or get the energy for this evening now?"
"It's fully automated. We get closer and we get farther away. It's like we have a magnet in our stomach."
"At times someone is down, a head is on a shoulder. The arms take turns floating. Sometimes a hand there, sometimes a breathing in the ear. At last, closeness again, after all that distance."
"It is this moment when everything blurs. Just us in this cone of light. An encounter in this non-existent space. No stage, no others, no judgement."
17. -26.03.2022
Watch Out!
Festival for young and old
With Armada of Arts, Fang Yun Lo/Polymer DMT, junges theatre basel, Lea Moro, Regina Rossi and many more. Funded by the Federal Government Commissioner for Culture and the Media as part of the Alliance of International Production Houses.