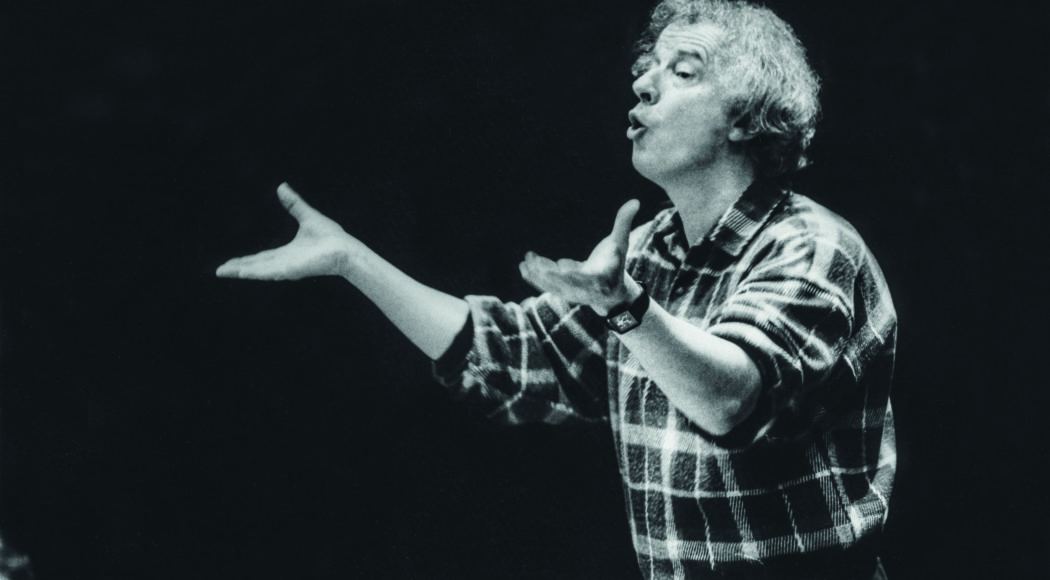 Foto: Matthias Creutziger
The European Art Saxon, #1 – 2022
By Katrin Bicher
Udo Zimmermann is one of the most frequently performed composers of our time. He succumbed to his long illness in October 2021. He will remain in our memory as a composer and cultural campaigner.
Udo Zimmermann had astonishing success not only as a composer. As a mediator, dramaturge, artistic director, manager – not least of all himself – he repeatedly achieved surprising coups. His musical socialisation in the equally demanding and elitist Dresden Kreuzchor, which was accustomed to success, possibly predestined him for a life in the fast lane. He moved confidently across various borders, placed his works all over Germany and beyond since the 1970s, received commissions for compositions and conducting engagements in East and West, was a lively advocate of contemporary music theatre from 1990 to 2001 as artistic director of the Leipzig Opera, and for a short time also of the German Opera in Berlin, and as a committee and board member of various academies of the arts for contemporary art in principle.
His claim was formulated early on: "World music" was to meet at Zimmermann's. There was no "Warsaw Autumn" in the GDR. So the task was to create a way to bring contemporary music from all over to the East German audience. Dresden, Zimmermann's home, seemed ideally suited for this: "People didn't look at Dresden quite as closely as they did at what was happening in Berlin. We were able to benefit from the relative remoteness of the province," he recalled in 2002, slightly flirting. Because of course he knew that what he was planning would attract attention: to add a third "D" to Darmstadt and Donaueschingen with his activities.
An initial framework for this was provided by the Studio Neue Musik, which he was able to set up in 1974 under the roof of the Dresden State Theatres, where he had been responsible for contemporary music theatre as a "development dramaturge" since 1970. The goal became more tangible when he established the "Dresden Centre for Contemporary Music" in 1986 in a house on Schevenstraße, which had to give up the new music special department of Edition Peters. In doing so, he continued the mediation work begun by Peters, which consisted of colloquia, concerts and performances, namely in connection with other arts, in addition to the impounding of contemporary music. Here Zimmermann was able to work on – and realise his own vision of – a meeting place for the arts and artists.
It was important to him not to create exclusivity for New Music, but to integrate it as a natural part of culture. With this in mind, he directed the "Workshop for Contemporary Music Theatre" in Bonn from 1986 to 1990, put Henze, Ligeti, Maderna, Schlünz, Hirschfeld and Herchet on the programme in Leipzig alongside Mozart, Beethoven, Rossini and Lortzing, and in 2001 started as general director of the Deutsche Oper in Berlin in order to realise his idea of contemporary music theatre there as well. However, the opera controversy in the capital soon stopped him. In 2003 Zimmermann returned to Dresden to continue the Dresden Centre for Contemporary Music on the "green hill of modernity" in Hellerau as the founding director of what is now the European Centre for the Arts.
In 2008 Zimmermann had to resign from his posts in Hellerau and at the Berlin Academy of the Arts, then in 2011 from the Saxon Academy and as artistic director of the Bavarian Radio's "musica viva". After a long creative break, he has now written his own works again, including the Cello Concerto dedicated to Jan Vogler and a Violin Concerto for Elena Denisova. A rare neurodegenerative disease, however, soon silenced him – which is particularly tragic in view of the active engagement of the preceding years.
What resonates and remains is the Zimmermannian idea of connecting arts and artists with each other and with the audience. What remains is HELLERAU, a "European Centre of the Arts" in the "relative remoteness of the province" but in the middle of Europe – not least as a sign of the European idea. For, as Zimmermann said thirty years ago in a conversation with Monika Grütters: "With its visions, art sets signs for politics […] In the end, politics cannot live without art. […] Life cannot be at all without art. And art is a help to life." Not provincial, but quite global.
Katrin Bicher is head of the department "20th/21st Century Collections" at the Sächsische Landesbibliothek -Staats- und Universitätsbibliothek Dresden (SLUB), where some of Zimmermann's works are preserved and made accessible in autographs and audio recordings.
An important legacy of Udo Zimmermann is the "Dresden Contemporary Music Days", founded in 1987. Due to the pandemic, the 30th edition of this festival has to be planned for the period April 2021 to autumn 2022. Next on the programme is the project "An Invitation to Disappear" by Julian Charrière (10 – 13.03.2022).