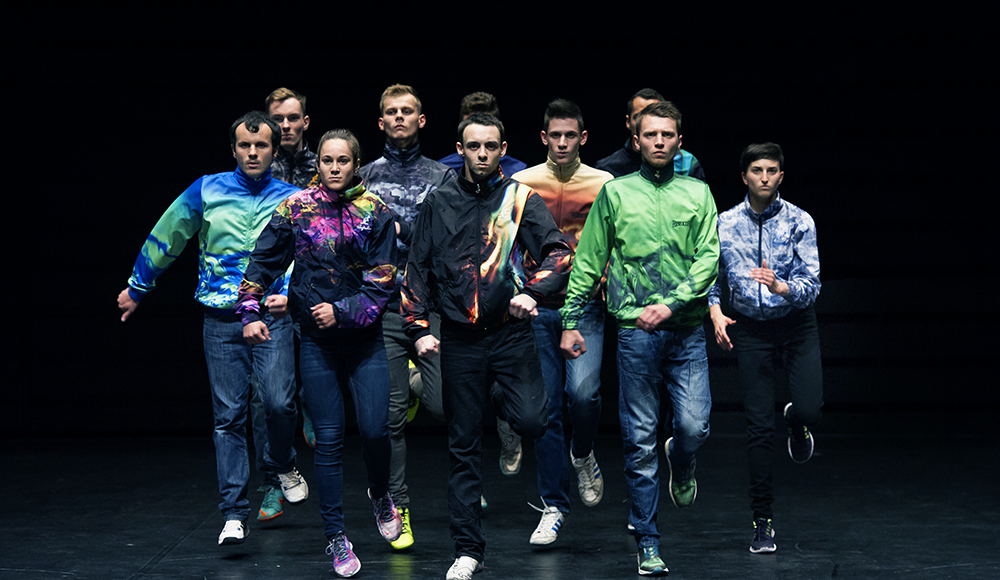 POST-INTERNET-DANCE From virtual space to reality and back again, #1 – 2019
"Post-Internet art comes from artists who see social media as their home and whose dependence on search engines has become irreversible, who use a Macbook as a studio and always have their smartphone within reach. (…) In this sense, we can also understand that there is an eternal back and forth movement between reality and virtuality." Benoit Lamy de la Chapelle, "De l'art post-internet" The term "Danse Post-Internet" or Post-Internet-Dance is a new creation of (LA)HORDE, which refers to the term of the same name in the field of contemporary art. The term "Post-Internet" describes our practice very precisely. We create new gestures and choreographies, which are not bound to a certain time frame and are not only inspired by YouTube videos. "Post-Internet" in our case means that the body acts in both virtual and real spaces in different but comparable ways. From a dance point of view, this new space of self-expression has led many people to film themselves at home, dance and then share the videos in the social media, which is a very strong, courageous statement about the representation of oneself. Post-Internet art has also enabled us to gain access to very specific dances, such as traditional dances, tutorials, or dances born on the Internet, such as the jumpstyle we are currently focusing on. Jumpstyle is an electro dance style and musical genre that is now very popular in Eastern Europe as well as in some parts of Australia and the United States. Jumpstyling is often referred to as "jumping": a combination of the English word "jump" and the Dutch and German suffix "-en". Jumpstyle was created in 1997 in Belgium, but became very popular in the 2000s in its neighbouring country, the Netherlands. Jumpstyle is also a dance that you can discover on the Internet and which is usually practiced alone in your own room. It is very intensive and physically exhausting for the dancers*, a jumpstyle sequence lasts only about 25 seconds. The "jumpers" mobilize all their available energy to go through an improvisation sequence. The result is a very powerful style that goes directly against their own frustration. At the end of a solo, the "jumpers" are out of breath, but in a peaceful way, full of inner strength, calm, self-confidence and defiance. The "Jumpers" film their choreography and publish it on the Internet to share their passion, but also their progress, with their community. The steps that the "Jumpers* follow are usually the same: the first videos are shot directly in the youth rooms, then the living rooms or other larger areas follow, then they move into public space. Here you can easily see the development from private to public. This practice then spreads to social networks, where the community reacts with comments and adds its own videos. In online tournaments and virtual fights, leagues are formed, groups compete against each other and meet in different European cities. In working with the community and the dancers we always know that we are working with real processes and transforming them into (theatrical) fiction. It is ethically and politically very important for us to name this cultural appropriation when working with an existing community. The "Jumpers", who choreograph and dance themselves, see us as analysts of their movement. They know that we respect them and work with them so that together we can write a new story – a fantasy world in which jumpstyle is the center.
"TO DA BONE" is part of a long-term project that (LA)HORDE started some years ago with the hardcore scene. From these themes two productions have been created before. "TO DA BONE" was developed with "Jumpers*innen" from France, Canada, Hungary, Holland, Poland and the Ukraine. All participants were invited to several residencies in different countries in order to try out new inspirations and styles together outside the virtual space.
The collective (LA)HORDE was founded in 2011 by the artists* Marine Brutti, Jonathan Debrouwer and Arthur Harel. (LA)HORDE is a multi-faceted creative collective that deals with staging, choreographic design, film production, video installation and performance. By exploring various artistic approaches, especially in the fields of live art and contemporary art, (LA)HORDE aims to create works that are creative and culturally relevant, regardless of the media platform.
By (La) Horde Marine Brutti, Jonathan Debrouwer, Arthur Harel about their work
Translated and edited by André Schallenberg
Sat, 02.02.2019, 20:00Sun, 03.02.2019, 18:00To Da Bone(LA) HORDE (FR)