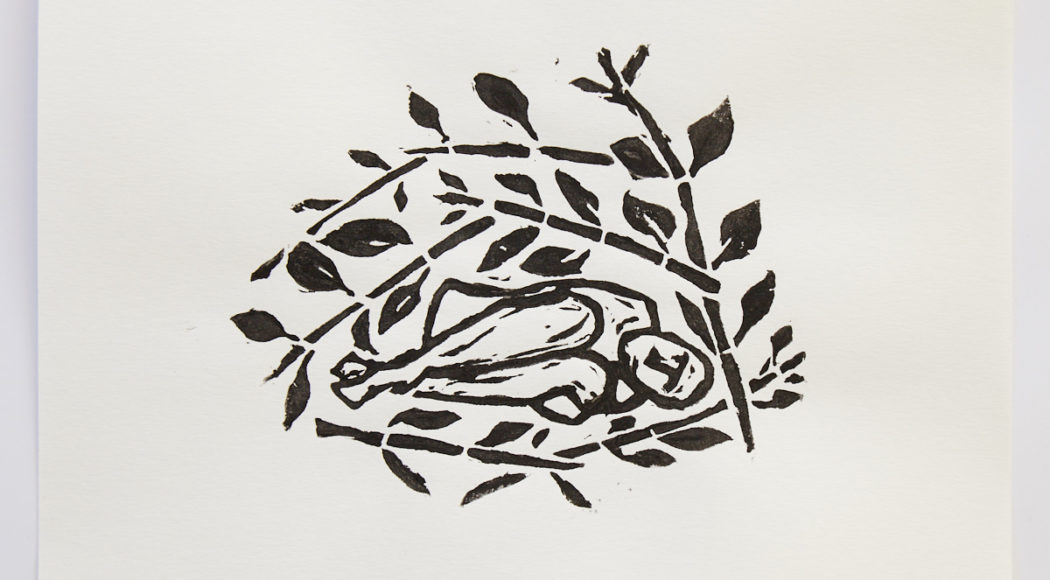 Plant Meditation: A Practical Guide, #1 – 2022
What is considered "natural" or "unnatural" when we take care of someone? In October 2021, Eszter Kállay and Bence György Pálinkás were guests at HELLERAU as resident artists. In the cultural garden, amidst plants that are seemingly natural but behave very differently from their natural habitat due to their cultural environment, they invited to the workshop "Roses are Red, Gender is Performative", which explored the relationship between cultivating a garden and raising children. In order to open up a protected space in which everyone feels comfortable and an exchange with the participants is encouraged, they always began their workshops with a ten-minute meditation, which the artists would like to share here in written form.
Please prepare paper and pens for this meditation. We recommend that you find one or more partners and read the following text to them or have them read it to you. Go to a garden, a forest or a balcony where you can stay in a relaxed mood.
Please find a comfortable place to sit and put your feet on the ground. Close your eyes. You are in a garden/forest/etc. Begin to notice your breath. Notice your inhale, your exhale and the moment they meet. If thoughts arise, just acknowledge them, accept them, but you don't have to hold on to them.
Try to breathe in calmness with each inhale and relax your body with each exhale. Start to relax your feet, your toes. Feel the connection of your feet to the earth. Relax your ankles, your shins, relax your knees and your thighs. You can relax your hips and your lower back and just relax into your seat. Then relax your abdominal muscles, your back muscles. You can relax your shoulders and your neck. Also try to relax your face, your jaw, your forehead, the space between your eyebrows-just let go of those muscles.
Now notice the environment around you. Notice if you hear any sounds in your environment: sounds of the garden, sounds of the weather, sounds of living things, of people. Pay attention to these different sounds of nature and culture. Notice smells, the light that breaks through your closed eyelids. Do the smells, the light change? Notice the change. Notice the temperature of the room and the quality of the air.
Now imagine a garden. It can be any kind of garden. And in this garden there is a plant. Look at this plant. Does it have one colour or several different colours? Look at the shape of this plant, the size of the plant. Does it stand alone or is it connected to other plants? You can also imagine touching this plant. What parts does it have? Does it have soft parts? Rough parts? You can also imagine sticking your fingers into the soil of this plant. Imagine the quality of the soil. Is it moist? Is it dry? What kind of soil is the plant growing in?
And now imagine the history of the plant. How did it get into the garden? Was it planted here or did it grow by itself? What is the origin of this plant? You can also think about the history of the plant's growth. Did people help the plant to grow? Has its growth encountered obstacles? Does it have limits or does it grow very tall and free? Is someone controlling this plant? Is someone protecting it? Has it been cultivated by someone? What role does this plant play in the garden? Does it have fruit that can be eaten or is it an ornamental element? Is it considered useful? Does it grow without human intervention? To what extent is it part of nature and to what extent is it part of culture?
Look at the plant again: its quality, its colours, the soil, the garden that surrounds it. Look closely one last time.
Now return to your body and concentrate on your breath again. Allow it to return to its natural rhythm. Listen again to the sounds of your surroundings and notice the light coming through your closed eyelids. You can slowly move your toes and fingertips if it is comfortable for you. You can also circle your wrists and ankles. Stretch if it feels good. Slowly open your eyes.
Now draw the plant you have imagined. If it feels good, you can talk about the plant while you draw it.
Eszter Kállay is a poet, translator, has completed the master's programme in Critical Studies at the Academy of Fine Arts Vienna and works as a social worker. Her interests are critical pedagogy and feminist activism. Kállay's first book of poetry, "Kéz a levegőben" (Hand in the Air) was published by Magvető Verlag in October 2020. Bence György Pálinkás is a trained carpenter, was a visiting lecturer at the Slade School of Fine Art – UCL, London and at the Centre for Eastern European Studies, Warsaw. Non-hierarchical communities interest Bence György Pálinkás on stage and in various artistic work contexts. With the play "The Hungarian Acacia", he and his team have performed here, among others: Mousonturm, Spielart, PALM OFF FEST, Theaterfestival Basel, BOZAR and at Off Europa Festival.
The residency programme at HELLERAU is funded within the framework of the Alliance of International Production Houses by the Federal Government Commissioner for Culture and the Media.