Construction diary east wing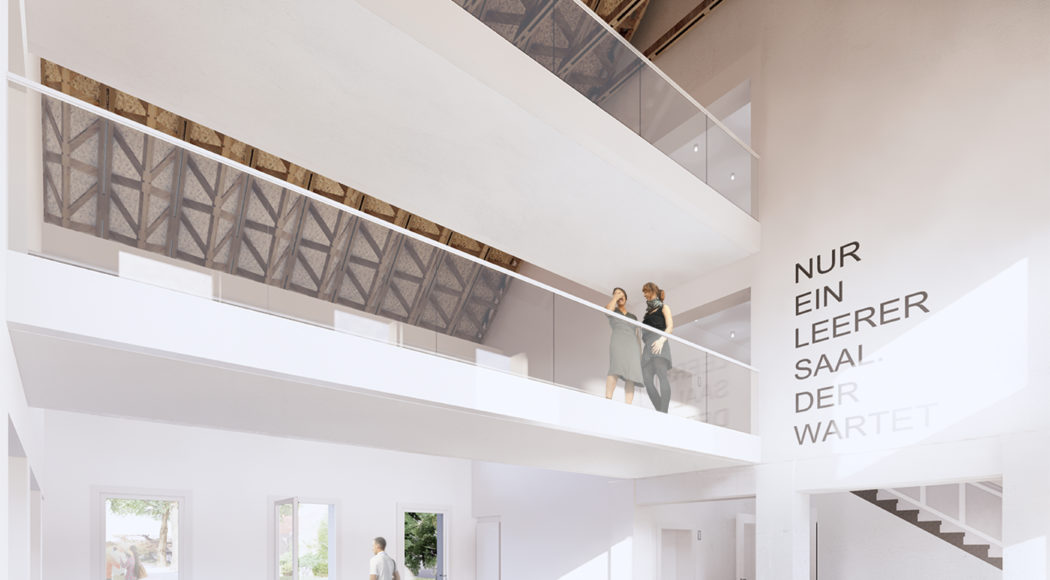 Visualisierungen Heinle, Wischer und Partner
The east wing at the Festspielhaus is brought back to life
On 16 November 2018, Minister of the Interior Prof. Dr. Roland Wöller and Dresden's Lord Mayor Dirk Hilbert signed an urban development agreement in HELLERAU. With this, the Free State held out the prospect of funding for the state capital from the federal-state programme "Urban Planning Monument Protection". The funds will be used for the complex renovation and conversion of the east wing of the Festspielhaus Hellerau as well as for the design of the open spaces on the site, including the inner courtyard. As a centre for contemporary art with a clear focus on dance, music and theatre, HELLERAU is one of the leading centres for contemporary performing arts in Germany. To welcome artists from all over the world, the former East Barracks, a listed building on the festival grounds, is now being converted into a hostel and rehearsal centre. On this page we will inform you regularly about the progress of the conversion. Follow the development of the East Wing on the grounds of HELLERAU – European Centre for the Arts.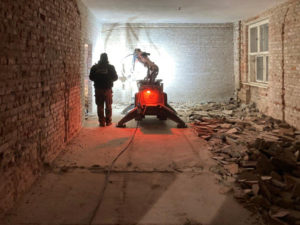 Photo: PR HELLERAU
There is a lot of noise and dust in the east wing of the Festspielhaus. The demolition work that began in the central foyer in October is now taking place on all levels of the house. Before the new rooms are created, the east wing will first be completely restored to its shell condition, which means: all non-load-bearing walls will be removed and the plaster surfaces on the interior walls and ceilings as well as the floor superstructures will be taken down so that only the load-bearing elements and layers remain.
At the moment, three companies are working simultaneously on the site (technical development, light demolition and structural demolition). BAUHAUF GmbH is providing the main construction work, i.e. most of the demolition work, and will subsequently also carry out the steel construction and carpentry work. The demolition work on the upper floors of the east wing will extend into the spring of the new year.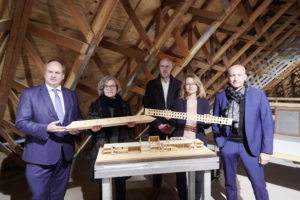 Photo: Stephan Floss
At a press conference, Dresden's Lord Mayor Dirk Hilbert kicked off the start of construction for the repair and modernisation of the east wing of the Festspielhaus. The façade has been scaffolded over the past few days, and the building has been connected to all media (water, electricity, etc.) in advance. After light demolition work to create building space, the shell of the building is now beginning with extensive demolition work in the new central foyer. A crane will be erected on the site by the end of 2021 to transport building materials into the building and to dispose of demolition materials from the building. The old wall on the east side of the festival area was already removed some time ago. This area (access from Heinrich-Tessenow Weg/ Valeria-Kratina-Weg) will be secured by a construction fence during the entire construction work.