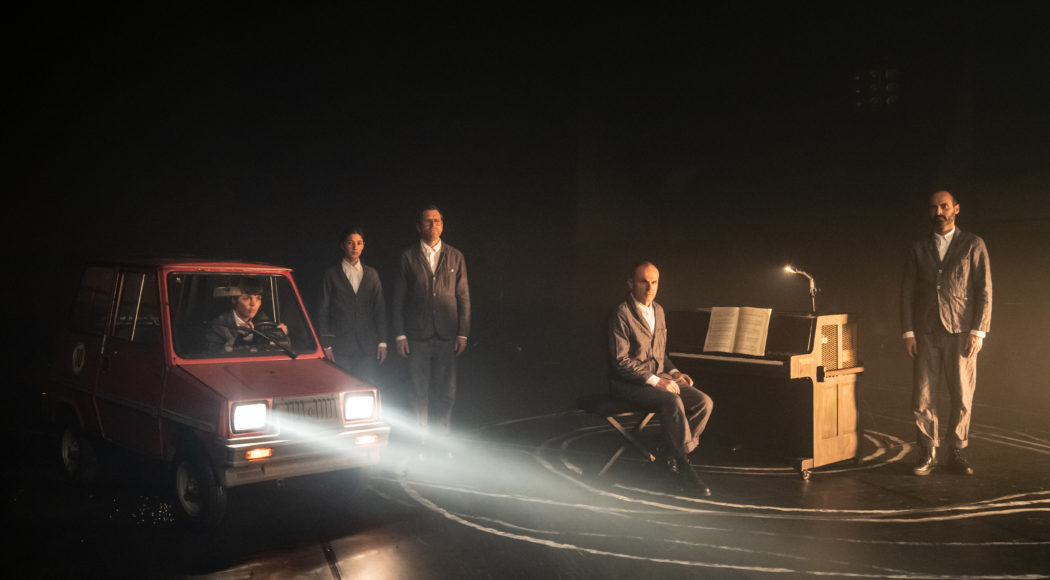 Lieder ohne Worte, #1 – 2022
With his latest music theatre production, the director and sound artist Thom Luz works up an accident in his subtle, humorous-melancholic way that can certainly serve as a metaphor for greater things. A smoking car wreck in a nocturnal forest clearing, with romantic salon dreams by Felix Mendelssohn Bartholdy blaring from its broken radio. This musical crash sculpture is meticulously built up over the course of a performance by five sound and illusion experts – shard by shard, sound by sound. In juxtaposition to this slowly assembling brass catastrophe, an electric chamber music trio adds unexpected reverberation and noise dimensions to Mendelssohn's piano cycle "Songs without Words". Thus the end of a road movie becomes the starting point of the new music theatre development by Swiss director and stage designer Thom Luz. "Songs without Words" is about shock and speechlessness, changes of perspective, destruction and the future – and the necessary reconstruction of the present. How have we driven ourselves up against the wall? Do we still exist? And what now? Where words are not enough, sounds reform. In the interplay of catastrophic images and musical superimpositions, a filigree, meticulously thought-out spatial composition emerges.
Thom Luz, theatre maker, director and musician, born 1982 in Zurich, studied acting in Zurich. He has been developing his own projects since 2007. Since his directorial debut "Patience Camp", Luz has worked both in the independent scene and at municipal theatres in Switzerland, Germany and France. Since the 2019/2020 season, he has been in-house director at the Residenztheater in Munich. He has been invited to the Berlin Theatertreffen several times and received the Swiss Theatre Prize in 2019.
08./09.04.2022
Thom Luz and Ensemble
Lieder ohne Worte
A co-production of Kaserne Basel, Gessnerallee Zürich, Théâtre VidyLausanne, Wiener Festwochen and HELLERAU-European Centre for the Arts. Funded within the framework of the Alliance of International Production Houses by the Federal Government Commissioner for Culture and the Media.