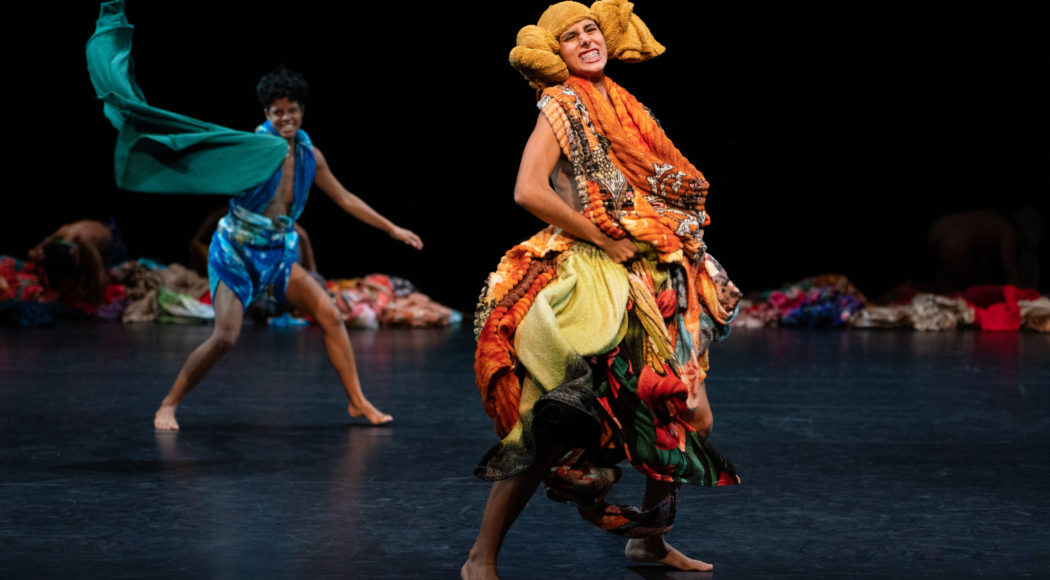 Lia Rodrigues, #1 – 2022
As a thematic focus from May to September 2022, "Come Together" shows various artistic positions on the themes of empathy, community, care and social cohesion. The guest performances by Lia Rodrigues and Dada Masilo in June 2022 will also take place within this framework. The final festival "Come Together ChoreoLab x Stations" is planned for September 2022.
07./08.05.2022
Encantado
Lia Rodrigues Companhia de Danças
in the framework of Come Together
"Come Together" is funded by the German Federal Cultural Foundation.
… the right to live happily.
In May 2022, Lia Rodrigues and her company will be guesting at HELLERAU with their new production "Encantado". In addition to her world-renowned dance pieces, the Brazilian choreographer also runs a large arts and education centre in one of the largest favelas in Rio de Janeiro. Arnd Wesemann (tanz) spoke with her about this side of her work, which is little known in Europe.
For me as a privileged, because white Brazilian woman, the situation is completely different from that of the majority of people in my country. I can work here in Europe, I can speak here in a language other than Portuguese, I am an artist.
When I look back, there has always been only one question for me: How can contemporary dance enter into dialogue with a social task? What does it achieve if it is only ever presented to the same people in the context of an artistic action, who always share the same discourse, the same knowledge between established dancers and the establishment sitting in the audience? The majority of the population, on the other hand, has no contact with contemporary art at all.
This thought led me, together with my dramaturge, to go to this huge Favela de Maré with 140,000 inhabitants in Rio de Janeiro in 2003. The Favela de Maré is ruled by four clans that fight among themselves and at the same time have a very corrupt police force under their control. The police do not regard the inhabitants of the favela as citizens, but as lepers. Accordingly, shootings occur very quickly, usually from a safe distance. You bring your children home, and from above a police gunship fires indiscriminately into the crowd. But here in the favela there are also helpers, non-governmental organisations that take care of education and medical care. My idea was to set up an art centre in the favela with their support. There was nothing cultural here. For months I wandered through the favela and in 2008 I finally discovered a factory building that had been abandoned twenty years ago. We rented it and painstakingly renovated it – most of the work was paid for by my company, i.e. from the income from tours in Europe. The hall has 12,000 square metres, it's huge. We opened it in 2009 and can do everything here, give theatre classes, rehearse, perform our premieres, hold conferences. In 2011 we also set up a dance school for 300 children. They are divided into two groups: one for young people from eight to 18 who experience ballet classes, yoga, contemporary dance and don't have to pay anything for all the classes. In addition, we have a dance company for people between 14 and 23 who work professionally, train at least four hours a day and receive scholarships for their work. The school and junior company are paid for by the French Fondation d'entreprise Hermès. It has recently been joined by the Prins Claus Fonds from the Netherlands. Of course, this has all grown slowly. The first students told their friends and family, and so on. But it's still a long way from the masses flocking. I am not so well known in my country, not among these people, probably only in a small circle that is interested in contemporary dance.
Essential for me is the question: For whom am I making art? For the donors or for those who are not allowed in, who are excluded from cultural participation? I moved to the Favela de Maré to share what I myself received for free: my education and my skin colour. I want these people to have a chance too. If they want to make art, if they want to dance, they should be allowed to do so just like me. Dance certainly has the advantage that it is not an art of the privileged, not in Brazil, where there is an incredible diversity of dance forms, alongside modern dance, alongside ballet, alongside white dance forms. And not so long ago, dances in Brazil like Candomblé or Samba were not recognised art forms, and they often still are not. Since I've been living in Maré, I have a different perspective on the world. It changes my work. I've thought a lot about why I went this way. I think I just want these people to also have the right to do what they want to do, to also have the right to live happily.
Note on the current situation: The art centre in the Maré was converted into a distribution centre for food and medical aid in 2020. Several associations coordinate the private COVID-19 aid for the Maré residents here, who do not receive any state support. The school continues to run with great difficulty and with only a few pupils in order to avoid complete closure.
Abridged version; the full article appeared in the 2019 yearbook of the magazine tanz.