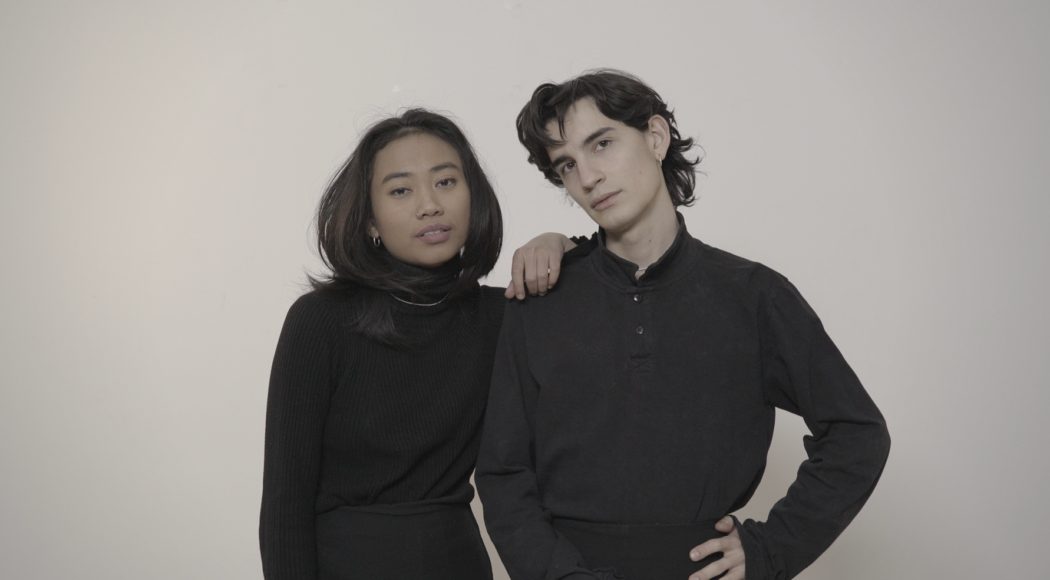 "Ich finde es gut, mich durch nichts zu definieren", #1 – 2021
The artist duo Æ with Akila Subiyakto (ID) and Elias Graversen (BO/DK) formed in fall 2019. During their HELLERAU residency in November 2020 they worked on their first album. They spoke with Eleanor Müller and Janne Arp (HELLERAU) about their creative process and the residency.
What inspired you guys to start the band?
Elias (EG): We met through my friend who studied with Akila. At first we wrote only one song: "blind enough". Then came the idea to make an EP*. Since I've been studying in Berlin, I've played in a lot of bands. I love the live aspect of music. But at some point I also wanted to make music as a duo and in a different style. There's a different sense of freedom in that.
Akila (AS): For me it's the opposite, because I used to work alone. I found it easier most of the time, and I thought that no one could understand my ideas. But because of that, you become very perfectionistic, and when someone criticized my music, I often felt like I was being personally attacked. It was very hard for me to distance myself from my work. That's what I learned when I made music with Elias, because he knows how to compromise.
Your songs are about postcolonialism, love and sexuality. How do you connect these themes?
AS: I'm from Indonesia and I've been living in Germany for four years. The idea of love I grew up with in Indonesia and the idea of love here in Europe are different. In Indonesian culture, we always put "white people" above us. I was not aware of that. I felt like I was in a movie, when I went out with European men or women, somehow always put them above me. This distorted perception is a result of postcolonialism. But love has to be equal.
EG: My mother is Danish and my father is from Bolivia, and when you grow up you gradually become aware of these differences. There's this huge billboard with a tall blonde model in the middle of La Paz in Bolivia, where almost nobody looks like that. And then you idolize that way of looking, and you don't manage to see yourself anymore.
AS: We also included part of the Indonesian president's independence speech about freedom in our song. We want to make it audible that we are liberated from colonialism and oppression, but we are still influenced by it. I know now that I am not Indonesian, not European, I am just Akila. I think it's good not to define myself by anything.
Are your themes also recognizable in your musical style?
EG: We originally started with crossover: R&B with some trap elements in some of our tracks. In HELLERAU we got more into indie and also some techno. I was very new to this kind of music, and I personally never thought I would ever sing over a trap beat. I think the cool thing about it all is that we're singing about relatively unusual things that you don't hear too often.
AS: The way Elias writes is really poetic. If you listen to pop music nowadays, the artists:inside always sing about love, sex and money. Our musical direction is like that too, but the lyrics are the exact opposite.
EG: It's the contrast! You have this beat and two softies singing.
Fr/Sa 12./13.02.2021
Bandstand Return of the Music Video
In cooperation with CTM and Musicboard Berlin. Supported by the Cultural Foundation of the Free State of Saxony. This measure is co-financed by tax funds on the basis of the budget passed by the Saxon state parliament.