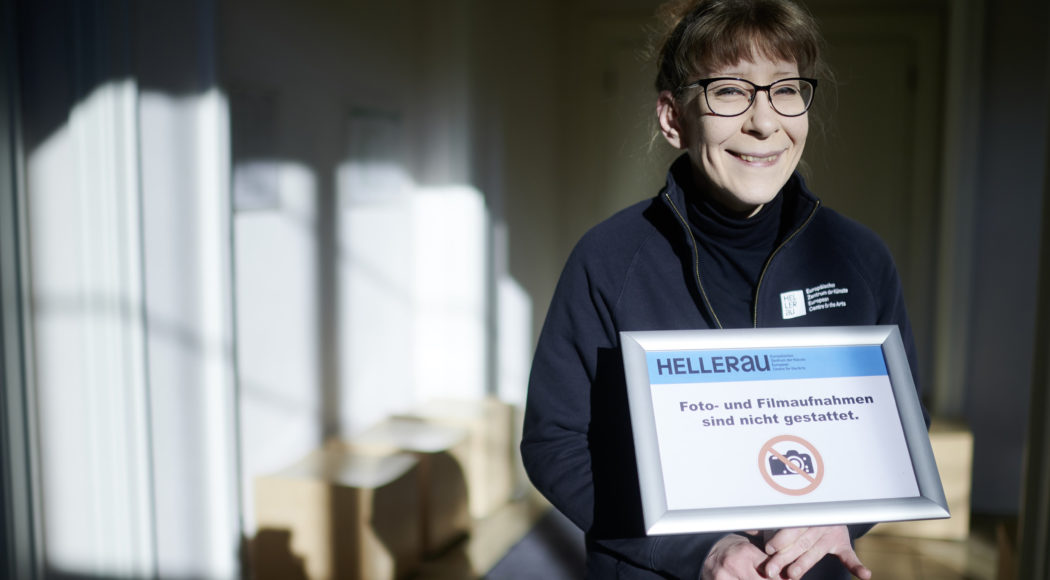 Faces in HELLERAU – Sybille Grießbach, Facility Manager of POWER PERSONEN-OBJEKT-WERKSCHUTZ GmbH, #1 – 2020
From now on, we will introduce people who ensure that everything in the house runs smoothly and that our guests feel comfortable here, either in front of or behind the scenes in our new series "Faces".
Sybille Grießbach Facility Manager of POWER PERSONEN-OBJEKT-WERKSCHUTZ GmbH
Since when do you work in HELLERAU and what are your tasks?
I've been working here since 2011, so for eight years. On behalf of POWER PERSONEN-OBJEKT-WERKSCHUTZ GmbH, I am the person responsible for HELLERAU. I create the schedules for all the staff of the visitor centre and take care of the training. I regularly sell tickets in the visitor centre and am responsible for the cash desk procedures. In addition, I am responsible for the front office, box office and admission – I can be deployed practically anywhere.
What do you find so special in HELLERAU?
There is a pleasant atmosphere in HELLERAu. With the team at HELLERAU I can communicate quickly and through short offical channels on all questions. I especially like the varied program, which is unique in Dresden. I also find the personal contact to the customers exciting.
How do you experience the audience in HELLERAU? We used to have a lot of regular guests in HELLERAU. Since Carena Schlewitt has been the artistic director, we have noticed that in addition to the regular audience, many younger, new and interested people come to HELLERAU.
What was your impressive experience here?
I found Nik Bärtsch's Mobile (2016) impressive, for example. Bandstand is also an experience every year. This year, "Masse", the dance piece of the dance classes and the youth symphony orchestra of the Heinrich-Schütz-Conservatory was a real highlight. I found the combination of music in dance great. And the piece showed particularly well that HELLERAU is a living house.