#TakeHeart Netzwerktreffen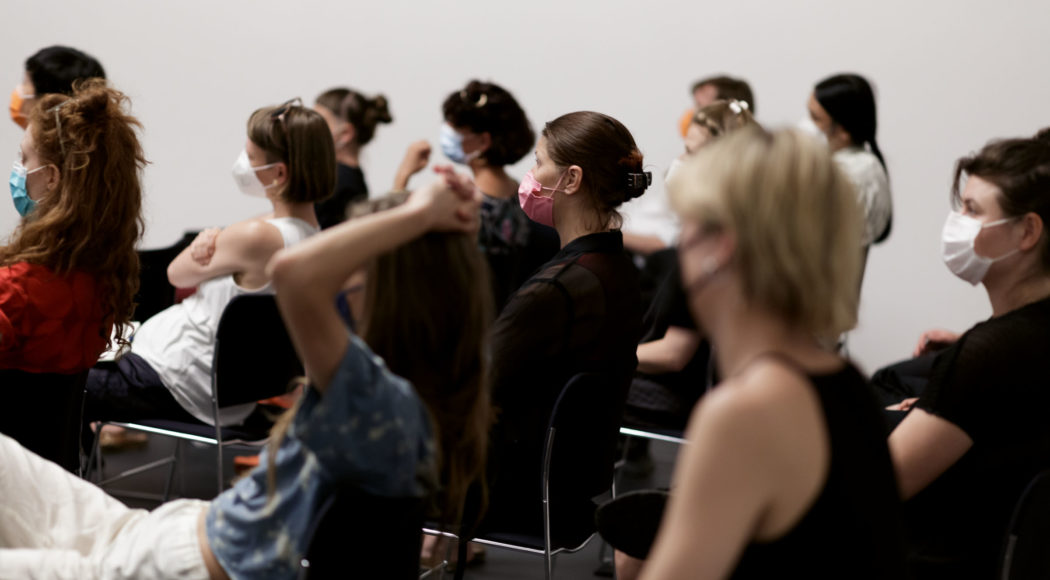 Artists of the #TakeHeart residency programme are invited to get to know each other and exchange ideas. In the workshop, insights into the two-month open-ended residencies will be shared, work statuses shared and visions of future production in the independent performing arts drafted. Registration is closed.
Program 11 am – 6 pm
from 10:30 am, Kulturgarten, in case of bad weather in Dalcroze-Hall
Check-in
11:00 am – 12:45 pm, in case of bad weather in Dalcroze-Hall
Brunch
Gathering, talks and food (vegan)
12:45 – 1:30 pm
Break
Time for individual discussions or optional invitation to a movement session or guided tour of the Festspielhaus.
Warm-up in the Kulturgarten, in case of bad weather Studio Ost
Instruction: Magdalena Weniger (performance/dance maker, singer)
In her "volcano practices" Magdalena Weniger transfers her artistic practice into different trainings and workshop formats. In the warm-up we explore together aggregate states of body and voice matter, inspiration is mainly provided by the ground/soil. No equipment is needed, feel free to wear comfortable clothes.
Guided tour of the Festspielhaus
Meeting place: Visitor Centre
Management: Deutscher Werkbund Sachsen, Language: English
Hellerau is home to Germany's first garden city, which, together with the Festspielhaus and the Deutsche Werkstätten, forms a unique triad of work, life and art. Built in 1911 to a design by architect Heinrich Tessenow, the building's clarity and functional structure set the trend for modernism and made it a visionary counter-design to traditional theater buildings. Today, HELLERAU – European Center for the Arts continues the building's heyday of 1911-1914. The interdisciplinary co-production and guest performance house offers events from dance, music, theater, performance, media art and visual arts.
1:30 – 3:00 pm, Studio A & Nancy-Spero-Hall
Working Session 1
The parallel workshops pave the way for speaking at eye level. You can choose an impulse on non-verbal communication in artistic work processes (A) or on the vision of power-critical production in the free performing arts (B).
A Nonverbal Communication
Nancy-Spero-Halll
Moderation: Dodzi Dougban (Tauber Tänzer und Choreograf, Inklusionsbeauftragter für Künstler:innen)
Drawing on his own artistic practice, Dodzi Dougban will report on dance and deafness and the use of sign language. How can I move without hearing? The workshop is an impulse to reflect Deaf Culture, i.e. cultural differences between deaf and hearing people, in art productions and to practice successful non-verbal communication.
B Power Critical Perspectives on Culture
Studio A
Moderation: Michelle Bray (Beraterin Awareness/Diversität/Empowerment)
As artists and cultural workers, many of us have the goal of changing the world for the "better. But what exactly does that mean for us and our structures? What steps can we take to negotiate our unequal positioning and share resources in a power-critical way? In the workshop, freelance diversity developer Michelle Bray invites us to vision together how we want to produce art together in the future in a diversity-sensitive way.
3:00 – 3:15 pm, Dalcroze-Hall
Cofee break
3:15 – 6:00 pm, Studio A & Nancy-Spero-Hall
Working Session 2
Working Session 2 will focus on mutual insight into your residencies. You could register in advance for workshop (C): Talking together about individual working styles and methods or (D): Sharing each other's practical research results. The residency artists will be contacted by the moderators for preparation.
C sharing potentials – Dialogue about artistic work as a process
Studio A
Moderation: Alex Hennig (dance scholar, dramaturg) & Helena Wölfl (theatre scholar, performer)
Theater/dance scholars Helena Wölfl and Alex Hennig invite you to talk about topics of the #TakeHeart residencies, artistic working methods and methodologies. How does processual work influence artistic work on a dramaturgical, aesthetic and structural level? How can one talk about one's own work without referring to a "finished" product? In this workshop, they bring their experiences as performers, dramaturgs and long-time dialog partners to the table and invite the participating artists to adopt and formulate new perspectives on their own work and that of others.
D showing the process – Glance into each other's work
Nancy-Spero-Hall
Moderation: Leoni Grützmacher (freelance production manager, curator, moderator, Flugwerk) & Alisa Hecke (producer, curator, you are warmly invited)
The workshop is an opportunity to give each other practical insights into artistic processes of the #TakeHeart residencies. The central point is the sharing of material: Please bring a state of work, which can be either a 3-minute video or audio, 2-3 images/drawings or a DIN A4 page of text. All works are presented in the room and reflected on together. Using communication and feedback tools, different aesthetic perspectives, thematic content and structural contexts will be made accessible. The producers and curators Leoni Grützmacher and Alisa Hecke are part of two recent artists initiatives that aim to open up work processes: Flugwerk Berlin and you are warmly invited in Saxony.
6:00 – 7:30 pm , Dalcroze-Hall
Ausklang
Soup (vegan), chats, farewells
7:30 pm, Kulturgarten
General rehearsal MUTTER**LAND, Bernadette La Hengst
A Revue Passé about family and social centrifugal forces 
A walk in four stations with music, performance and film. The theatrical songwriter Bernadette La Hengst, together with her 16-year-old daughter and the audience, embarks on a musical journey through time to the stations of her mother's life between Schlesia, the GDR, Lebanon and the BRD.
The residency funding is a funding programme of the Bündnis internationaler production houses e.V. within the framework of the Fonds Darstellende Künste e.V. and funded by the Federal Government Commissioner for Culture and Media and funded by the Federal Government Commissioner for Culture and the Media.