Tischgesellschaft "Wieder da!" Vol. 2 – Live-Talk
Andrea Keiz (ideo artist and documentarian)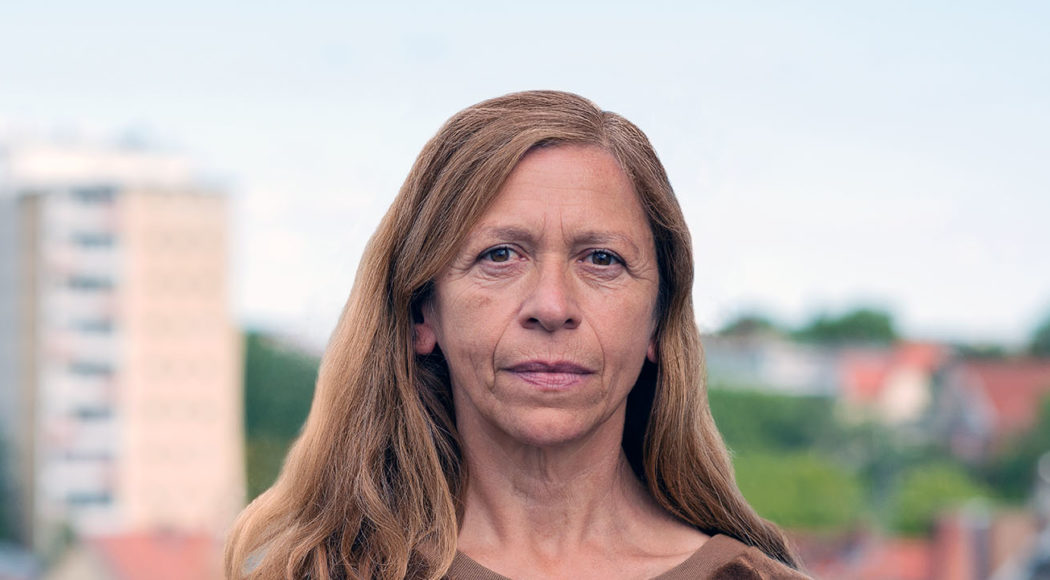 As the consultation hours will take place live (online), the organizers ask for pre-registration at: workshop@hellerau.org. When registering, please always indicate the title of the respective consultation hour with the corresponding time in the subject line. Thank you very much.
Click here for consultation hours via Zoom.
To participate, you must download the Zoom software, agree to its privacy policy and thus to the transfer of your data to the USA. We are using Zoom because, to our knowledge, it is currently the platform with the lowest barriers to entry for a diverse group.
Recycle documents
After introductory thoughts around notes, texts, photos, diaries, audio files, videos, I would like to ask all participants to select "old" artifacts or documents of their own in order to look at them anew afterwards, to edit them anew, to arrange them anew, to interpret them anew. I am interested in the question of how the reading of some films, photographs, documents changes in the context of time. In the span of a few years, the 5 social conditions may have changed so much that the difference can become visible in a re-interrogation of the data. For example, in my video work "Invitation to play (11min)" (www.grandreunion.net/invitation-to-play-11min/), I used old video materials to invite a playful approach to images. In my office hours I would like to give everyone time to work exemplarily and playfully on a new combination of one or more documents and to exchange ideas about it afterwards.
Feel free to bring along a document of your choice and the joy of experimenting!
Film and interview documentary on the revival of the play "Vertanzt" (2011) by Antje Pfundtner in Gesellschaft (DE)
Podcasts – The Tischgesellschafter:innen introduce themselves and their project.
How does repetition work? In the form of an audio walk, the collective fachbetrieb rita grechen leads the digital visitors of the Tischgesellschaft through solo paths of remembering and repeating.
Here you can find the whole program of theTischgesellschaft: "Wieder da!" at a glance.
To explore the economies and principles of sustainability and sharing from an artistic point of view, Antje Pfundtner in Gesellschaft has been organizing a multi-part table society with HELLERAU -European Center for the Arts since 22.1.2021, which focuses on re-performance and opens the dialogue between national artists:inside, sociologists:inside, philosophers:inside, archivists:inside and spectators:inside.
How does re-performance work? In the spirit of sustainability as a repeating and passing-on practice, Tischgesellschaftler:innen invites you to join their multi-part online program: Through April 3, 2021, they are hosting audience:in conversations in the form of speaking engagements, recording their own discussions, putting them up for disposition, and interrogating the resources of art. To what extent are they reusable? What is the function of waste in art? What produces repetition? What does re-performance have to do with sustainability? For whom does one perform something again?
For the opening of her table society "Wieder da!" in January 2021, Antje Pfundtner in Gesellschaft (who is more known for her choreographies at HELLERAU), opened the discourse of artistic sustainability with her own re-performance process of her piece "Vertanzt", once premiered in Hamburg in 2011. In a film documentary, as well as numerous interviews, she shared her work process of reappropriation and recontactualization, which lasted several weeks, with the visitors of the Tischgesellschaft "Wieder da!".
Since the "Wieder da!" table society members cannot meet at HELLERAU or elsewhere due to the pandemic, they have shifted their exchange to the digital and share their discourses and practices online. They share their approaches to the topic of recycling with digital viewers, gradually uploading various podcasts, videos, and audio talks and organizing consultation hours to share questions live in smaller groups, depending on their expertise.
Participating in the table company "Back again!" are:
Antje Pfundtner in company (Anne Kersting, Jana Lüthje, Hannah Melder, Antje Pfundtner), Christina Ciupke (performer and choreographer), Henning Fülle (dramaturge, cultural researcher, founder of "Performing the archive"), Adrienne Goehler (theorist, publicist, curator and initiator of the traveling exhibition on expeditions in aesthetics and sustainability "RECOMMENDED FOR IMITATION! "), fachbetrieb rita grechen (interdisciplinary artistic collective), the HELLERAU team, Michael Hirsch (philosopher, political scientist, art theorist and author), Andrea Keiz (video artist and documentarian), Konglomerat e.V. (practitioners of sustainable development), Christiane Kühl (journalist and theater maker), Barbara Lubich (freelance filmmaker), Fabrice Mazliah (dancer and choreographer), Michael Müller (artistic director of Theaterdiscounter Berlin), Patrick Primavesi (Prof. for Theater Studies Leipzig and Director of the Tanzarchiv Leipzig e.V.), Anke Strauß (Organizational Sociologist and Head of MA Strategic Sustainability Management Eberswalde), Anna Till (Freelance Dancer and Choreographer), Katharina von Wilcke (Cultural Manager and Curator).