Strategies of over-affirmation in the works of Monster Truck
Video Lecture from Manuel Gerst/Monster Truck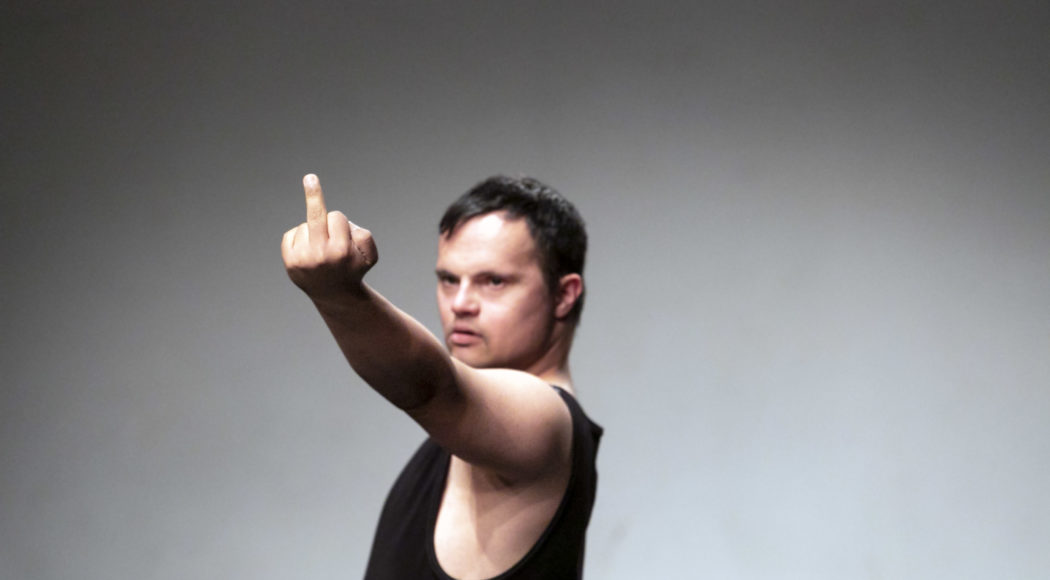 Titel: Zugabe. Koproduktion Monstertruck und Theater Thikwa. Konzept: Monster Truck. Dramaturgie: Philipp Bergmann. Urauffuehrung im Studio von Theater Thikwa am 9. Oktober 2019. Hier die Vorstellung vom 11. Oktober 2019. No model release. Spieler: Addas Ahmad. "Engl." theatre, actor, disable, with special needs, encore copyright: david baltzer/bildbuehne.de.
Instead of the planned live presentation of the interactive performance "Encore", director Manuel Gerst presents works by the performance group Monster Truck. Here, the focus is on the ambivalent power relationship of the actors on and behind the stage. Who determines what is played by whom? Who is in charge and why? Who is allowed to look at whom? In recent years, Monster Truck has increasingly worked on discriminatory formats such as the freak show or the peoples' show and satirically exaggerated them. A game with clichés, attributions and their deconstruction emerges, in which the audience is thrown back on itself in its role as observer. The pleasure of the spectacle and its critical questioning are in a permanent tension. Instead of pointing the finger at others, Monster Truck makes itself part of the problem. Let the games begin.
Support ticket: Invektivität #seidabei
The streams are accessible free of charge. But art costs money. The challenge of making a digital programme available in these times is great. With the Support-Ticket: Invektivität #seidabei there is the possibility to support the costly production of the programme financially.
Buy your voluntary ticket here.
The event will take place here via Zoom.
To participate, you must download the Zoom software, agree to its privacy policy, and thus agree to the transfer of your data to the US. We use Zoom because, to our knowledge, it is currently the platform with the lowest barriers to entry for a diverse group.