+++ Online +++
Learning Feminism from Rwanda, Flinn Works und Artists from Ruanda
Due to the current COVID-19 measures, "Learning Feminism from Rwanda" cannot be shown at the Festspielhaus. As a consolation, we present the film about the project, which can be streamed free of charge from 11/27 6pm until 11/28 11:59pm.
In addition, we invite you to participate in the online conversation with the artists on 28.11. 6 pm.
Artist:inside talk about Zoom on Sunday, 6 pm via Zoom. The access link will be announced shortly.
To participate, you must download the Zoom software, agree to its privacy policy, and thus agree to the transfer of your data to the US. We are using Zoom because, to our knowledge, it is currently the platform with the lowest barriers to entry for a diverse group.
---
Arte-Docu: Theatre: Rwanda as a feminist model
Success Story Ruanda – Reading more in our HELLERAU Online-Magazin
Sisters Lisa and Sophia Stepf (artistic directors) and Wesley Ruzibiza, the Rwandan choreographer of the project, talk about the women's quota as a political instrument and go on the trail of Rwandan fast-track feminism. – Listen more in the podcast from HELL.
Rwanda has long since achieved what women in Europe are still fighting for: 61% of members of parliament are women. In Germany, the figure is only 31% and, notes Angela Merkel, this is no glorious record. LEARNING FEMINISM FROM RWANDA questions the women's quota as a political instrument and how it changes culture and attitudes.
After the genocide in 1994, the East African country made gender justice the basis of its policy. In Germany, on the other hand, parity is still a long way off, although equality has been enshrined in the Basic Law since 1949. Five performers follow the trail of Rwandan fast-track feminism through glossy statistics and glass ceilings to behind the scenes at home and at work. What can Europe learn from Rwanda?
With flaming speeches, statistics, lamentations and protest choreographies, they perform for poor Europe, which is struggling for meagre quotas, while Rwandan female pilots fly blood bottles with drones across the country and digital data rush to the smartphones of female MPs.
Due to the Corona pandemic, two performers will perform live and three via video.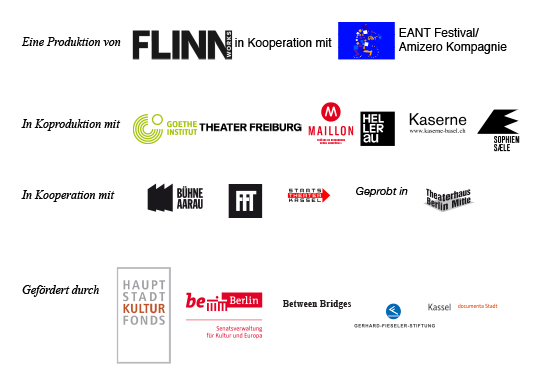 Duration: approx. 1 hour 15 minutes
Artistic direction: Lisa Stepf & Sophia Stepf
From and with: Yvette Niyomufasha, Natacha Muziramakenga, Wesley Ruzibiza, Nirere Shanel, Lisa Stepf/ Cornelia Dörr
Director: Sophia Stepf
Video design & scenography: Marc Jungreithmeier
Choreography: Wesley Ruzibiza
Composition: Andi Otto, Recordings Inanga: Sophia Nzayisenga
Costume: Tatjana Kautsch in collaboration with Cédric Mizero, Maximilian Muhawenimana, Afriek, Ibaba Rwanda and Louise Mutabazi
Video Kigali: Kivu Ruhorahoza
Lighting design & technical management: Susana Alonso
Assistant director: Annekatrin Utke
Production Rwanda and dramaturgy: Louise Mutabazi
Production Management & Company Management: Gustavo Fijalkow
A production by Flinn Works in cooperation with EANT Festival/ Amizero Kompagnie
In co-production with Theater Freiburg, Sophiensæle Berlin, Goethe-Institut Kigali, Kaserne Basel, HELLERAU – European Centre for the Arts, Maillon Théâtre de Strasbourg – scène européenne
In cooperation with Staatstheater Kassel, Theater Tuchlaube Aarau, FFT Düsseldorf
Supported by
Berlin Senate Department for Culture and Europe, Cultural Office of the City of Kassel, Gerhard Fieseler Foundation, Between Bridges