Im/Mobility
Lotte Mueller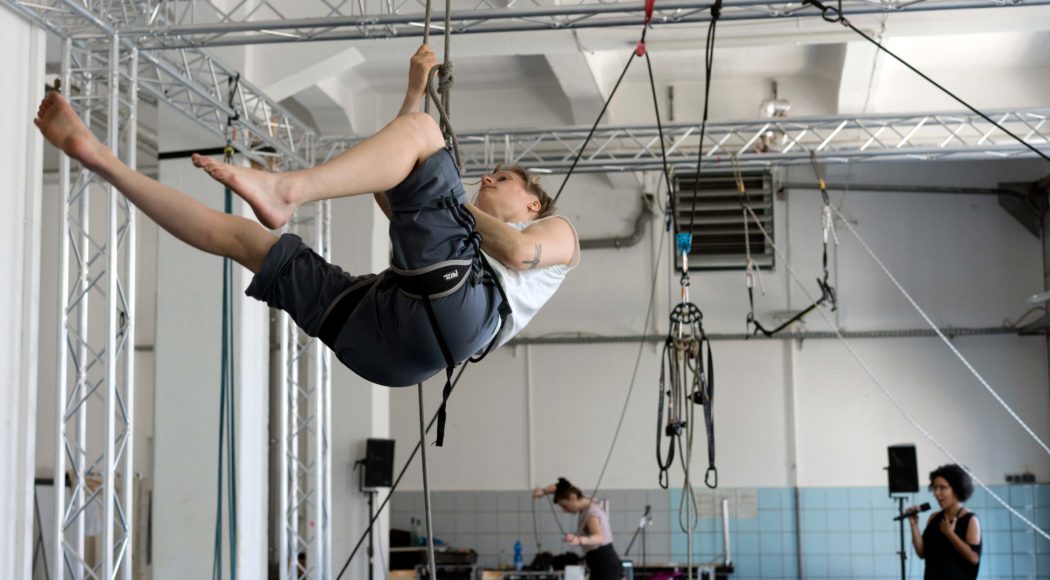 Im/Mobility – Both and everything between these two extremes take place in different physical, social and mental spaces. But how are these spaces connected? How are places related to our mental and social mobility? What are boundaries of mobility?
This performance at the intersection of contemporary circus and contemporary dance plays with expectations and explores diverse perspectives on mobility. The project moves vertically, horizontally, inside and outside, in social space as well as physical. "Im/Mobility" questions social orders, the rigidity of structures, and the potential for change through one's own physical and mental flexibility.
An immersive spatial stage invites the audience to become self-determined actors within the production, to adopt perspectives and to change them again and again.
Lotte Mueller completed her M.A. in choreography and specialised in circus dramaturgy during her postgraduate studies in Chalons-en-Champagne. Previously, she trained professionally in contemporary dance and specialised in acrobatics and equilibristics in Toulouse.
Parking on the forecourt temporarily not possible! 
Artistic rehearsals and performances will take place on the forecourt during this period.
Mon/Tue 20/21/09 10:00 – 19:00
Wed 22.09. 16:00 – 19:00 hrs
Sat 25/09 4pm – 7pm
Sat/Sun 02./03.10. 19:30 – 22:00 hrs
+ Live audio description and tactile guidance
30.09. Live audio description and tactile tour by Gravity Access Services for visually impaired guests. The tactile tour starts at 19:00.
Registration and enquiries by e-mail to: barrierefrei@hellerau.org or by telephone on 0351 264 62 37
+ Talking About
Thu 30.09.2021 22:00, Dalcroze-Saal, HELLERAU
Audience discussion with Rosalind Masson & Lotte Mueller