HELLER-Treff
Mit offener Keramikwerkstatt, ArtHub, Essen und Getränken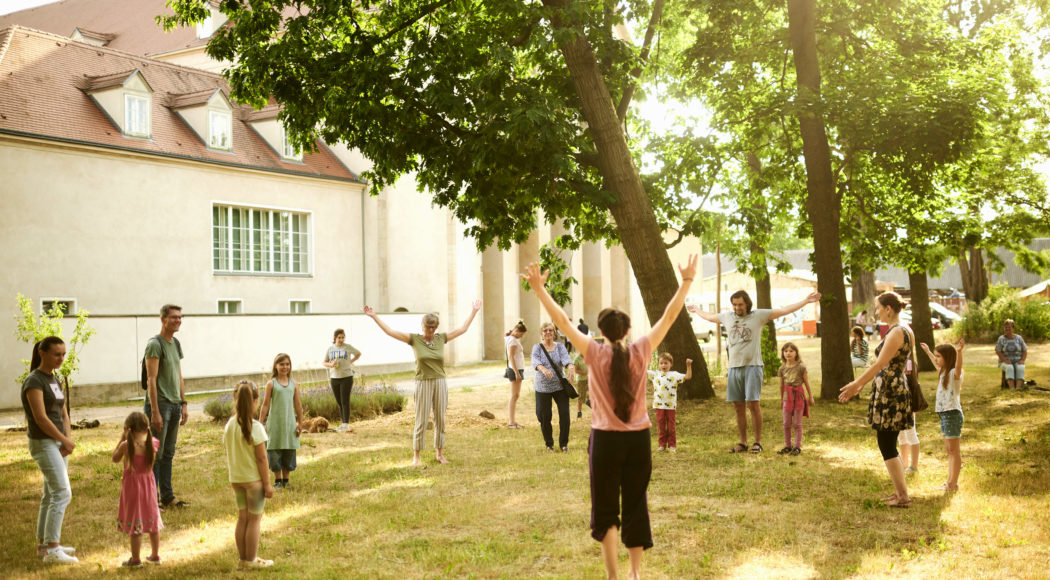 HELLER Treff im Kulturgarten mit ArtRose, Foto: Stephan Floss
HELLERAU cordially invites you to exchange and meet in the Kulturgarten. Especially in summer there is the opportunity to relax and meet new people with drinks and food from the LAGO bar & kitchen, seating and games.
The HELLER-Treff now additionally enables an open meeting space Ukrainians:inside as well as neighbors:inside and interested citizens:inside from Dresden. Free drinks, snacks and games invite in addition to the following program to linger in the sun.
Duration: 15:00 – 19:00 h
Language: German, English, Ukrainian
no registration required
15:00 p.m. – 18:00 p.m.
TonSudio | Open Ceramics Workshop for the Whole Family with Rebekka Helbig
Designing and alienating with one's own hands not only enables sensual work with the material, but also playful encounters with each other regardless of language and origin. In the TonStudio in the Kulturgarten, so many voices become beings and objects. The results are then professionally burned and can be picked up later.
free of charge & without registration | DE / ENG / UKR
www.ziegenkeramik-moritzburg.de
17:00 p.m. – 19:00 p.m.
ArtHub Workshop | Acrylic & Collage
ArtHubs offer a creative environment for artists and all who are interested in art.
Since February, the Ukrainian House has been offering a series of art workshops under this name, creating collages and painting with acrylic and watercolor paints. During the festival, this program will continue under the tents of the Kulturgarten, inviting people to create and meet collectively.
free of charge & without registration | DE / ENG / UKR
in cooperation with Plattform Dresden e.V. / Ukrainian House