Enno Poppe: Rundfunk & Georgia Koumará
Enno Poppe/ensemble mosaik
Enno Poppe: Broadcasting
Georgia Koumará: Delineated in black and white, caught or scattered, the letters dance
Enno Poppe/ensemble mosaik
Enno Poppe's new work "Rundfunk" for nine synthesizers is a declaration of love to the medium of radio, which, not least as the birthplace of electronic sound production, has had a decisive influence on New Music in its present form. Almost logically, the premiere took place at the 2018 Donaueschingen Music Days of the Südwestrundfunk, marking the start of a festival tour spanning eight cities in five countries. Rundfunk by Enno Poppe is also a homage to the synthesiser and a sounding bulwark against the fury of the disappearance of entire technologies and sound worlds, and at the same time a nostalgic evocation of those times when it was still audible and visible trouble to produce electronic sounds. Perhaps the first piece in music history for nine synthesizers, it is a tour d'horizon through the sound worlds of Moog, Hammond and DX-7 that is as coolly conceived as it is interpreted with a hot musician's heart.
After several postponements, "Rundfunk" will be presented at HELLERAU on 22.01.2022, complemented by a work commissioned by the Dresdner Tage für zeitgenössische Musik: the young Greek composer Georgia Koumará has composed "Delineated in black and white, caught or scattered, the letters dance "Im Vox-Haus" for three synthesizers" for ensemble mosaik and this concert. At the CTM Festival, the concert will be repeated on 02.02.2022 in Berlin, then also supplemented by a new composition by Mirela Ivičević – to whom, in turn, a portrait concert with the Black Page Orchestra will be dedicated on 05.02.2022 in HELLERAU.
On 6 November 2020, the 4:3 festival should open with BLACKBOX, a concert programme in three parts, supported by the MUSIKFONDS: Robert Henke's project "CBM 8032 AV" (2019) for 5 computers, Enno Poppe's composition "Rundfunk" (2018) for 9 synthesizers and the world premiere of a new Spatial composition by Shiva Feshareki. All projects share a special curiosity about current as well as "historical" techniques of electronic music, about the peculiarities of fascinating "black boxes" such as synthesizers or computers.
Unfortunately, the programme could not take place at HELLERAU as planned: "CBM 8032 AV" was a guest in October 2021, "Rundfunk" is scheduled for 22.01.2022 and Shiva Feshareki's new work for 11.03.2022.
ensemble mosaic
Since its foundation in 1997, ensemble mosaik has developed into a renowned ensemble for contemporary music as a particularly versatile and experimental formation. Its members are distinguished not only by their instrumental skills but also by their creative individuality and love of experimentation. In many years of collaboration, they have created a distinguished ensemble that demonstrates openness to a wide variety of contemporary music concepts at the highest artistic level.
The ensemble's activities are characterised by close cooperation with young composers and the integration of digital media in the areas of composition, interpretation and presentation. An egalitarian way of working in exchange with all actors involved in a concert project is preferred. By opening up working processes, creativity is bundled and intensified. For years, ensemble mosaik has been working continuously with many composers, thus making it possible to develop music over long periods of time in a collaborative process.
A special focus of the artistic work lies in the examination of new approaches to performance practice, for example through the integration of scenic and visual elements, and the testing of new concert formats that reflect individual works in the context of an overall context, focus on current trends and test new perspectives. In cooperation with artists from other disciplines or musical genres, the concerts themselves become experimental arrangements.
Enno Poppe
Enno Poppe, born 1969 in Hemer/Sauerland. Studied conducting and composition in Berlin, among others with Friedrich Goldmann and Gösta Neuwirth. Numerous prizes and scholarships. Worldwide performances of his works. Internationally active as a conductor.
without language
Duration: approx. 1 hr.
ensemble mosaik: Enno Poppe, Simon Strasser, Christian Vogel, Roland Neffe, Ernst Surberg, Chatschatur Kanajan, Karen Lorenz, Mathis Mayr, Niklas Seidl – synthesizer / Arne Vierck – sound direction
Wolfgang Heiniger – audio software
Commissioned by Südwestrundfunk, Wien Modern, hcmf// Huddersfield Contemporary Music Festival, Philharmonie Luxembourg, Festival d'Automne à Paris, Acht Brücken | Musik für Köln, Deutschlandfunk Kultur and musica viva of Bayerischer Rundfunk.
The events "Enno Poppe: Rundfunk" and "Torus of Revolution" will take place as part of the BLACKBOX focus, originally planned for November 2020. BLACKBOX is funded by Musikfonds e.V. with funds from the Federal Government Commissioner for Culture and the Media.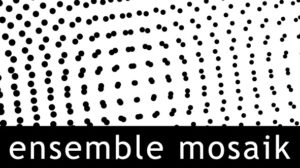 When you buy a ticket for "Enno Poppe: Rundfunk" you will receive the ticket for Shiva Feshareki "The Torus of Revolution" on 11.03.22 at half price. This promotion is only available in advance through the HELLERAU Visitor Centre.