Elbland Philharmonie Sachsen
With pieces by Lothar Voigtländer, Piyawat Louilarpprasert and Bernd Franke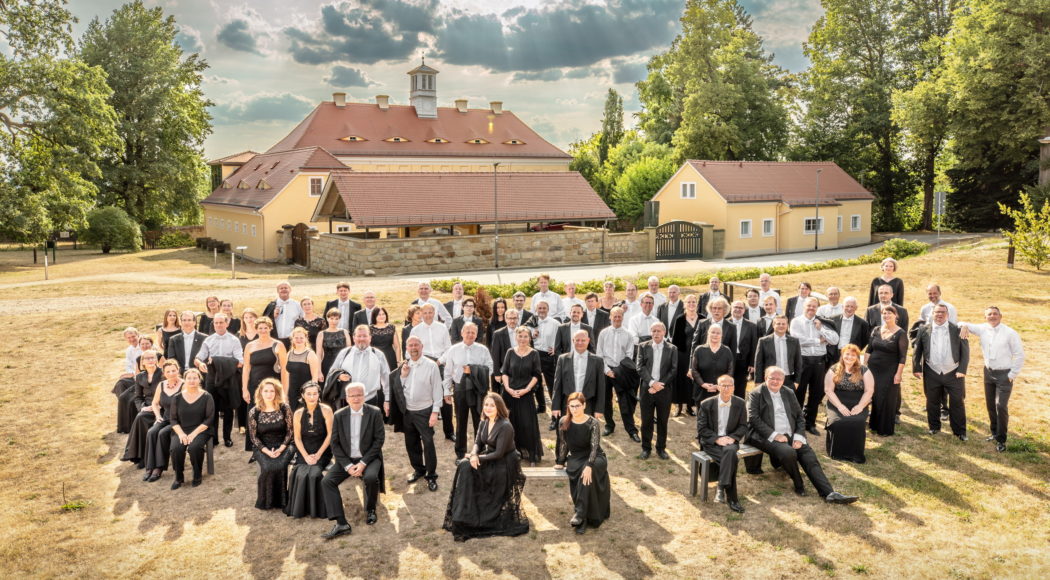 Under the direction of Ekkehard Klemm, the Elbland Philharmonie Dresden is a regular guest at the Dresden Festival of Contemporary Music, with part of each program focusing on composers from the GDR. For example, in April 2019 the Oboe Concerto (1978/79) by Friedrich Goldmann was presented with Burkhard Glaetzner as soloist and the 5th Symphony by Wilfried Krätzschmar was premiered; originally in 2021 a concert with works by Voigtländer, Münch and Xenakis was planned, which could be made up for in 2022.
On April 20, 2023, the following compositions will be presented at the Festspielhaus in Hellerau: AGNI for bass clarinet and orchestra (2018/19) by Bernd Franke, the world premiere of the Harp Symphony (2nd Symphony) by Lothar Voigtländer, and a work commissioned by the Dresden Contemporary Music Days by Piyawat Louilarpprasert. Together with the two composers Voigtländer and Franke, who studied composition in Leipzig and elsewhere in the 1960s and 1970s respectively, the program features Piyawat Louilarpprasert, a young composer who works with links between music, visual art and technology. The "rebellious Thai composer who takes music to unheard-of heights," as CNN News World describes him, will also be featured with the Omnibus Ensemble from Tashkent on the second weekend of the festival.
Program
Bernd Franke
AGNI – Music for Bass Clarinet and Orchestra (2018/19)
Dresden premiere
Premiere: 23.11.2019, by Volker Hemken, Elbland Philharmonie Sachsen, Ekkehard Klemm
Duration: approx. 20 min.
Publisher: Edition Peters Musikverlag, Leipzig
Instrumentation: solo bass clarinet, 2 flutes, 2 oboes, 2 clar. in Bb, 2 fag., 2 hr. in F, 2 trp. in C, 3 pos., 1 tuba, 1 harp, timpani (4) – also with brushes, percussion (2 players): Crotali, glcksp., vibr., gong (E), 3 cymbals/hanging, temple block/high, whip, kl. tr., gr. tr.- also with brushes, tam-tam/medium; strings.
Piyawat Louilarpprasert
Ptera (2023)
for orchestra with sound objects
World premiere
Commissioned by the Dresden Contemporary Music Days
Duration: approx. 10 to 15 min.
Instrumentation: 1 flute, 1 piccolo, 2 oboes, 2 clarinets in Bb, 2 bassoons, 2 trumpets in C, 3 pos., 1 tuba, 1 harp, timpani (2) – also with cello or bass bow, percussion (2 players): Bass drum, Brakedrum; Ratchet, Low Tom; Strings.
Break
Lothar Voigtländer
Harp Symphony (2nd Symphony)
World premiere
Publisher: Edition Peter Musikverlag, Leipzig
Duration: ca. 35 min.
Instrumentation: harp solo, wood 3.3.3.3. brass 4.4.4.1, 1 timpani, 3 percussion, piano, celesta, strings
Performed by the Elbland Philharmonie Sachsen
Soloists: Volker Hemken (bass clarinet), Alma Klemm (harp)
Conductor: Ekkehard Klemm