Contemporary Insights
World premieres by P. Andoni, F. Gharibnejad, E. Jurgschat, T. E. Schick, D. Shin, Z. M. Seely, T. Zhu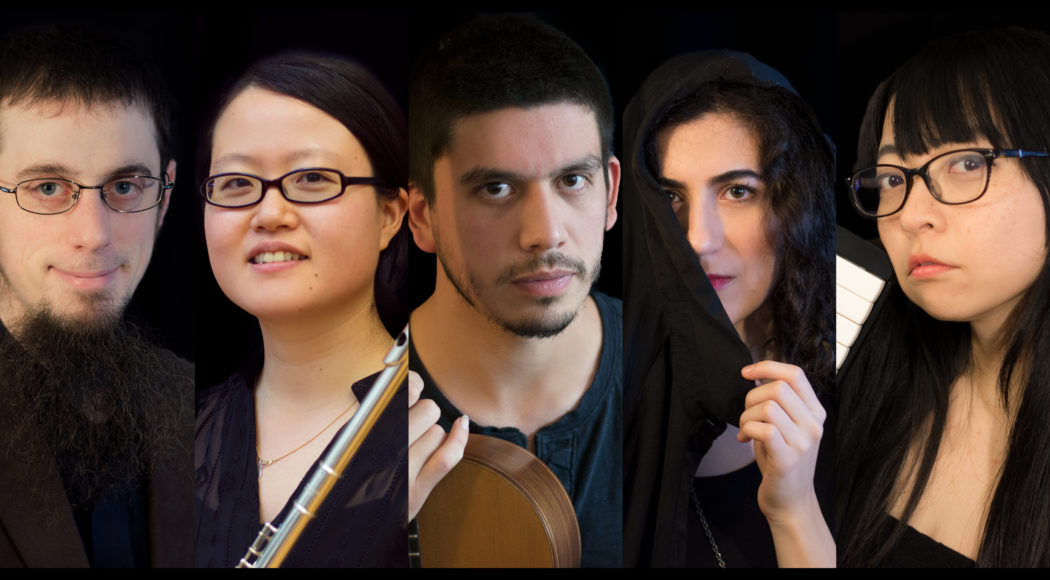 Foto: Contemporary Insights
The Leipzig Contemporary Insights Ensemble presents new works by young composers from Dresden, Leipzig and Weimar, which are not only characterized by different cultural backgrounds, but also reveal multi-faceted approaches to music for an unusual quintet instrumentation. The unfolding of novel sound worlds, compositional reflection on the phenomenon of alterity, autobiographical meditations and narrative sound images are in a fascinating relationship of tension that reflects the richness of contemporary composing.
Download Programmheft
Programm
Tobias Eduard Schick
"In Erinnerung an eckige Zeiten" für Quintett (2020)
Pablo Andoni Olabarría "bačisc" für Fagott, Klavier und Violoncello (2020)Dongsun Shin "Die Königsschlange verschlingt den Elefant" für Quintett (2020)Fojan Gharibnejad "Laborexperiment Rapeseed" für Fagott und Klavier (2020) Tianwei Zhu "Die Berge unter dem Mondschein" für Quintett (2020) Elias Jurgschat "Betrachtung V (Zeichner) für Quintett (2020) Zachary Seely "Condition No. 1" für Quintett (2020)
Support ticket: TONLAGEN#seidabei
The streams are accessible free of charge. But art costs money. The challenge of making a digital programme available in these times is great. With the Support-Ticket: TONLAGEN#seidabei you have the opportunity to financially support the elaborate production of the TONLAGEN Festival.
Buy your voluntary ticket here.