ArtRose–Tanzworkshop
With Jenny Coogan(Professorin, Palucca Hochschule für Tanz) (DE)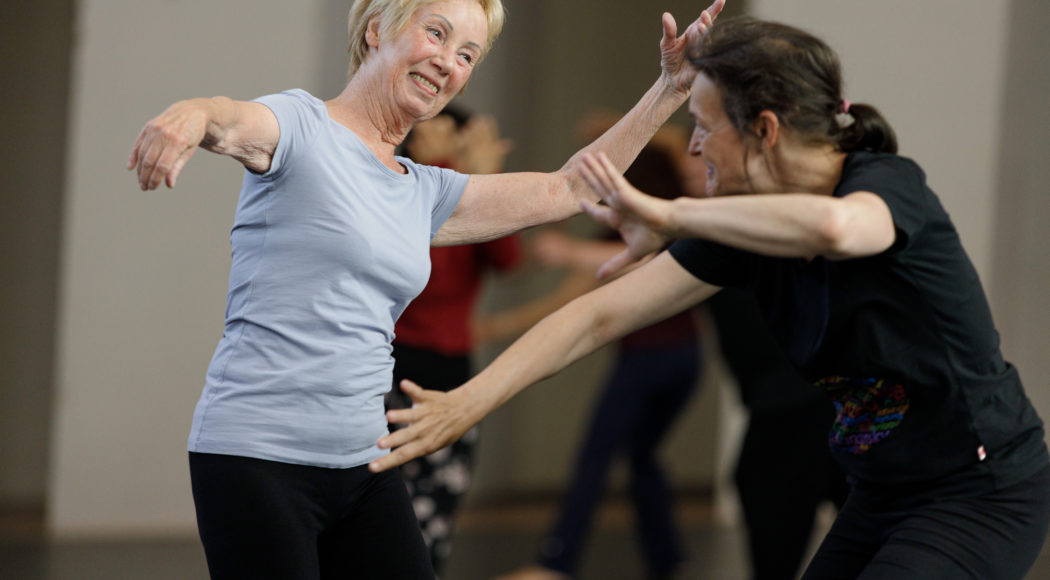 Due to the Corona pandemic, it will not be possible to hold the workshop on site. However, you can use our online stream. The video will still be available for watching and dancing along after Saturday, 5.12.
Movement and dance for all young people over 60. Participation desired, watching allowed. No previous knowledge or physical conditions required – simply pleasure and good humour. The 60+ community dance ensemble called ArtRose and HELLERAU regularly invite you to experience movement and dance without physical limits.
The vitality and expressiveness of the more mature age is celebrated in this workshop. A focus is aimed at drawing attention to sensory perception and kinaesthetic feedback in a way that promotes joy and playfulness. The mediation strategies are guided by explorative movement tasks and dancing "improvisation scores", which are done with the idea of opening the space for personal feeling and interpretation. The worry of 'not doing it right' does not even arise. Dancing is based on individual and contextual freedom of choice, and demands specific attention, presence and curiosity from the practitioner. Everyone is welcome. The aim is to create an atmosphere in which everyone feels that we are dancing together and still respect the precepts of social distancing.
Of course, this workshop will also be corona-suitable, taking into account the hygiene measures. Please bring your own face mask. There will be a corresponding introduction on site.
Afterwards you can visit the FLAGS presentation by Paula Rosolen/Haptic Hide (DE). Independent ticket purchase necessary.