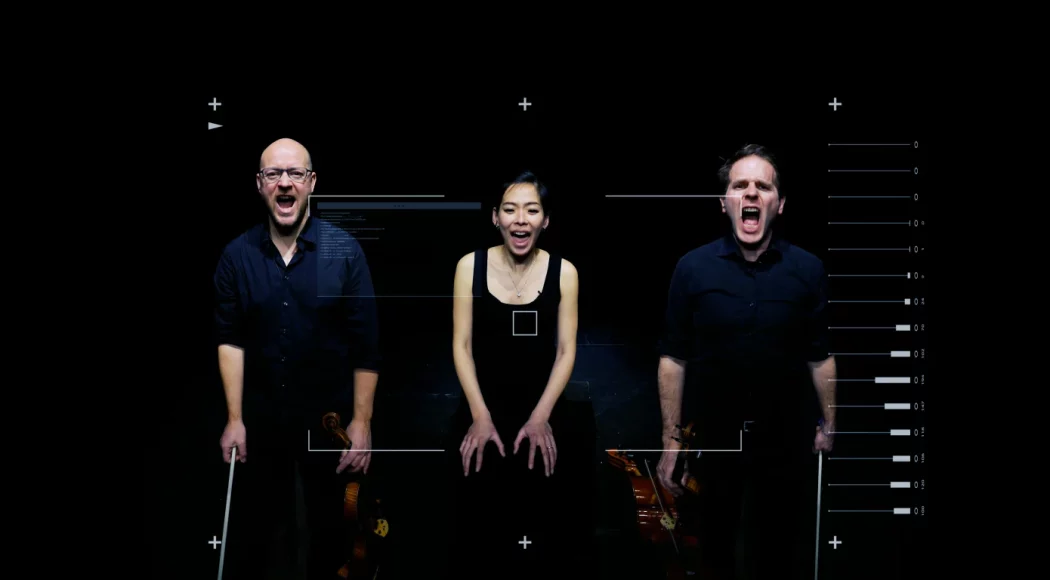 Photo: Alexander Schubert
As part of the nationwide Artist Labs initiated by the Fonds Darstellende Künste, the newly founded "Netzwerk Freies Musiktheater" was a guest at the Dresdner Tage der zeitgenössischen Musik (DTzM) in April 2023.
In October 2023, the Artist Lab "Public Opera" under the direction of Michael von zur Mühlen, Ulrike Hartung and Moritz Lobeck will bring together various artists and actors of music theater at HELLERAU. They will discuss the question of the extent to which the artistic formats and aesthetics developed under pandemic conditions have opened up new ways of access for music theater and permanently change the way audiences can be addressed. Initial results of this meeting will be presented and discussed in the Artist Lab Talk on Oct. 14, 2023, together with composer Alexander Schubert.
Alexander Schubert last visited HELLERAU in 2019 with the commissioned work "Av3ry", and his current piece "Convergence" also uses the concept of artificial intelligence: to learn characteristics of human musicians, recreate new entities based on these recordings, and finally let the players interact with their generated counterparts. Originally conceived for a digital stage, the project was first premiered live in October 2020 as part of the #beethoven event series in Bonn. A film version of this stage version was created for the online edition of the eclat festival, and in 2021 "Convergence" was awarded the Golden Nica of the Prix Ars Electronica. For HELLERAU Alexander Schubert will redevelop the work for a holographic 3D projection system.
Duration: ca. 1 h
Language: German

Collaborators Artist Lab Public Opera:
Michael v. zur Mühlen, director of music theater and drama
Dr. Ulrike Hartung, research associate at the Research Institute for Music Theater Bayreuth and spokesperson for the Free Music Theater Network
Moritz Lobeck, Program Director Music and Media HELLERAU, Artistic Director DTzM
Friederike Brendler, student at the Institute for Applied Theatre Studies
Vendula Nováková, Head of Stimme X Hamburg, Speaker Network Free Music Theater
Nicolas Berge, composer and sound artist
Lucia Kilger, composer and director Frau Musica Nova (FMN) Cologne
Masha Buzhor, dramaturge and member of the music theater collective Hauen&Stechen
Sven Holm, director and head of the music theater company Novoflot
Martin Recker & Paul Hauptmeier, composers and co-directors of the Center for Immersive Media Art Leipzig
Heinrich Horwitz, director and performer
Julia Reidy, musician
Elaine Mitchener, composer, director and performer
Katrin Beck/ Manos Tsangaris, Munich Biennale for New Music Theater
Miron Hakenbeck, dramaturg Staatsoper Stuttgart
Nora Krahl, Artistic Director MiR.Community.Lab at Musiktheater im Revier Gelsenkirchen
Dr. Rainer Simon, Special Projects Komische Oper Berlin / Head of Festival Schall&Rausch
Supported by the Fonds Darstellende Künste with funds from the Federal Government Commissioner for Culture and the Media within the framework of NEUSTART KULTUR, in cooperation with the DAVE Festival.