Das Arditti Quartet spielt in HELLERAU
+++ Livestream +++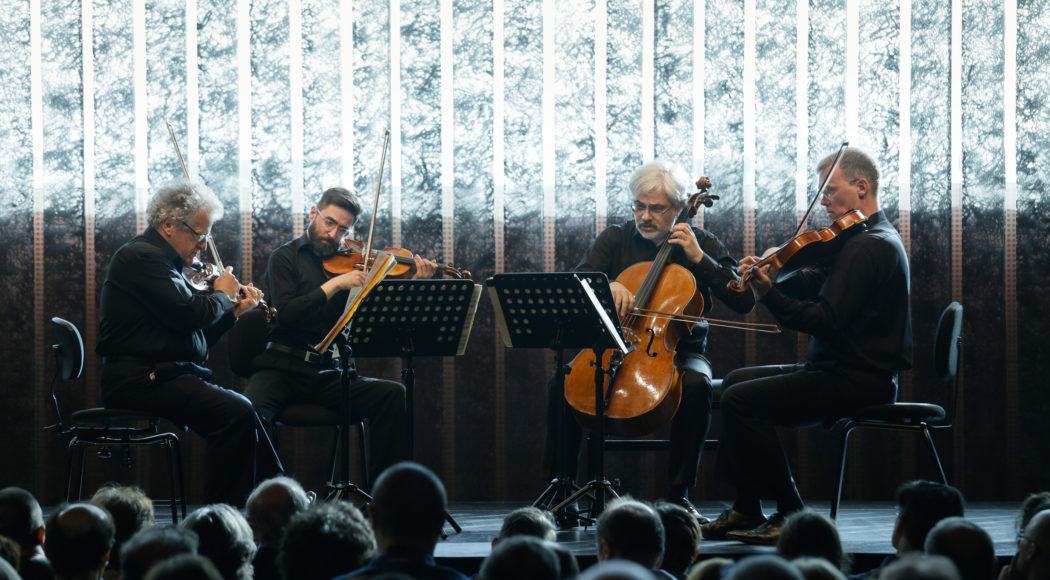 The Arditti Quartet would have worked and performed with young international composers at the June Festival in Buffalo (Festival of the Center for 21st Century Music at the University at Buffalo, NY – 1. – 7.6.2020). In HELLERAU the workshops will be digitally recreated and the quartet will perform one of the programs originally planned for the festival:
Carter: String Quartet No. 5
Felder: Third Face
Birtwistle: The Tree of Strings
You can follow via a livestream when the string quartet comes together again for the first time after the lockdown.
Music played and heard at the moment creates a unique connection that is both deep and fragile. The Arditti Quartet plays and lives intensely, even though we four musicians have seen ourselves slowed down, even stopped, in the past weeks. Agreements between the musicians and the listeners are currently completely suspended: only, this relationship between the audience and us is not negotiable. What we need now are other spaces, built and in our heads, in order to be able to present music in a living, living way. Smaller, "private" moments, whose preciousness gives us the courage to continue on the path of rapprochement together. After long months in which we were unable to rehearse together, let alone perform, we will discover something new about ourselves and the others – we have to and we want to. The Arditti Quartet is going to HELLERAU: "European Centre for the Arts" is not only the name of the institution, but for us now the place where we (may) come together again from different European countries for rehearsals, discussions and presentations of everything that we should have performed (for the first time) on our travels through Europe, Asia and America.
The Arditti Quartet enjoys a global reputation for their spirited and technically refined interpretations of contemporary and earlier 20th century music. Several hundred works have been written for the ensemble since its foundation by violinist Irvine Arditti in 1974 and have given the Arditti Quartet a firm place in music history. The quartet's extensive discography now features well over 200 CDs and many works have been recorded in the composers' presence. Over the past 45 years, the ensemble has received many prizes for its work. It has won the Deutscher Schallplatten Preis several times and the Gramophone Award for the best recording of contemporary music three times. The prestigious Ernst von Siemens Music Prize was awarded to them in 1999 for lifetime achievement in music.