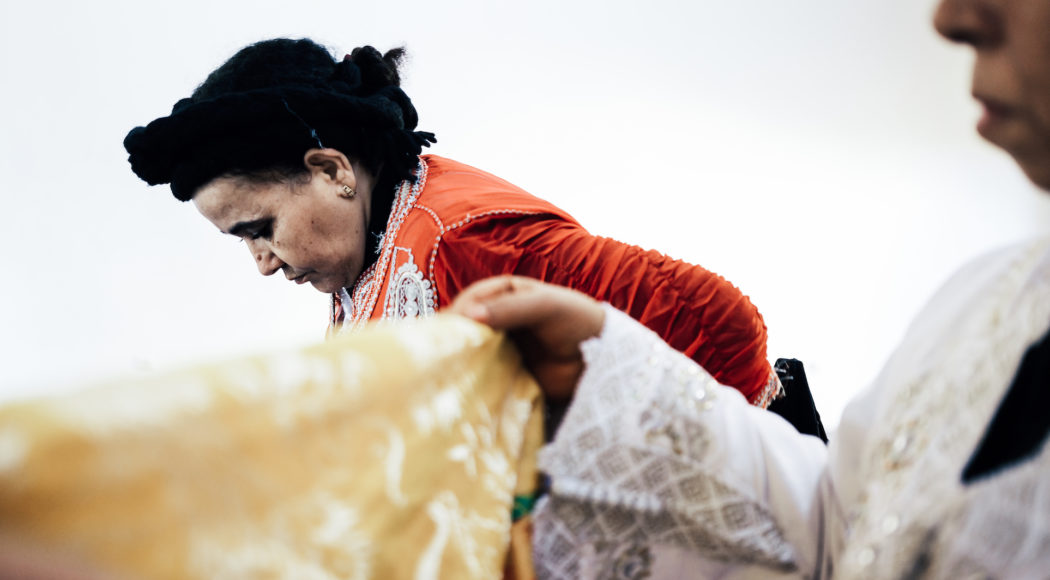 Bouchra Ouizguen: Sisterhood with body and soul, #2 – 2023 by Adnen Jdey
With "Éléphant," a piece created in the midst of Moroccan nature, Bouchra Ouizguen delves into the traditional musical repertoire of the Laâbates – and embarks on a quest for sisterhood alongside three other performers.
"Like my previous works, this piece was created entirely in Morocco, but this time in the mountains. Hiking, singing, storytelling and being in nature shaped us."
Once again, Bouchra Ouizguen is working with her longtime accomplices Milouda El Maataoui and Halima Sahmoud. Both are members of her performing company and specialize in traditional Moroccan music and dance. "This piece is about bringing the repertoire of the Laâbates, which means 'the players,' to the audience," explains Bouchra Ouizguen. While the laâbates are both free and frowned upon by the patriarchal gaze in Morocco as mixed music ensembles such as the chikhates, the all-female singing and dancing groups are in high demand when it comes to livening up social festivals and family gatherings (weddings, baptisms) in both the country's cities and villages.
The creation of "Éléphant" dates back several years. A first phase of research was presented at the Rabat Biennale in 2019. Since then, Ouizguen has proceeded step by step and says she preferred the artistic freedom to change the project when she met new artists. In the fall of 2021, Ouizguen decided to add French performer Joséphine Tilloy to the Moroccan cast. The two had met five years earlier at a workshop at the Nouveau Théâtre in Montreuil, and Tilloy ended up performing in Ouizguen's "Corbeaux." Tilloy was immediately taken with the Laâbates' musical repertoire.
The creative process began with walking tours of the Atlas, not dance or vocal rehearsals. "Then Bouchra asked me to observe what they had worked on so far," says Tilloy, "and then she suggested a costume, a space, rhythms – before finally encouraging me to dive into the piece in my own way and with my own resources."
While the traditions of Morocco taken up in "Éléphant" have old roots, certain repertoires are still practiced there today. "Moroccan songs, dances and folk music do not belong to the past for me," the choreographer explains. However, the piece does not simply weave them together: local dances and music have evolved over time, and in Ouizguen's work there is a constant interplay between tradition (freely reinterpreted) and her affinity for contemporary dance. She makes no secret of this dual influence: "The traditional dance repertoire is part of my training. But then I like to deviate from it, play with it, create friction, embrace it – I have a very playful approach to this extremely rich repertoire, its history, its orality and its poetry."
Since "Ottof" (2015), "Corbeaux" (2016) and "Jerada" (2018), Bouchra Ouizguen has been interested in using live sound and voice as an outlet for joy and sorrow. Although they are socially repressed in Morocco, female voices are very present there. "I was moved by their use of sound," Tilloy says. "That and what we experienced together during rehearsals helped us feel the movement."
In "Éléphant," there is a text spoken in Arabic that was not translated at the first performance in Montpellier. "That was a temporary decision," Ouizguen says. "Since the premiere, we've gone back and forth with the translation. It wasn't a decision not to translate, but rather a decision not to provide a bad translation." In the piece, voice and body come together in a ritual that involves more singing than dancing, and in which the women struggle with the anxieties that come from physical labor and the passage of time. They form a tight group, but their individuality always shines through. For Ouizguen, the story of the Laâbates – like that of any women's chorus – comes through better when space is given to each woman's personality.
The text by philosopher Adnen Jdey was created in conversation with choreographer Bouchra Ouizguen and performer Joséphine Tilloy.