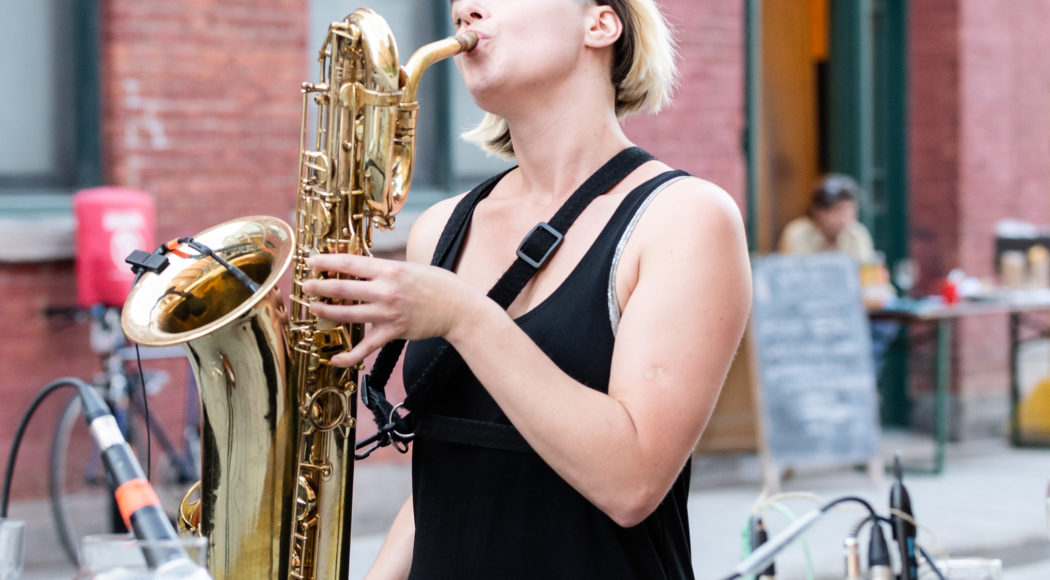 Ida Toninato (CA) Musik 2019/20
Ida Toninato – Music 2019/20
Partner program: Conseil des arts et des lettres du Québec
Genre: Music
Project name in HELLERAU: Deep resonances
My project is inspired by urban power installation and the geometry they draw in the city of Dresden. I love observing these entanglements everywhere I go and think they speak quite eloquently about each city. They sometimes merge with the urban vegetation, sometimes draw very clear lines in the sky. I plan on using the urban geometry that I'll find in Dresden to compose a piece for baritone saxophone and electronic. A selection of pictures taken here will be the departure point of compositional gestures, unisono, shifts in range and dynamics and registers.
What inspires you? I am a low frequencies lover, truly. I couldn't live without subwoofers, vibrations and beatings. I also love to observe the world around me and make connections between what I see and how I listen. Most of my work comes from the desire, or the necessity, to carve structure inside these raw materials. I am fascinated by the process of finding a balance in the ecstasy of sound: at first explosion of partials, becomes a clear idea through structuring. The thing I love the most about being a musician and a composer is probably the endless aspect of the game: we keep learning and developing our whole life.
Your first three thoughts about HELLERAU? It's far from everywhere! So my first thought is focus. The idea of being far away from home to focus on one specific project, takes a very "true" meaning here. Before I left Montreal, I felt overwhelmed with endless to-do's, meetings, rehearsals, performances and I was thinking how nice it would be to be able to just focus and work. Well, I think the universe has really listened to me on that one! HELLERAU calls for a simplicity in my daily routine. Aside from working, reading and cooking I don't do much here, and I really enjoy it. Time away from a fast-paced life, combined with the shows we see here, is a perfect combination for accomplishing something. Also, I really like how the team is organized and I feel privileged to be here.
How would you describe your way of working? It's intuitive, basically. I start with filling myself with the ideas I want to work with. So here I have many pictures of wires, and many hours of low sounds making. I play, watch, listen to. Then I let it sit while doing something else. Then I go back to it. Rinse and repeat. Afterwards I play with different possibilities of structuring and try to find connections between the different parts. Improvisation is a tool that guides me through sound exploration. Since a few years I have developed a more formal approach to making music and have put together composition strategies.
Event Tip DAVE-Festival with Ida Toninato: So 27.10.2019 16:30 – 20:00 Uhr, Martin-Luther-Kirche Dresden Pessimist, Zsolt Korai, Ben Chatwin, Idwyr, MALENA x Franssen, Ida Toninato
Tickets und Infos