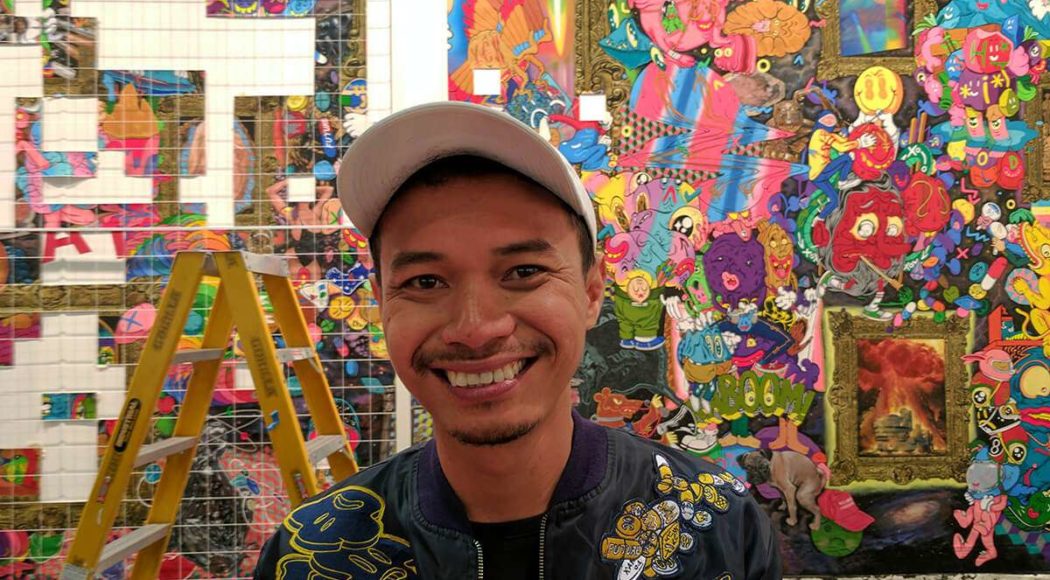 Uji Handoko Eko Saputro a.k.a Hahan (ID) Visual Artist 2019/20, Foto: mldspot
Uji Handoko Eko Saputro a.k.a Hahan – Visual Artist 2019/20
Genre: Visual Artist
Residency program: Im Rahmen der Kulturhauptstadtbewerbung 2025
Project in HELLERAU: The Curious Deal, Dresden, Raden Saleh dan Blue Mosque (Blaues Häusel)
In this project I try to unfold wider possibilities by trying to experiment with time, history and shared ownership of a historical narrative. In this project I specifically unfold that possibility by including historical narratives on Raden Saleh Sjarif Boestaman (1807 or 1811 – 23 April 1880) or better known as Raden Saleh, an Indonesian Arab-Javanese painter who pioneered modern Indonesian art (known then as the Dutch East Indies). His paintings blend Romanticism that was popular in Europe at that time with elements that portrayed the Javanese background of the painter during his stay in Dresden and view Dresden today in that historical context. The information and data that I collected during my stay in Dresden and through digital platforms, are then translated into a painting with a size of 300cm x 900 cm which later will be distributed in in the form of painting pieces, these pieces I dubbed a "lot" individually, has a size of 30cm x 30cm for each lot. The painting in the form of lots can be collected by the audiences who came during the presentation of this project by exchanging lots of the desired paintings with objects of their daily necessities along with stories behind the objects they carried that can refer to the question "what is needed by artists to survive? " Why is daily necessity such an important exchange rate here? I refer to the article that tells how Raden Saleh survived and built his career as a painter in the context of an indigenous artist who was a subject to the Dutch East Indies, in the European context. Raden Saleh built his career as a painter by associating with and getting support from colleagues and his surroundings to be able to learn the culture of its ruler. He worked actively or enjoy life as a noble class (even though he was not exactly of noble class) who had special treatment from his own people in the colonial period. Here I see the importance of daily needs as an adequate energy intake to be reused in giving birth to art, especially paintings in the context of Raden Saleh. From this, I took on the idea to restore the energy that artists get from the surroundings that supports it, to which I also believe that artists are a reflection of their surroundings. In addition to this project sees the values that are used as a guideline to view the objects of work that have been believed to have invisible values by comparing them daily needs, which are valued certainly visible but are very subjective when reflected upon the individual users. This form is very familiar if we look at the function of the object of art which is tentative for its value while also works within the scope of the art itself. The involvement of estimators who will see the exchange value of daily necessities with paintings that will be exchanged will be varied if the individuals involved have equally diverse backgrounds, to see the value of art that can be questioned back to its absolute when the form of measuring the value is given back to the audience by voting which refers to the object of exchange carried and the story behind the object. In its artistic manifestation, I am interested in the Lapidarium concept of how cultural products in the form of public art objects that can no longer represent the ideological views or the needs of cities at times are collected and stored so that within a certain time they can be re-used in the same or different contexts. From this foundation, the artistic form that I worked on departed by 'collecting' images of art objects and cultural products that I encountered while in Dresden and then brought back to life with the same and different contexts, that could be exchanged for the daily needs brought in by the public in accordance with the needs of the public who collected it and a question of how do artists survive today?
What inspires you? My surroundings
Your first three thoughts about HELLERAU? Privacy, community, full support.
How would you describe your way of working? Come, see, hear, learn, think and do with the possibilities.
www.speculativeentertainment.com
Hahan on Facebook
Instagram @ujihahan