Community of Practice
Residenzformat
Im Vorfeld zu "Claiming Common Spaces IV: Cool Down" in Essen und Dresden ist im März 2022 das Residenzformat "Community of Practice" gestartet, welches in Online-Treffen und während des Festivals vor Ort einen Dialog zwischen lokalen und internationalen Künstler:innen und Expert:innen verschiedener Wissensformen initiiert und einen offenen Austausch über Ideen, Entwürfe und Strategien ermöglicht. Jedes Bündnishaus hat eine künstlerische Position für das Residenzprogramm nominiert.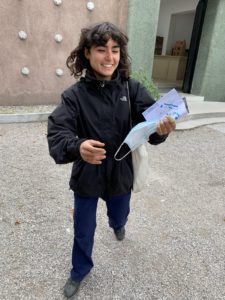 Description of current research
One of my current research streams concerns the acrobatics and the limitations of environmental politics. I also research the materiality of the digital economy; the territories, resources and labour that it is anchored to. Those questions emerge in tendergarden.io, an artwork and learning process where a garden slowly offsets the carbon emissions associated with a server. 
Marina Resende is an artist and researcher based in Berlin. Her work considers issues of agency, technology and ecology in the urban space through public space interventions and research-based projects around eloquent sites. She graduated in comparative literature from the University of Chicago and is an MA candidate at the weißensee kunsthochschule berlin. She has served as the editor of Lumpen Magazine and is a co-founder of the project space Make-up in Berlin.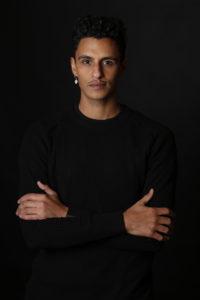 Description of current research
Jina is provoked by the sense of chaos that is happening across the globe and in the future, the number of "climate refugees" is expected to rise. Will we all eventually become climate refugees if we don't find ways to cool down the planet. Jina's research evokes questions related to art as a civic muscle and does it have something to offer. Art is a rhythm of self-evaluation. A self-evaluation through the perspective of the object (a mirror). What can we make of it? 
Jina continues to be embraced by African indigenous knowledge's in his research and has found an appreciation for the knowledge of theorist Edward Lorenz "Chaos theory: When the present determines the future, but the approximate present does not approximately determine the future." This quote has sparked many questions in relation to the "butterfly effect". A metaphor for this behaviour is that a butterfly flaps it's wings in the cradle of humankind (South Africa) can cause a hurricane in New Orleans.
Kieron Jina is a professional trouble maker – a person unlearning, learning and growing as a multidisciplinary artist. He creates performance art, dance as a choreographer, video art, performance creative research, facilitates creative processes, and is a body based lecturer. Jina holds a Masters in Art from Wits University in Johannesburg. Jina's areas of interest include climate, afrofuturism, migration, identity, sexuality, new technology, immersive and site-specific performance, collaboration, and interdisciplinary creative practices.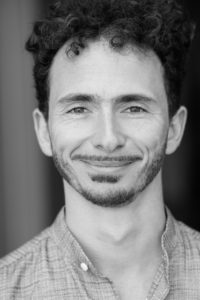 Description of current research
Since 2020, Zinola is developing the Punctures project with Micaela Kühn and Maxwell McCarthy. 
Punctures is their personal articulated response to the climate and biodiversity crisis. This project consists of different parts that connect, shape and inform each other. First step is "Punctures on the Land", an ecological action where they acquire land with an environmental association. Creating a network of small fields that transform into island of complex biodiversity in the middle of landscapes of industrial agriculture.
With Tanzhaus NRW Düsseldorf they organised a think tank in January 2022 to create a time to question with other colleagues on the topic "What can we do as dance makers/artistic sector?" in relation to climate change and biodiversity crisis.
Zinola will receive the TakeHart residency funding program with Tanzhaus nrw in 2022 to further research the topic.
Alfredo Zinola (*1982) is a choreographer and performer. He graduated from the University of Turin (IT) with a Bachelor's degree in Anthropology – Intercultural Communication, studied Modern Dance at the Folkwang University of the Arts in Essen and Curating in Scenic Arts at the University of Salzburg (A).
His main artistic focus is the production of contemporary dance pieces for young audiences. In doing so, he wants to push the boundaries of what a performance for children can be, and he wants to question the relationship between society and childhood. Zinola's work seeks to create a consistent and uncompromising experience between the audience and the performers. His work is based on collaborations with other artists: such as Felipe González, Maxwell McCarthy, Ximena Ameri and Micaela Kühn. For 2020 to 2022 he is Factory Artist at Tanzhaus nrw Düsseldorf.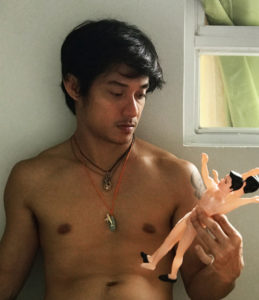 Description of current research
From my previous fascination with the color blue, I'm currently diving deeper the color towards the element it is most ascribed to: Water. A substance that constitutes 60% of the human being, 71% of the planet, and is a metaphor for the more abstract dimensions and concepts; the subconscious, memory, emotions, the afterlife. Now with all the current global crises, water threatens to either swallow cities alive or deprive humanity of its life-giving properties whilst we continue to search for traces of it in distant planets for hopes of a planet b.
Russ Ligtas is a visual artist, performance maker, actor, and choreographer living in Manila, the Philippines. His poly-disciplinary work most often emanates from a roster of alter egos that manifest as presence, persona, or myth—archetypes of various states and inherited complexes that populate his quest to locate notions of identity as a post-colonial child. In 2017, he received the Alvin Erasga Tolentino Choreography Award, a KoryoLab grant from the Cultural Center of the Philippines, and an Asian Cultural Council fellowship. His work has been presented across the Philippines, the US, Europe, and Asia in platforms such as P-Noise Festival(Denmark), Low Fat Art Fest(Thailand), the Visayas Biennale(Philippines), and the Yokohama Triennale(Japan) to name a few. He is currently collaborating with Eisa Jocson (Princess, Manila Zoo), Baboo Liao (Mythology Upon the Table, Artificial Hells) and Szu Ni Wen (How to Heal). Recently, his art practice has expanded towards filmmaking with his debut short film PLUTO commissioned by the Casa San Miguel Center for the Arts in San Antonio.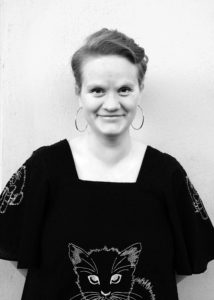 Description of current research
I have been working as a live artist and writer with transgenerational practice and thinking for recent years. For me, transgenerational thinking means both evolutionary perspective, that allows us to see that we carry all the stages of the evolution, different species and different generations on our body and identity, and the practice of working between different generations. 
For me the ecological crisis is an exigent circumstance we are living in right now. It is not only a trend or a theme, it affects everything that I have to do as an artist and as a human being. Ecological and other prevailing crises pose a crucial question for humanity: how we adapt and find possible ways to live and work together. I believe that there is an urgent need for transgenerational and interspecies cooperation. We need the knowledge and experience of all species, as well as our species' past, present and future generations, to survive the crises we live in. We need to summon all the past and future generations and all the beings and organisms to act together so that we can all coexist and learn how to face the new era on this planet. 
Last years I have been creating transgenerational performances with Other Spaces Collective and with some other working groups as well. As a writer I have been working with two book projects: The first which studies the birth of life on this planet  and the modes of reproduction of different species. And the other one studies Karelia as a memory, a state of mind, an identity, a utopia, an intergenerational fabric, and a geographical and historical place. In that project I explore home, chain of generations, alienation, experiences of refugees, integration and living between places as an affective experience.   
Eeva Kemppi (b. 1979) is a Finnish artist, writer, theatre critic, researcher and producer. She has studied Art Research at the University of Helsinki and Community Theatre and Theatre Studies at Trinity College, Dublin. She has 15 years of comprehensive experience in different fields of theatre and live art in Finland, Bolivia and Ireland. She has published two nonfiction books about two different group theatres in Finland and has written critics and articles about Theatre, Live Art and Performance Art for more than 15 years.   
Kemppi has worked in Live Art collective Other Spaces as a live artist and performer since 2011 and has 10 years' experience of creating participatory performances. She has been part of the working group of Other Spaces performances such as Reindeer Safari (2009), Car Park (2013), Motorway is Ours! (2014) Wolf Safari (2014), Panpsychic Sessions (2015), Great Barrier Reef (2018) and Collection of Imaginary Beings (2020). Many of these performances have been performed since the premiere, both in Finland and abroad in different festivals and Production Houses, like Kampnagel in Hamburg, Mousonturm in Frankfurt, Mad House in Helsinki, Danssehallerna in Copenhagen, Bodyworld Festival in St. Petersburg, Nordwind Festival in Hamburg, Science Festival in Edinburgh, Kontula Electronic Festival in Helsinki and Junior Festival in Harbour Center, Toronto May 2022. 
Other Spaces is a Live Art collective founded in 2004. The collective has developed a unique aesthetic and working methods and has become one of the most significant and international Live Art groups in Finland. The core of the work is based on collective bodily exercises that bring into contact with different unfamiliar forms of being and experiencing. In other words, the exercises let us visit "other spaces". Common theme of our exercises is metamorphosis. Our participatory performances build on these exercises. We believe that getting in touch with different forms of experience can alter us and our behaviour thoroughly. Our aim is to increase understanding of interspecies relations and the role of humanity as a part of the ecological system.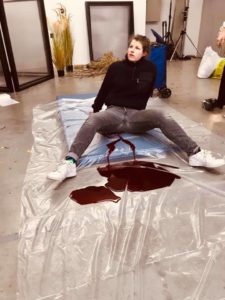 Description of current research
My current work focuses on the destabilisation of power relations between human and other bodies by creating encounters with active, challenging materials. I am interested in negotiating and twisting the dominant position of human bodies on the planet and on stage. Part of this work has led me to what I call "special defects", which are disfunctional, expressive stage installations.
In my collective practice with the Platform Rotterdam Presenta, the interest in material presence has recently led to a research and a project on plastic as an icon of (pop) culture and as a political material that shapes ecological and economic processes.
SPECIAL DEFECTS is a department of installational and performative art that explores the performativity of materials and surfaces, looking for their specific dynamics. It often focuses on the potential of disfunctionality and on irreversible movements. Special Defects can be admired or contemplated on, but they tend to develop their own agenda, challenge us or turn against us. So far, the Special Defects department has worked on liquid chocolate, on tinted superabsorber, on styrofoam, threaded rods and on (fake) blood. In the next research, it will focus on movements of growth as a deformation of space and material.
Stine Hertel is a performance artist, light designer and technician based in Düsseldorf and Frankfurt. She runs the department of Special Defects, which explores the performativity of materials and surfaces and builds rogue stage installations.
Together with Jan Rohwedder, she founded the performance platform Rotterdam Presenta, which is an interdisciplinary artists community working on formats between performance, installation and concert, between happening and contemplation.
In 2017, Stine founded the "Theatre of the Long Now", a 100-year long performance on a piece of wasteland in Stuttgart, in collaboration with Alice Ferl and Bureau Baubotanik.
Her work focuses on the confrontation of human and other bodies and on the power relations between them. In 2018, Stine was awarded the Emerging Performance Artists' Award of Düsseldorf/NRW.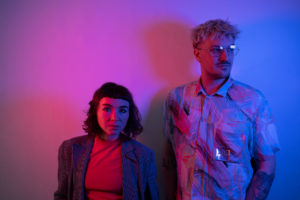 Description of current research
Symbiosis and Cross- species relationships
The understanding of evolution is shaped by biological knowledge and findings, which is reflected in human behaviour. Life describes a constant competition between individuals. The Victorian, capitalist world wrote itself deeply into thebresearch and the way we understand evolution to remain here today. At the same time, the irrevocable influence of human beings on their environment continues to increase. These landscape inscriptionsare everywhere, but very clearly in the industrial North Rhine- Westphalia.The question of coexistence with the organisms living on this earth is becoming increasingly urgent. Examples of symbiotic relationships in nature can be used to develop forms of existence for the future. A Future that call into question the struggle for survival of the single individual. The human being sees himself as the highest being in evolutionary development. But what if we need one or more symbiotic partners for the next evolutionary leap? What if symbioses are the true drivers of evolution and that our view of the world must change to reflect this?
Lex Rütten and Jana Kerima Stolzer are an artist duo working together since more than 5 years. They create multimedia stage installations and performances which address the technological environment as a shaping and changing component of the world that affects not only human beings, but also flora and fauna. In the past the duo realized scenic installations and performances at the interface between exhibition space and theatre space.
Team HELLERAU, PACT and Bündnis internationaler Produktionshäuser
Rosa Müller has a background in philosophy and in the study of cultural practices. Interdisciplinary theoretical approaches also motivate her conceptual work at HELLERAU, where she part of the program team and since 2018 responsible for the residency program. Transformative spaces of possibility also drive her work on the topic of art and sustainability with regard to a necessary change in the contexts of production in the performing arts.
Saskia Ottis is a dramaturge and artistic production manager.
She studied theater, film, and media studies in Vienna and Leipzig as well as dramaturgy at the Theaterakademie Hamburg. She was an artistic director at the Berlin Ringtheater and is part of a "new work"-community focusing on transformation processes and the concept of co-creation. Since the beginning of 2021 she has been working in the program team of HELLERAU – European Center for the Arts. Here she's mainly responsible for projects that are related to the alliance of international production houses.
Arved Schultze studied in Berlin and Rome. Since 1998 he has been working as a freelance dramaturge at various theaters and has worked with Christoph Marthaler, Ruedi Häusermann, Ari Benjamin Meyers and the artist collectives Raumlabor Berlin, Rimini Protokoll and She She Pop, among others. For the festival Theater der Welt 2002 he was responsible as dramaturge for the in-house productions. For this he developed the project series "X Apartments" with Matthias Lilienthal, the first four versions of which he realized in Duisburg, Berlin and Caracas. In 2011 he curated the "Kleist Festival" initiated by the German Federal Cultural Foundation on the 200th anniversary of Heinrich von Kleist's death at the Maxim Gorki Theater Berlin, the festival "A Week in October. 25 Years of Peaceful Revolution" at the Staatsschauspiel Dresden (2014) and the festival of the Alliance of International Production Houses "Claiming Common Spaces. Art and Urban Practice" (HAU Hebbel am Ufer, 2018).
Arved Schultze Dramaturg and Curator and has been working for the Alliance of International Production Houses since 2018.
Juliane Beck develops and organizes projects and programs together with artists in different structures like artists' projects, residency programmes or platforms. She is interested in transdisciplinary approaches, especially the artistic use of documentary practices and the projections of future societies that emerge from them. After studies of cultural sciences and aesthetic practice at the University of Hildesheim she worked as a dramaturg and assistant in a number of music theatre works with Daniel Kötter & Hannes Seidl in Stuttgart and Berlin. Moreover research and dramaturgy for a film installation at Humboldt Lab Berlin. 2011 – 2013 she was a coordinator for Das Stück, Die Institution and Die Aufführung, a multi-part theatre project by Herbordt/Mohren in Stuttgart and Berlin. During a one-year fellowship for art coordination at Akademie Schloss Solitude she organized and curated several programs with resident fellows. 2015 – 2017 she worked as a coordinator for Forecast, an international mentoring platform in Berlin.
Since 2018 she is in charge of the residency program and platforms at PACT Zollverein.
Maja Zimmermann works as a dramaturge for contemporary dance and performance. She collaborated with various artists and choreographers, mainly in Berlin (e.g. with Ligia Lewis, Rosalind Goldberg, Lea Moro as well as for the festival Tanztage Berlin.) She studied fine arts in Lucerne and dance studies in Berlin, co-curated festivals and exhibition formats and worked for interdisciplinary festivals. She realized own artistic research projects around topics of relationality, care work and touch and started a training as a shiatsu practitioner.
Since 2021 she is part of the program team at PACT Zollverein.