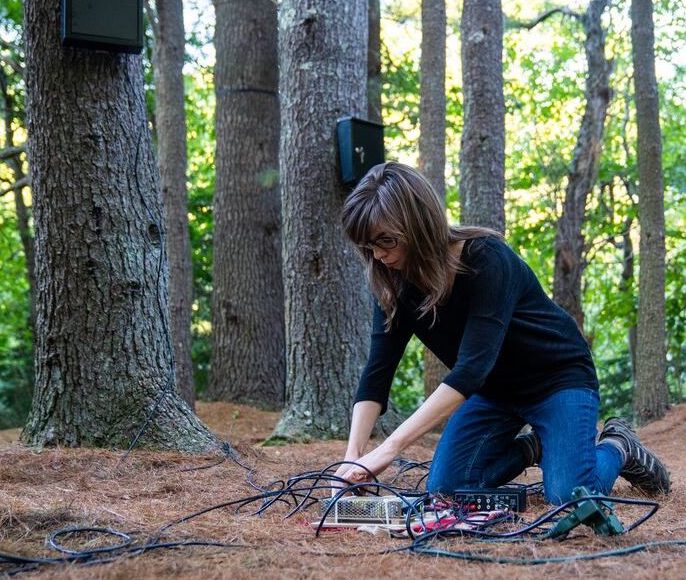 PR Foto Chelsea Leventhal
Chelsea Leventhal – Artist-in-Garden | Sound art/Installation art 2020/21
Genre: Sound art/Installation art
Program: Artist-in-Garden Residence
Project in HELLERAU: Theories of Fire and Water
Brief description of the project: I'm currently collecting audio recordings in the vicinity – in both what we would consider as "urban" surroundings and what we consider "nature" – for the purpose of conducting small sonic interventions in the garden. I am also preparing an older sound installation of mine for presentation in the Kulturgarten.
What inspires you? Exploring new places and discovering their sonic oddities. What is unexpected, what is strangely missing or present, what is taken for granted, and how a particular acoustic arena shapes its inhabitants and vice versa.
Your first three thoughts about HELLERAU? I am fascinated by the way "nature" has been organized to create a very peaceful atmosphere in this particular suburb. It very precisely balances human needs for nostalgia and safety. I'm impressed by incredible work, that is achieved here by people working in teams, which is evident at HELLERAU even during all of this uncertainty surrounding the lockdown. I am so grateful to have this time and space.
How would you describe your way of working? I generally first spend a lot of time getting to know an environment before I create work here. It can take a while to pinpoint what exactly needs to be and can be addressed though the auditory. I am currently going on a lot of walks, reading, making audio and video recordings, taking notes, pursuing and rejecting ideas.