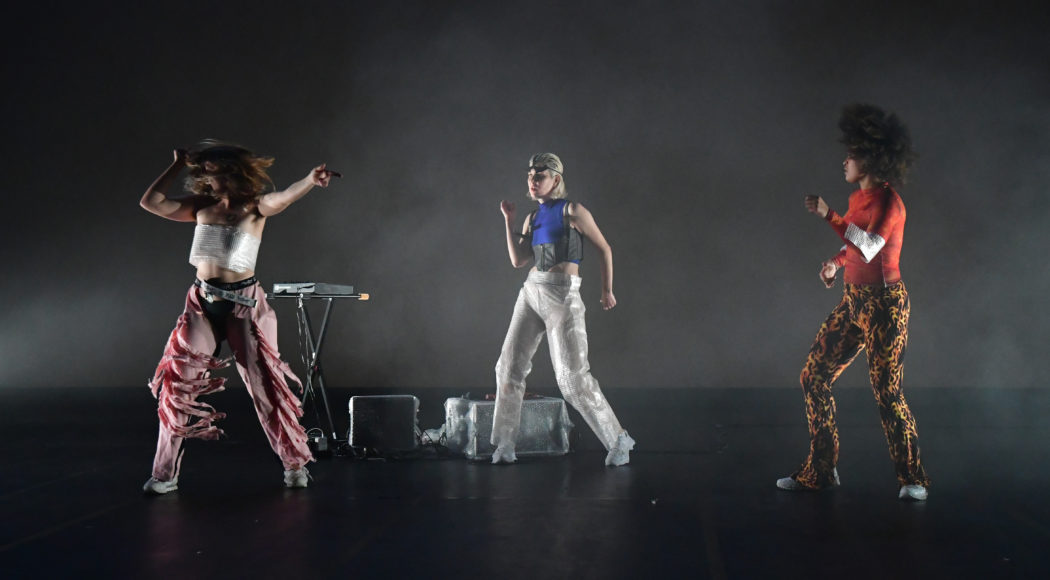 Born in Flamez, Foto: Peter R Fiebig
Born in Flamez – Music 2020/21
Genre: The project defies conventional genre categorization, but has influences from deconstructed pop, club sounds, lo-fi, grime, classical music.
Born In Flamez received one of the two domestic residencies at HELLERAU – European Center for the Arts in Dresden in 2020. The goal of the domestic residency is a joint EP with Mexican artist Muxxxe, which was originally supposed to be created in a residency Mexico City funded by the Berlin Senate. The current pandemic situation prevented the foreign residency including the joint tour planned by the local Goethe Institute. The artistic exchange addresses third gender and other non-binary gender identities in different cultures, as well as anonymity and posthumanity. Musically, the project is based on a mix of the silences of the two artists: Hip Hop beats with influences from local and global music, such as banda, reggaeton, industrial and conceptronica, as well as emotional pop. Upon completion, the project will be brought to the stage with two dancers and the resulting EP will be released on the Mexican/Canadian label Infinite Machine, on which Born in Flamez is signed.
James (Johanna) Grabsch studied musicology and philosophy in Berlin. They is producer, as well as curator for various festivals, DJ and has been performing under the artist name Born in Flamez since 2013. They released so far six EP's and five singles and was a guest at many festivals, such as Splash Festival 2019. The artistic project of James Grabsch is also characterized by many collaborations with other artists, such as Modeselektor (DE), Robot Koch (DE), Phon.o (DE), Peaches (US) or WWWings (RU). Born in Flamez participated in many music projects, such as workshops and residencies worldwide, including Malaysia, West Africa and Mexico. From 2017-2020 James curated the CTM Festival Club program and since 2018 also the RED BULL MUSIC FESTIVAL BERLIN, the same year Born in Flamez won the RED BULL SOUND CLASH Award Berlin.
Bandcamp
Facebook
Instagram @borninflamez
In Kooperation mit Musicboard Berlin