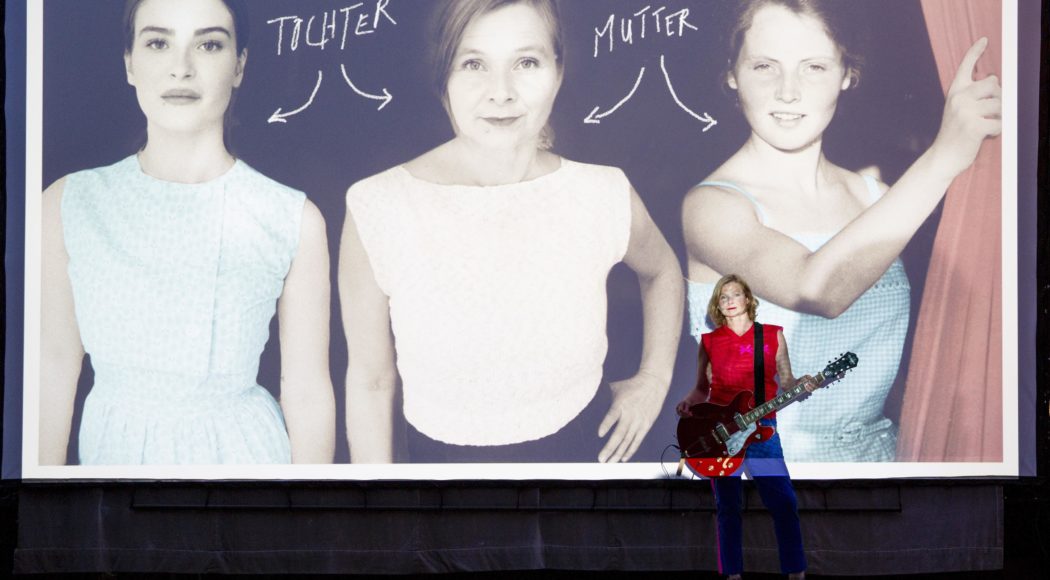 Bernadette La Hengst – Music 2020/21
Genre: performance/musictheatre
Brief description of the project: A Revue Passé about family and social centrifugal forces Bernadette La Hengst, her 16-year-old daughter and the audience embark on a musical search for traces of her mother's life between Silesia, the GDR, Lebanon and the FRG. Mutter**Land draws a connection to the current handling of flight and expulsion. Staged dialogues and vocal duets between stage and film, mother and daughter, rituals performed with the audience – and La Hengst's songs shift from the micro- to the macro-cosmos of a society in which migration is a cultural foundation.
What inspires you? For this project, I am inspired by the search for traces of the story of my mother, who died at a very young age. Her flight as a child from Silesia via the GDR to the FRG I was told by my aunt, who willingly gave me an interview because after 2015 she remembered her own flight and displacement, seeing the many Syrian refugees. I have been to various places where my mother lived, including Poland/Silesia and Beirut/Lebanon. I am also inspired by the book "Kalte Heimat" by Andreas Kossert, who dealt with the history of the 14 million displaced people after 1945. Together with my 16-year-old daughter, I am trying to understand what this history has done to us and to the world.
Your first three thoughts about HELLERAU?
A place of the contradictory history of the last century, in this respect the perfect place for my performative time travel.
What a fantastic opportunity to work somewhere other than at home during the lockdown, I can't look at my home office anymore.
A place where I can listen to music, feel the freedom of thought and the future of theatre.
How would you describe your way of working? I like working with people, conducting interviews and collecting stories. This is how the ideas for my mostly participatory theatre projects are born. I often work with larger groups of people, such as homeless people, feminists, senior citizens, children, refugees, etc. I also call myself an unconditional choir director, because I have become an expert in founding amateur choirs in performative city and village projects. The song texts for these are usually created in collective writing-workshops. This time I will be alone on stage, in the video you can see my 16-year-old daughter Ella, who embodies my mother as well as herself. We explore her story together and want to understand what it has to do with our lives and how we deal with flight and displacement.