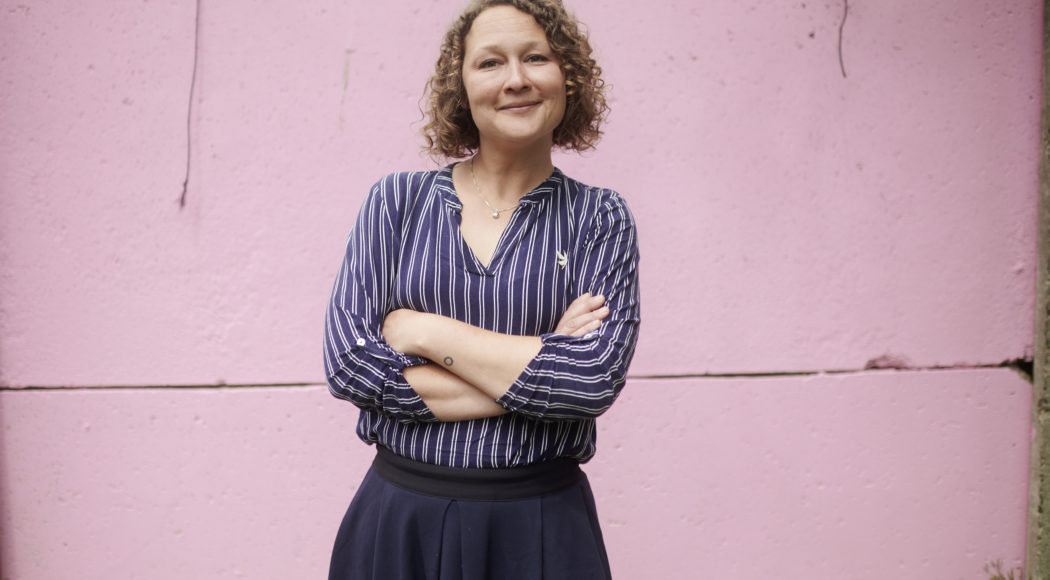 Faces in HELLERAU - Dana Bondarchuk, Deputy Head of Production Office,#2-2022
In our series "Faces" we introduce people who work in front of or behind the scenes to ensure that everything runs smoothly in the house and that our guests feel comfortable.
When and how did you come to HELLERAU?
That's an interesting story: a friend of mine worked in the press department at HELLERAU and was looking for someone for a longer-term internship. Since I was also looking at the time, I started this internship in 2010, initially for two months until my friend got pregnant. I took over her pregnancy replacement and was the press and public relations assistant for about a year. After that, I took care of setting up the address database in HELLERAU, which they still work with today. In 2012 I managed the accreditation office for the dance platform in HELLERAU and coordinated the professional audience there. I then worked in the KBB (artistic operations office) and have been production manager since Carena Schlewitt's directorship.
What are your tasks as production manager?
As one of four production managers at HELLERAU, I oversee the productions for which I am responsible from start to finish. When I hear that a production is coming to HELLERAU, I get in touch with the artists and take care of their supplies and accommodation. Based on the technical specifications of the production, I write the duty roster for our technical sections, discuss the technical details with our section heads for stage, sound/video and lighting and draw up the duty rosters for the technicians together with them. When the companies are in the house, I am their contact person for problems and difficulties, am there on the evenings of the shows and act as an interface with the front-of-house staff and the evening service.
What was a particular challenge that you overcame?
One situation I am very proud of was five years ago when Cloud Gate Dance Theatre from Taiwan was here in 2018. A supposed bomb (it was an old water pipe) was found near the main train station, the airport and large areas of the city were closed and the company could not land in Dresden. I got the call around 10pm that they were now being distributed to other flights. One group flew to Frankfurt, the other to Munich. The group in Munich was able to fly to Dresden the next morning. But the group from Frankfurt didn't get another flight that day. But the first show was supposed to take place in the evening! So at 6 o'clock in the morning I looked for a bus company in Frankfurt and luckily found one that took the second group to Dresden. That was exciting, but also fulfilling when they finally got here and the show went on as planned.
You are also a "Green Delegate" in HELLERAU. What is that?
In HELLERAU there is one person in each department who deals with sustainability. I am the representative of the production office and try to integrate sustainability ideas or sustainable living into all areas. It is also important to me in my private life. For example, we used to provide water boxes for the artists during rehearsals. There were many bottles left over that we had to dispose of. Then we thought together about whether we could install water dispensers. People can just go there and fill up with water. That's how we established our recycling bottle system. Artists get reusable drinking bottles from us and fill them up in the water dispenser. When they leave, they take the bottles with them as souvenirs or they stay here, we clean them and reuse them. In any case, it's more sustainable than before. But we also talk to the artists about their journeys and see if the distance can be covered by train instead of by plane in a reasonable time. And there are many more ideas that are on our team's agenda.
What do you particularly like about HELLERAU?
I like the architecture of the building. I'm happy every time I ride up here on my bike and the building presents its beauty in all weather conditions. I like the team here. I find it enriching that we deal openly with each other and try to stay very solution-oriented on the matter at hand most of the time, and that we set as much in motion as possible for the sake of art.
What do you wish HELLERAU for the future?
That it shines and continues to be a place for experimentation and new experiences.