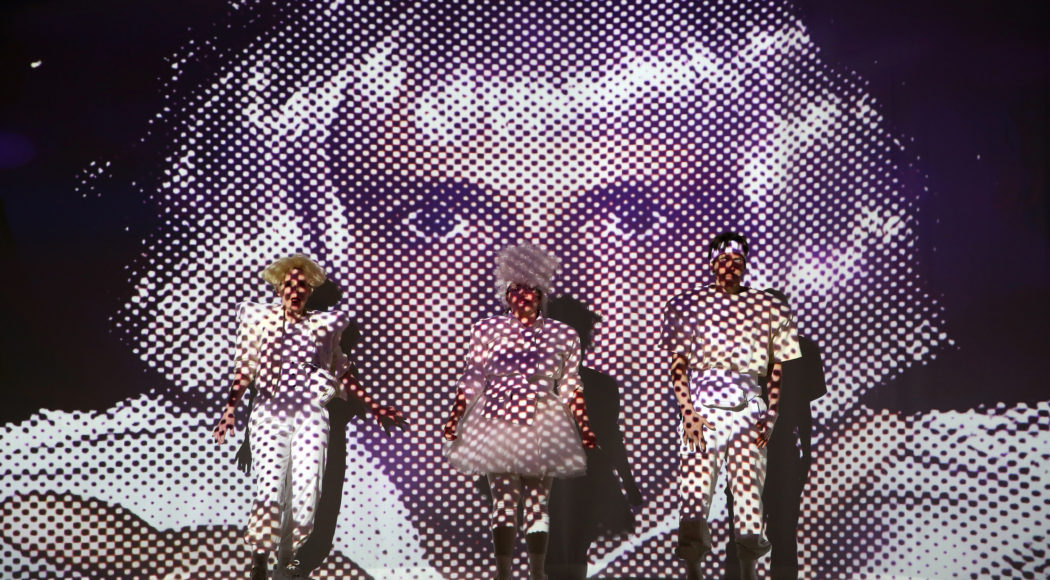 1984: Back to No Future, #2 – 2021
In their new production, Gob Squad travel back to 1984, back to the "good old days" when life was still analogue and simple – without internet and limited to three TV channels. At the risk of falling into nostalgia and losing themselves completely in the maelstrom of pop music, they meet their former selves: Teenagers who, in the midst of the Cold War and full of fear of nuclear catastrophe, tried to shape themselves and their future. Playfully, they transcend time to develop visions for the present via the past, which also saw "No Future", and new perspectives for what lies ahead.
The collective and the audience
Gob Squad have been an integral part of the international art scene since their founding in 1994. Visual artist and filmmaker Phil Collins talks to members Johanna Freiburg, Sean Patten, Sharon Smith, Berit Stumpf, Sarah Thom, Bastian Trost and Simon Will about collective working methods, their own replaceability and the audience.
Phil: There was a decisive moment in the 1980s when performance artists became a laughing stock in the popular imagination, in Hollywood films and on television. Performance was considered trivial, superfluous, useless, because – unlike today – you couldn't make money with it. Performance implies criticism – of work, of time, of values. The focus is not on the individual, brilliant artist, but on the group as a creative force. What is the most difficult thing about being a collective?
Sean: The collective takes time. You spend many hours talking and discussing. Ironically, it's a long process until you have everything discussed and everyone on board to make art that relies decidedly on the spontaneous.
Sarah: In retrospect, it shows that we started on the edge and beyond institutions, so to speak. We chose a path where you wouldn't eventually become a director or a solo artist, with a name that everyone knew. We gave up the I and became the we. We decided on this journey and on the DIY punk aesthetic. Perhaps we thought – quite naively – that we could permanently operate outside the system with our political stance. Today, of course, it's clear that we too belonged to the establishment at some point. We have to pay rent. To be able to work, we apply for funding, and you never get money for free. Money always comes with an agenda. Sometimes we ask ourselves if we are part of a culture factory. Even though we always decide against the product and work in a process-oriented way, we are aware that we live in a culture where we are evaluated and judged by the product, by the result, not by the process. It's hard to rebel against this commodity value-driven inertia and also to build consensus in the group about what exactly that means.
Simon: Gob Squad has been around for a long time. For 25 years. The way we work together has always evolved. Our own experience has increased our interest in collective forms of work, especially in collectives that have also existed for as long as we have and that manage to create a framework for themselves in which individuals can move freely.
Johanna: I always think of a long relationship in which it becomes increasingly difficult to surprise the other person. At the same time, however, trust in each other grows. In this conversation with you, Phil, it strikes me again that there are words that Gob Squad would never use. We relate to each other so much that the English members of the group know the vocabulary of the Germans and adapt to it. It is rare that we have to ask what a certain term means. On the other hand, we just as often ask: "Whaaaat? Why not? Why do you see it differently from me?" So there is both this almost automatic familiarity with each other, and at the same time a lot of convincing that needs to be done.
Phil: Besides the work for your productions, a lot certainly goes into the daily maintenance of a group that has been working together for over 25 years. That interests me. Because I myself also often cooperate with groups and teams, but usually in different compositions. So I don't necessarily have to convince others of my ideas. In contrast, you develop your ideas on a completely different basis.
Sean: You say you don't really need to convince anyone? But I need dialogue to develop ideas. We usually present the fragment of an idea, something that interests us, an end, a beginning, but never the whole thing. If the spark is there and someone takes up the idea, we develop it. If not, we do something else.
Sarah: It really makes a difference whether it's an artistic project or Gob Squad in general. Developing a payment system that everyone feels is fair, or how much say we give our staff – that's hard, emotional work. In contrast, the rehearsals are more relaxed.
Simon: Getting up from the table, moving around the room and trying things out – that's completely different from a six-hour meeting about collective structures.
Johanna: But we also negotiate the creative aspects of our work: "Do we try this scene again? Or do we leave it out?"
Bastian: Leaving it out is usually the most difficult, because someone in the team can always discover something good about an idea.
Phil: An ongoing theme is the autobiographical. No matter how radical and offensive or how cautious and reserved you are, when you decide how much of yourself is reflected in the production: As a spectator, I am inevitably always thrown back on my own history. In these structures of confession, if you like, I can locate myself, and here and there I then want to take your place quite actively. What is it about this autobiographical impulse that appeals to you?
Johanna: When I saw early works by Gob Squad, even before I was a member of the group, I was particularly touched by the fact that there is not this distanced art expert or master who acts, talks, performs on stage, but a person you can approach: an ordinary person with weaknesses, someone like me. I felt directly addressed.
Sharon: We never play a person we are not. This probably has to do with post-modernism: As artists, we are part of the work. "We play ourselves" also serves the relationship with the audience that we strive for. We are not interested in displaying special skills that might be attributed to a stage language or methods of performance art. We want to present everyday, non-constructed bodies and people and not stand alone or above the audience.
Berit: When you say that you want to actively take our place while watching, Phil – I take that as a compliment. None of us sees ourselves as irreplaceable. On the contrary, our performances are not about individual fates, but about shareability.
Johanna: They are about stories that everyone has experienced, that we can all share. Everyone can identify with them, get involved with them.
Berit: That is important to us: that everyone can find themselves in the projects we develop. It's also about shared authorship. Everyone contributes and writes in, and what comes out in the end belongs to everyone equally. Only from the mosaic of puzzle pieces does a narrative emerge – often only at the moment when we are on stage together – and the audience also adds its part. In this sense, our plays are never finished or completely written. Abridged version; the full interview appeared in: Aenne Qui ones (ed.): Gob Squad – What are you looking. at? Postdramatic Theatre in Portraits. Volume 1, 2020. A publication series of the Kunststiftung NRW at Alexander Verlag Berlin, pp. 64 – 74, translated by Lilian-Astrid Geese.
15./16.10.2021 1984: Back to No Future
Gob Squad (DE)
In 2020, Gob Squad was awarded the Tabori Prize by the Fonds Darstellende Künste for significantly shaping national and international theatre aesthetics. In 2021, the group received the Friedrich Luft Prize for their 12-hour performance "Show Me A Good Time" (2020, invited to the Theatertreffen 2021).
A production of Gob Squad. In co-production with HAU Hebbel am Ufer Berlin, The Public Theater NY(USA), Schauspiel Leipzig, Anuja Ghosalkar/Drama Queen& Goethe-Institut/Max Mueller Bhavan Mumbai (India), HELLERAU-European Centre for the Arts Dresden, Teater Momentum Odense and Sort/Hvid Copenhagen(Denmark).
Funded by the German Federal Cultural Foundation. Funded within the framework of the Alliance of International Production Houses by the Federal Government Commissioner for Culture and the Media.