Cache/Spirit
Animistic Beliefs & Jeisson Drenth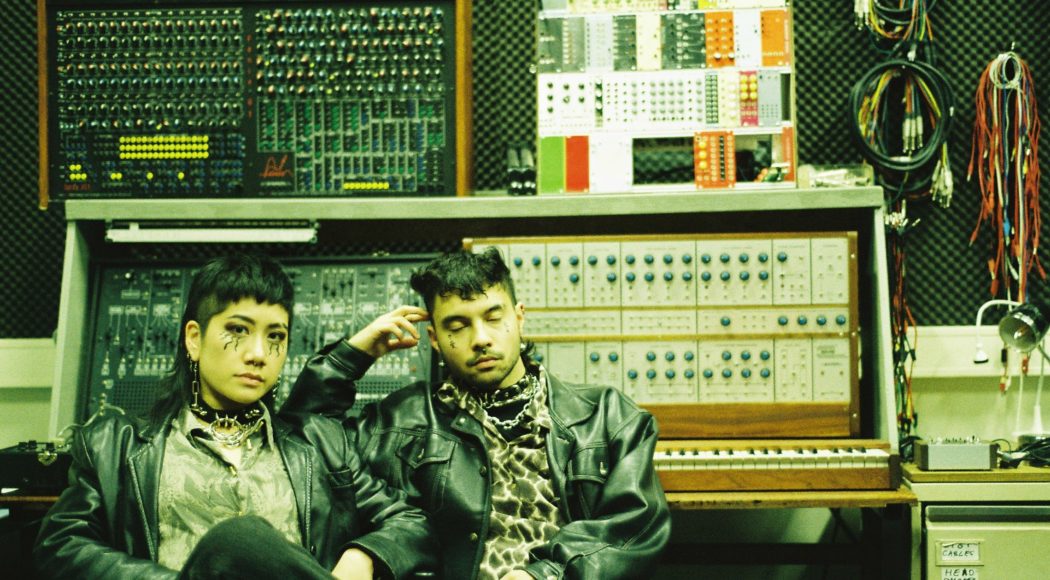 In early 2020 "An Eye for A.I." was translated to a one our hour live show. In addition to the work with photogrammatic analysis (3D scans of Animistic Beliefs, their gear and the city of Rotterdam), the show presents a visually similar image search study of Linh's face, and texts shared to promote media literacy e.g. quotes from computer philosophy writer and scientist Jaron Lanier.
In July 2020, "Cache/Spirit" was further developed within dgtl fmnsm online residency programme. Adapting to and in response to COVID-19, measurements, the three artists shared about their practice through music, video and experimental publishing on dgtl fmnsm website. Compared to the club experience of this project, the artist residency created a space to focus on sharing through text and having audiences interact with the project.
The installation as the fourth instalment of "Cache/Spirit" will present new music and new experimental video. It will bring together a mix of the project*s strongest moments so far and will be a great opportunity to explore the possibilities and limitations of a new way of experiencing the project – as viewing an audio-visual installation as opposed to a club/dancing or screen/reading experience.
As for now, we are aiming for a 20-30 minutes video work that can be screened in a cinema or gallery setting.
Cache/Spirit [Installation] Erstpräsentation, eine Auftragsarbeit der depart.one in Kooperation mit TodaysArt, INSOMNIA! und CTM.
Linh Luu und Marvin Lalihatu sind Animistic Beliefs, ein DJ- und Produzent*innen-Duo für futuristische Clubsounds aus Rotterdam. Beide setzen eine protofuturistische Spürbarkeit in ihrer künstlerischen Arbeit ein, indem sie fesselnde, okkulte Strukturen einbauen, diese verdrehen und verzerren. Zusammen mit New-Media-Künstler Jeisson Drenth arbeiten sie zu dritt an den Ausdruckswelten der Arbeit "CACHE/SPIRIT".
Marvin Lalihatu received his BA in Music and Sound Design from The Rotterdam Academy of Pop Music before studying Electrical Engineering at the
Rotterdam University of Applied Sciences. His work is based on his experience as a Moluccan-Dutch eccentric in Rotterdam, being stuck between a multitude of cultures and his life as a teenager in the Y2K era.
As part of techno/electro duo ANIMISTIC BELIEFS, Marvin Lalihatu has drawn inspiration from the rave, bubbling and fluxwork scenes as well as social anthropology, fashion, politics and new media artforms. Building on these experiences, he is now looking to expand his research and output as XAKALELE, focusing on his indigenous Moluccan heritage as well as the vibrant melting pot of music scenes in The Netherlands and those far beyond Europe.
Linh Luu acquired her BA in Leisure Management and Event Production from Willem De Kooning Academy before diving into the music scene as an artist. Her work tells a tale about her challenge with self-acceptance and identity, drawing inspiration from punk, early hardcore and 00s R&B.
As half of techno/electro duo ANIMISTIC BELIEFS, Linh Luu explores her Chinese-Vietnamese roots and expresses her (bi)sexuality through a combination of rhythms, vocals, visual images and fashion. With her new project rbf.linh, she plays with dark and unpolished dance floor sounds as a protest against asian female stereotypes.
Jeisson Drenth is a media artist dedicated to making experimental and meaningful contributions to contemporary visual culture. His ongoing research translates to both commissioned and self-initiated projects which are shared with different audiences in different online and offline experiences. In an effort to make sense of the visible and invisible world, Jeisson brings together texts, both in writing and speech, data, poetry and numerous image production techniques