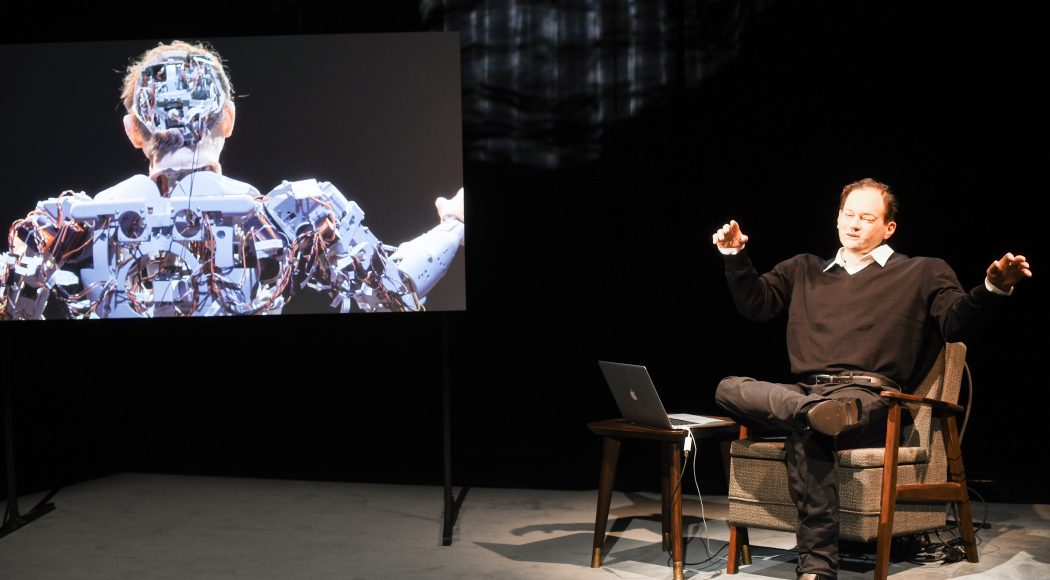 "Uncanny Valley" is the term used to describe the phenomenon in which robots are not more accepted by humans the more human-like they become. The opposite can be observed: The more similar robots become to humans, the more oppressive feelings they trigger. Such unease should paradoxically only cease when robots and humans are no longer distinguishable. Stefan Kaegi, director and co-founder of the theatre collective Rimini Protokoll, has ventured into this uncanny valley with the writer Thomas Melle. A theatrical travelogue: The initial thesis of my theatre project "Uncanny Valley" is that a question can be asked in the theatre that concerns society in all fields of work threatened by robotics (and, as we know, these are all of them). Why not resort to robotics here, where repeatability has become a condition of genius: In the repertory business of the German municipal theatre. The idea arose to place a body on a stage where actors normally radiate a seemingly unique aura, a body that appears again and again without complaining, in order to reflect its own process of creation: An artificial clone, powered by electricity and DMX signals. So, together with the writer Thomas Melle, I created a copy of Thomas Melle. A complex undertaking that makes you think about being human – like any self-portrait: whether it's a cave painting, ink drawing, sculpture or selfie. Rarely have I felt so much anxiety for a performer*. Hardly ever so much empathy. No wonder: I had never spent so much time teaching a performer how to speak word by word. Teaching him even the slightest movement of his wrist. Since our own function – not only in the theatre, but also in the office, on the net and in everyday family life – consists to a large extent in representing ourselves, the robot as performer strikes a sensitive chord with its audience. As an audience, they are programmed to identify with the one in front. They suffer with it. Some of them have tears in their eyes, others tell me that they have admired our humanoid as a gifted actor who fulfils his role as a robot with virtuosity. Apparently, with his words, his facial expressions and a sensitive dance, the humanoid manages to trigger the emotions in the audience that only living actors have triggered in them so far. He manages to start the programme in them that makes them themselves represent a completely normal audience that identifies and applauds at the end, hesitantly – but then after all. This applause is the real event. It is an applause that first swells habitually, then breaks off in bewilderment, only to return again towards the end of the credits. A small rebellious act that tries to escape routine – only to fall back into it a little later. After the premiere, in any case, Thomas Melle's mechatronic copy was stowed away in a box with a martially adjusted neck attachment, while Thomas and I set off for the premiere party – with a stale feeling of pity, the sorrow, that is, of not being able to share this very emotion with the copy. The copy that we created in order not to suffer. The fact that the humanoid does not reciprocate this feeling is part of its definition – and for us it is part of the uncanny valley that separates us from it.
Uncanny Valley
Rimini Protokoll (Stefan Kaegi) & Thomas Melle (CH/DE)
Thu 07.05.2020 19:00
Fri 08.05.2020 19:00
Sat 09.05.2020 17:00 and 19:30
Sun 10.05. 2020 17:00 and 19:30
Production Münchner Kammerspiele
Performance
Abridged version; the full article by Stefan Kaegi appeared in the magazine of the Federal Cultural Foundation #32, Spring/Summer 2019.
*Although the masculine form has been chosen in the text, it refers to members of all genders. Funded within the framework of the Alliance of International Production Houses by the Federal Government Commissioner for Culture and the Media.