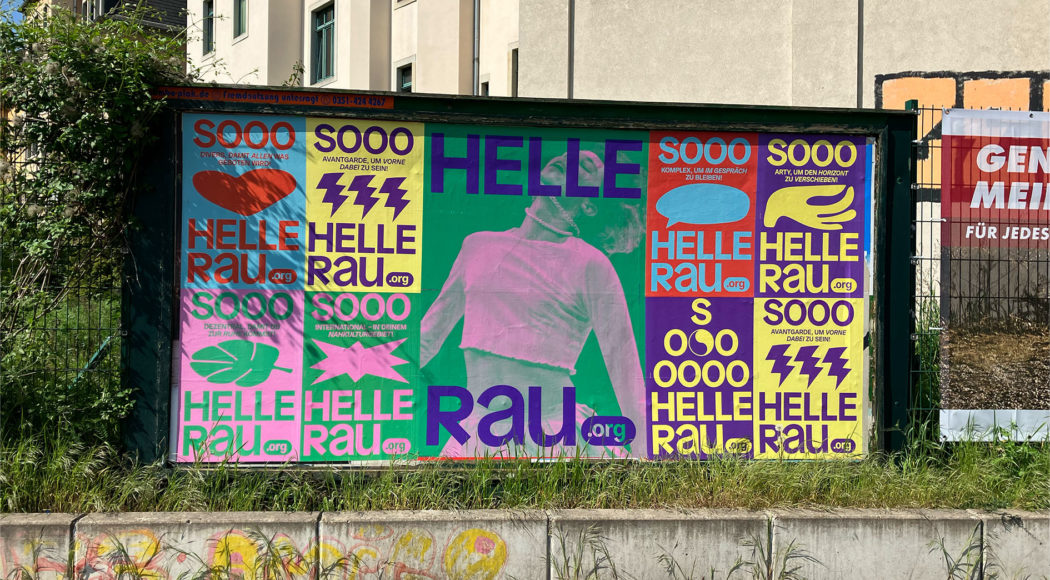 Sooo HELLERAU – Image Campaign 2023
With "Sooo HELLERAU", HELLERAU – European Center for the Arts presents itself as an international house of contemporary arts from May to September 2023.
With the poster and social media campaign, HELLERAU invites people to share, talk and visit. For many people in Dresden and the surrounding area, the Festspielhaus HELLERAU is a place of tradition and history, for others a valuable and inspiring new discovery. For some, however, the visit also involves a venture – and not only because of its location far from the city center.
"Sooo HELLERAU" clarifies why this is not a disadvantage, breaks down hurdles and helps to present the diversity of HELLERAU. In the campaign, we deliberately address prejudices – in order to dissolve them together and show that it is worthwhile to dare to come to HELLERAU.
As an international production and guest performance house, HELLERAU is not only a home for contemporary theater, dance, music, art and performance, but also a place of encounter and togetherness.
HELLERAU is ...
sooo complex to stay in the conversation,
sooo arty, to shift the horizon,
sooo avant-garde, to be at the forefront,
sooo decentralized, so that you come to rest,
sooo diverse, so that everyone has something to offer,
sooo international – in your local culture area.
Sooo HELLERAU!
What exactly does that mean? The best way to find out is to visit.
About the campaign
With the support of Berlin-based graphic agency Any Studio and copywriter Niklas Sander, an image campaign was created that can be seen on posters throughout Dresden, in cinemas, on streetcars and on social media.
The campaign was made possible by funding from the Sächsische Aufbaubank for cultural preservation, which aims to enable cultural institutions and civil society associations to work steadily after the corona-related lockdowns and thus contribute to the continued existence of Saxony's diverse cultural landscape.
Instagram Giveaway
You've spotted one of the slogans on the street, in the cinema, on the streetcar or at the bus stop? Post a story from the campaign with the hashtag #SoooHELLERAU and with a little luck win one of three HELLERAU surprise bags. The giveaway runs up to and including 06.06.2023!
The giveaway starts on 16.05.2023 and ends on 06.06.2023 at 23:59. 3x each a HELLERAU surprise bag will be raffled.
To enter, post a story from the Sooo HELLERAU image campaign, tag the von HELLERAU Instagram account @hellerau_ and use the hashtag #SoooHELLERAU.
Comments that violate Instagram guidelines, German law and/or copyright will be removed without notice after becoming known. The participants are thus excluded from winning.
The three winners will be randomly selected from all participants on Wednesday, 07.06.2023 and then notified by direct message. If they do not get back to us within 3 days, the prize will be drawn again among all participants.
As part of the draw, the Instagram names of all participants will be recorded and stored to determine the prize. All data will be deleted no later than 30 days after the end of the competition. No data will be passed on to third parties. Participants are entitled to statutory rights of access, modification and revocation.
Participation by HELLERAU employees is excluded.
The surprise bags will be collected on site at HELLERAU – European Center for the Arts, Karl-Liebknecht-Str. 56, 01109 Dresden. The competition is organized by HELLERAU – European Center for the Arts, is not affiliated with Instagram and is not supported by Instagram.