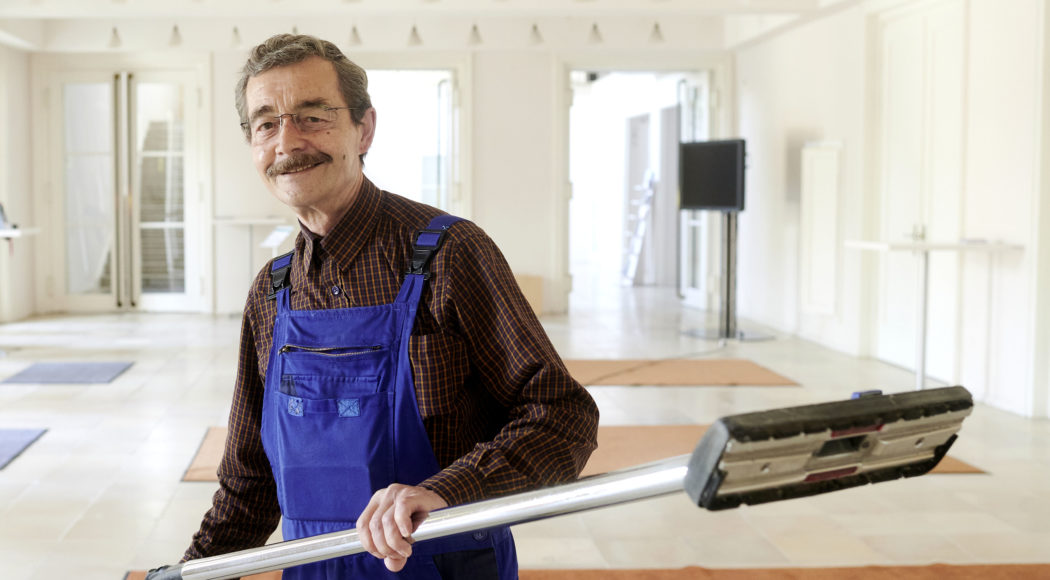 Faces in HELLERAU – Werner Lange, TOP Gebäudereinigung Sachsen GmbH & Co. KG, #2 – 2020
Since when do you work in HELLERAU and what are your tasks?
Since 2009 I have been responsible for the daily cleaning at the Festspielhaus Hellerau, i.e. sanitary facilities, floors, artists' dressing rooms, dance floors, surfaces, ventilation, heating and much more. Every day is different. When I arrive early, I first look at the schedule to see what's on that day. For example, when artists* rehearse in the morning, I have to organize my schedule so that the room is ready at the beginning of the rehearsal. Everything else must be subordinate. I keep my own cleaning book to keep track of everything. If the guest is satisfied, you have done everything right. It is important that I pay attention to the different materials in the house, for example the historical floor tiles, the stone stairs or the railings. These are not cleaned to make them shine, but to keep the historical appearance.
How did you come to HELLERAU?
I was assigned the Festspielhaus Hellerau by my former company Piepenbrock Dienstleistungen. I still remember my first week of work well. In the beginning I always got lost.
Was there a special challenge that you mastered?
We once had an extremely dirty white dance floor. I went to work with many different agents and found out that it could be cleaned easily with scouring milk. After cleaning, however, the dance floor is usually too smooth and must be blunted to prevent the dancers* from slipping. For a dark dance floor I work with Cola, for a light floor with Sprite. And there were artists here who used turmeric or soot and sun milk on stage. Last year on "Mystery Magnet" by Miet Warlop the artists* worked with a lot of color. The whole way from the stage over the staircase to the dressing rooms was affected. So I had to do a real basic cleaning with glitter sponge, scouring milk and single disc machine and get everything clean again. But before I say "That's not possible", it takes a long time.
What do you find so special in HELLERAU?
HELLERAU is the only place where I say: I enjoy working here. It's a pleasant working atmosphere and the contact with the artists* is also nice. Since I started working here, I have a completely different relationship to art. Once the MDR Symphony Orchestra rehearsed here. I sneaked quietly into the hall via the south gallery and listened briefly. If you have music in the background when you're cleaning, everything goes much faster. Others have to pay and I just get it delivered.
In December 2020 HELLERAU will bid farewell to Werner Lange in retirement. We thank him very much for his many years of work.