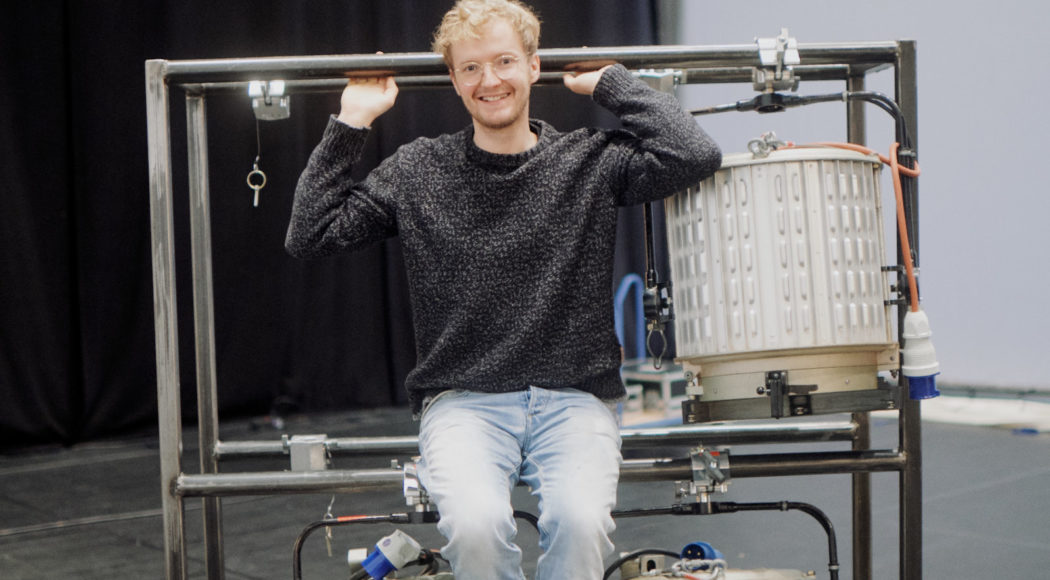 Faces in Hellerau, Jakob Schneider Specialist for Event Technology, #1 – 2021
In our "Faces" series, we introduce people who work in front of or behind the scenes to ensure that everything runs smoothly in the building and that our guests feel comfortable. Henriette Roth (HELLERAU) talks to Jakob Schneider.
How long have you been working at HELLERAU and what are your responsibilities?
In 2016, I was looking for something new after dropping out of my studies. My roommate at the time was training to be an event technology specialist at HELLERAU and took me with him. That's how I got involved and spent two years helping with stage construction as a stage hand. I had a lot of fun doing that. That's why I started my apprenticeship as an event technology specialist and finished it in 2019. During the apprenticeship, I got to know all areas such as sound, lighting and stage technology and specialized in "lighting". Then, fortunately, shortly before I finished my apprenticeship, the position as an event technology specialist at HELLERAU was created and I got it.
What does a typical day at HELLERAU look like?
Of course, I first say "good morning" to all my colleagues when I arrive. Then I put on my work shoes and off I go. The day is always dictated by the production we are setting up. Usually the companies come with their finished pieces and we have already received the stage plan adapted to HELLERAU from the company technicians. We implement this on site. For this purpose, the trusses are stacked in the hall and hooked into the motors. Then the lamps can be placed. After a function check, the lamps are aligned and possibly provided with color filters. If the company does not bring its own lighting technicians, we then program the piece so that the lamps shine as desired in the appropriate places. Sometimes we have to react with the light to certain actions on stage, but in the set-up rehearsals there is then enough time to rehearse all the sequences well.
Can you remember a particular challenge?
For "Lyod. The Ice" by Kornél Mundruczó/Proton Theatre from Budapest, as part of the festival "89/19 – Before/After" we set up a revolving stage in a steel frame. This was a real challenge for all stage technicians. But it all worked out well.
What do you particularly like about HELLERAU?
What's special about the house are the colleagues and the art. The team here is really great. Even if there are differences of opinion, everything can be clarified quickly in a conversation. And because of the many people with their know-how, there are always great solutions, even to complicated questions. And artistically, I come into contact with topics here that I might not have looked at otherwise, but which I find exciting. I can take something away for myself from almost every piece.