Versuch über das Sterben (unplugged)
Boris Nikitin (CH)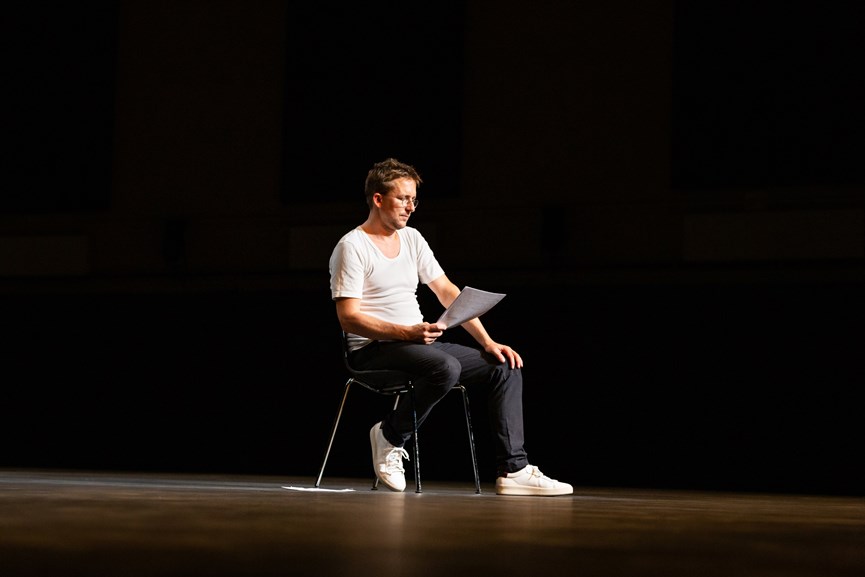 Boris Nikitin, Foto: Donata Ettlin
Invited to the Swiss Theatertreffen 2021 as one of the ten best productions of the 2020 season.
In 2017, a year after the death of his father, the writer and director Boris Nikitin began to write down the story of his father's ALS disease. The disease had made short work of it: from diagnosis to death it lasted barely a year. Very early in the process, the father opens the idea of considering an assisted suicide, an EXIT. A statement that changes everything.
In "Versuch über das Sterben" Nikitin connects the story of this outing with the story of his own coming out as a gay man 20 years ago. All he needs is an empty stage, a chair and the text itself. In this minimalist setting, Nikitin develops an evening of theater about what it means to break social taboos, to dare to take the step into the public sphere, and to make oneself visible, attackable, and vulnerable in the process.
For more than ten years, the Basel director and author Boris Nikitin has been negotiating in his theater works the question of how we create realities and identities by representing them. In this process, the real biographies of the performers play a special, central role. Internationally successful touring works such as "Imitation of Life" or "Hamlet" are always portraits of the performers on stage, created in the course of an evening before the eyes of the audience. In his new piece "Versuch über das Sterben" (Attempt at Dying) Nikitin now changes sides: as author, director and at the same time performer he negotiates his own biography for the first time.
"Versuch über das Sterben" is a play about the gaze of others, about overcoming boundaries of shame, and about the utopia of a vulnerability that is not a deficiency of being human, but a revolutionary ability.
In HELLERAU Nikitin shows the unplugged version of his play adapted for the small stage.
Tip!
Audience discussion with Boris Nikitin, Antje Schupp, Sigal Zouk and theatrale subversion on Saturday, 19.06. 10:00 p.m. in HELLERAU.