Mariana Sadovska & Friends
Solidarity concert for people in and from Ukraine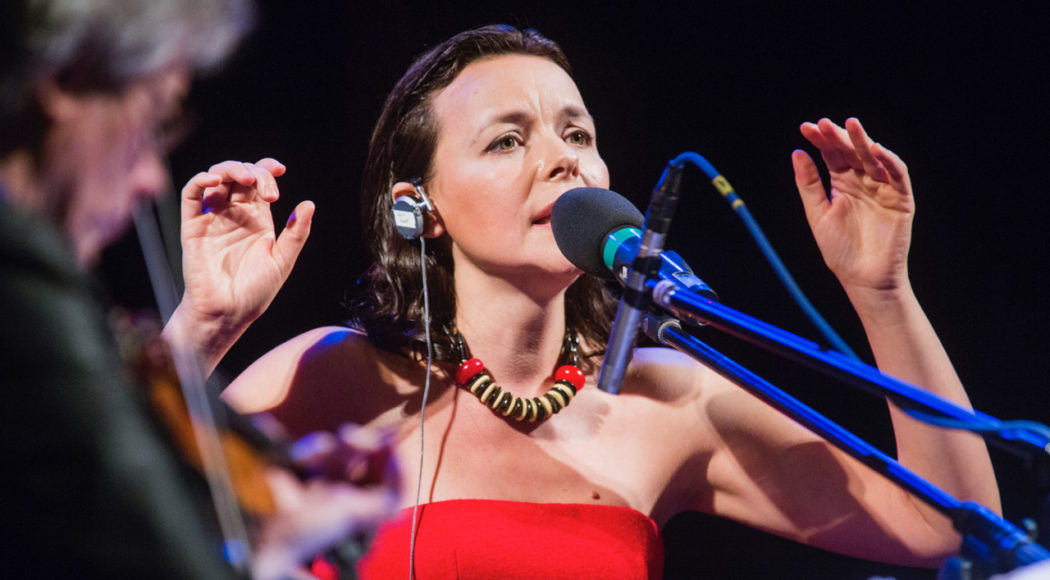 Чарівниця. Добра. Мар'яна Садовска та Kronos Quartet. Національный театр імени Івана Франка, Київ, 05.07.13
On 24.02.2022, Russia launched its war of aggression on Ukraine. Since then, thousands of people have been injured or killed. Millions are on the run, or remain encircled in their home towns. The alliance of international production houses cannot remain silent about these events. Together with the Ukrainian singer Mariana Sadovska, Mousonturm in Frankfurt a. M., HELLERAU and FFT Düsseldorf invite you to special concerts to show solidarity with the people in Ukraine and on the run, to collect donations and to create a space for encounters.
The Ukrainian singer and composer Mariana Sadovska will lead the programme together with the musician Christian Thomé. Her concert will be complemented by readings of poetic and journalistic texts that bring us closer to the reality of war and the culture of Ukraine. Local artists and musicians will complement the programme. Music critics call Mariana Sadovska the "Björk of Ukraine". In her programmes she creates a moving combination of avant-garde and traditional music, which is often threatened with disappearance and which Sadovska has been collecting for many years in villages in Ukraine and other remote areas in Eastern Europe.
Monetary donations will be collected for the German-Ukrainian association Blau-Gelbes Kreuz e.V.
Admission is free. We ask for registration.
Performers
Mariana Sadovska & Friends
Julia Amme, actress
Banda Comunale
An event of the Alliance of International Production Houses in Frankfurt am Main, Dresden and Düsseldorf. The Alliance of International Production Houses is supported by the Federal Commissioner for Culture and the Media.
Further concerts
12 March, 7:30 pm, at Frankfurt LAB (Bündnishaus Mousonturm Frankfurt am Main)
With Tiny Bridges, Arthur Romanowski and others.
More info
14 March, 7:30 pm, FFT Düsseldorf
With the singers Margaux Kier (Cologne), Julia Kulinenko (Donetsk), the actress Nastassja Pielartzik and others.
More info