Was wollen wir gemeinsam machen?
Ein Hackathon der Kooperative Futur OST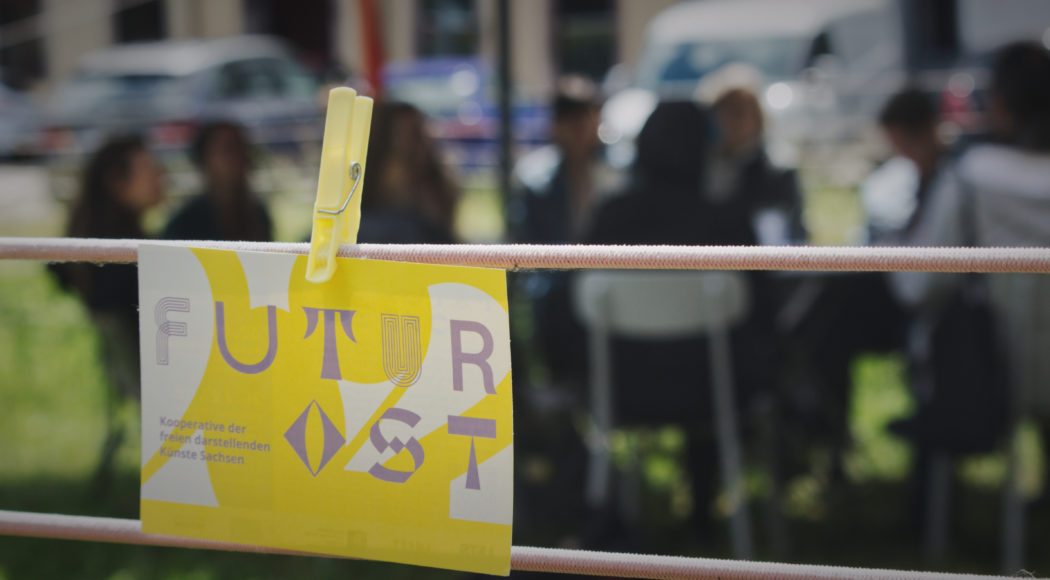 All Saxon art and culture professionals are cordially invited to the hackathon "What do we want to do together?" with the cooperative FUTUR OST to spin the future of the independent performing arts in Saxony.
Do you want to set up a dance archive? Found a production office? Set up a festival with zero euros? Conceive a hybrid discussion format? – What does it take in Saxony's independent performing arts to develop and implement new ideas together?
FUTUR OST invites all actors in the independent performing arts in Saxony to come together for two days and create visions for the future of their own sector.
The participatory hackathon format offers the opportunity to engage in an intensive exchange about the challenges facing the independent performing arts in times of pandemics, climate crisis and digital transformation, and to work out solutions together.
While topics will be clustered and initial ideas shared on the first day, teamwork on the second day will focus on elaboration and concrete implementation. Finally, there will be a presentation of the results and the selection of two proposals that will receive awards and be included in the guidelines for the further work of the cooperative next year. This decision will be made by the participants themselves.
A varied programme with keynote speeches, a movement session and networking moments will frame the event.
When? 26.09. 15:00 – 21:00 & 27.09.22 09:30 – 21:00 (A detailed schedule will follow.)
Where? HELLERAU – European Centre for the Arts Dresden, Karl-Liebknecht-Straße 56, 01109 Dresden
Language: German/English
Admission free, limited number of participants
Catering: Catering (vegetarian/vegan) will be provided on both days of the event.
Accessibility:
Please indicate any additional accessibility needs for the event when registering.
Please note: Unfortunately, the 1st floor of the Festspielhaus can only be reached via stairways. However, the main part of the event will take place on the ground floor, which is accessible via a concrete ramp (width 1.40m). Part of our workrooms for the small groups on the second hackathon day are located on the upper floor. Two workrooms on the ground floor are barrier-free accessible.
More information on accessibility in HELLERAU.
Registration: until Sunday, 09.09. at the latest to Elisa Kneisel (project coordination) to assistenz@freie-theater-sachsen.de
Please include your name, email address, job title and whether you need financial support for travel or accommodation.
Send in your ideas:
If you would like to send us your vision for the independent performing arts in Saxony in advance, please send a short project outline with a title and a descriptive sentence to assistenz@freie-theater-sachsen.de. This is not a condition of participation. This is not a condition of participation and there will also be opportunities on site to contribute ideas.
Please note that the ideas submitted should have Saxony-wide relevance and should aim to achieve greater visibility, new audiences or improved working structures for the independent performing arts in Saxony in the long term.
We are looking forward to your ideas and will contact you in the run-up to the hackathon to discuss the further procedure!
FUTUR OST – Cooperative of the Independent Performing Arts Saxony
FUTUR OST was founded in 2021 as a platform to help Saxon independent artists gain more visibility in the scene and to inspire a wider audience for their work.
A project by the Landesverband der Freien Theater in Sachsen e.V., in cooperation with LOFFT – DAS THEATER, HELLERAU – Europ.isches Zentrum der Künste Dresden and Servicestelle FREIE SZENE. Supported by the Fonds Darstellende Künste from the funds of the Federal Government Commissioner for Culture and the Media within the framework of NEUSTART KULTUR.