FLAGS
Paula Rosolen/Haptic Hide (DE)
Flags and banners are an integral part of our lives. They mark the affiliation to a soccer club in a stadium or represent a nation at a state reception. They are artfully flung through the air when twirling and communicate signals and messages in shipping and the military. Even though people can communicate over long distances in almost real time thanks to satellites and broadband networks, flags remain important in the transmission of messages. Frankfurt choreographer Paula Rosolen therefore makes these ignored means of communication the focus of her new work. She cross-fades different usage and sign systems of flags and creates her own sign language. The theater becomes a field of experimentation in which – misunderstandings and misdirections included – basic principles of communication can be experienced in a playful way, valid even in times of binary codes.
Paula Rosolen studied dance at the Hochschule für Musik und Darstellende Kunst in Frankfurt am Main and received her master's degree in choreography at the Justus-Liebig-University in Gießen. In her choreographies she works at the borderline between dance, performance, music and theater. Rosolen pursues the goal of making visible the dance inherent in popular culture and secular activities by viewing these subjects from a certain point of view and then placing them in a foreign one. She won first prize in the Danse Élargie competition organized by the Théâtre de la Ville in Paris and the Musée de la Danse. Rosolen's works have been shown at the Deutsche Tanzplattform, the Künstlerhaus Mousonturm in Frankfurt, the Frankfurt LAB, the deSingel Arts Campus in Antwerp, the Theaterfestival Basel, the Théâtre de la Ville Paris, the Centro Cultural de la Cooperación in Buenos Aires, the Sophiensælen in Berlin ZKM Karlsruhe, the Museum Wiesbaden, the Kampnagel in Hamburg, the DPAC in Kuala Lumpur and the Dance New Air Festival in Tokyo. Rosolen has had residencies at institutions such as the K3 Zentrum für Choreographie in Hamburg, Workspace Brussels, the Hessisches Staatsballett, as well as at the Villa Kamogawa of the Goethe-Institut in Kyoto and the Saison Foundation in Tokyo.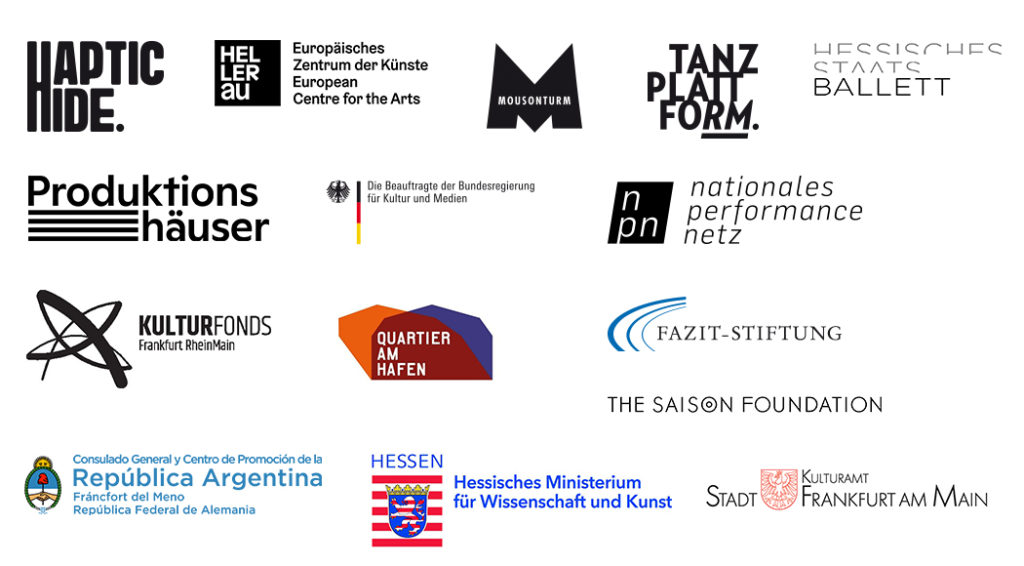 Dauer: ca. 1 Std. 15 Min.
Limited number of seats.
The event will take place in compliance with the necessary hygiene measures in the context of COVID-19 regulations.
Reservations are not possible – only online or direct purchase at the advance booking offices and in the visitor centre. Remaining tickets are available at the box office.
Choreografie, Regie: Paula Rosolen
Konzept: Paula Rosolen, J.M. Fiebelkorn
Lichtdesign: Tanja Rühl
Entwickelt mit und getanzt von: Douglas Bateman, Léonard Engel/Tom Diener, Cindy Hammer, Maria Kobzeva, Stephan Quinci
Musik: Nicolas Fehr
Kostüme und Ausstattung: Michaela Kraft
Technische Leitung: Benjamin Henrichs
Produktionsdramaturgie: Ingrida Gerbutavičiūtė
Eine Produktion von Paula Rosolen/Haptic Hide in Koproduktion mit Künstlerhaus Mousonturm im Rahmen der Tanzplattform Rhein-Main und HELLERAU – Europäisches Zentrum der Künste. Die Tanzplattform Rhein-Main, ein Projekt von Künstlerhaus Mousonturm und Hessischem Staatsballett, wird ermöglicht durch den Kulturfonds Frankfurt RheinMain und gefördert vom Kulturamt der Stadt Frankfurt am Main, dem Hessischen Ministerium für Wissenschaft und Kunst und der Stiftungsallianz [Aventis Foundation, BHF BANK Stiftung, Crespo Foundation, Dr. Marschner-Stiftung, Stiftung Polytechnische Gesellschaft Frankfurt am Main]. Unterstützt durch die Freunde und Förderer des Mousonturm e.V. und das NATIONALE PERFORMANCE NETZ Koproduktionsförderung Tanz, gefördert von der Beauftragten der Bundesregierung für Kultur und Medien. Mit freundlicher Unterstützung von Quartier am Hafen, Morishita Studio/The Saison Foundation Tokio und dem Generalkonsulat der Argentinischen Republik Frankfurt am Main. Paula Rosolen/Haptic Hide wird durch das Kulturamt der Stadt Frankfurt am Main im Rahmen der Mehrjahresförderung gefördert.
Die Frankfurter Vorstellungen von "Flags" von Paula Rosolen werden gefördert durch die Beauftragte der Bundesregierung für Kultur und Medien im Rahmen des Bündnisses internationaler Produktionshäuser.